All aboard for record-breaking domain sale
By
John
- February 11, 2008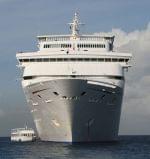 We've written before about the most expensive domain names ever. And just last week, a new price record was set for a .co.uk domain.
As the Register notes, the domain name cruises.co.uk changed hands for a massive £560,000. It was bought by website cruise.co.uk. The domain's going to be used to host 'the UK's largest cruise community'.
Seems like a lot of money to pay for an extra 's' – but it's a relative, er, drop in the ocean compared to sex.com, the world's most expensive domain. That changed hands for about £7m a couple of years back.
Is £560,000 good value for money? Leave a comment and let us know what you think.