What is Whois?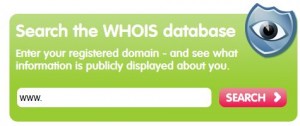 While securing your domain name via 123 Reg is one of the easiest and most important decisions you will make in building your project / business, there's another major consideration that needs to take place before your purchase – that's domain protection.  
Historically, when a domain name was registered, the Internet Corporation for Assigned Names and Numbers (ICANN), who regulate the domain name system, required the personal details of the registrant to be made public through an online WHOIS lookup database. 
The principle behind this requirement was the concept that openness was key to the success of the internet.  
There were a number of exceptions to the requirement. A handful of top level domains like .al for Albania and .ca for Canada came with privacy caveats. However, the majority of domain registrants had private details, such as their names, addresses and email addresses, entered into the WHOIS database for anyone to find.  
Aware of the issues this level of data exposure could bring up for certain individuals, many domain registrars started offering Domain Privacy services.  
These services essentially replaced personal data in the WHOIS database with placeholder text to keep identities safe and to prevent spammers and direct marketers from harvesting this data for their own means.  
Then in 2016, the EU introduced GDPR legislation, which increased individuals' rights to protect their personal data, and in 2018, the UK followed suit.  
This sent the WHOIS database 'dark', as many domain registrars started offering Domain Privacy services for free, in order to protect their customers' private data.  
123 Reg offers Domain Privacy for free to all customers. 
Our Domain Privacy service means that rather than your private information being displayed, protected domains are listed with details of our secure forwarding partner who protect your personal information but allow others to contact you when necessary, such as offers to purchase a domain name from you. 
However, we also go one step further in the domain protection arena, by offering enhanced paid-for services.  
These include… 
✓ Full Domain Protection: this service prevents hackers from stealing your domain or making any other unsanctioned changes and ensures you approve all vital changes to your domain – such as deletion or transfer – through two-factor authentication.  
✓ Ultimate Domain Protection: this option features everything you get with the Full Domain Protection service, but also lets you hold on to your domain name for an extra 90 days in the event that your credit card or billing method expires. 
To find out more and to protect your domain on all fronts visit our Domain Ownership Protection pages.