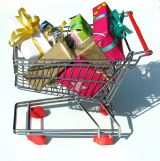 We've just entered the busiest time of the year for online retailers.
According to various sources, the 3rd, 10th and 26th December were particularly busy days last year, and this year we've already smashed the record for busiest internet shopping day ever, clocking up 4.6 million online transactions on Monday.
Recession resistant

Ecommerce has been growing well for years now, and despite the onrushing recession, it's likely online shops will buck the general downturn to an extent.
That means that while Marks and Spencer is repeating its one-day special sale to lure in business and Alistair Darling is changing VAT for the first time in 17 years, ecommerce sales are actually still on the up.
Sure, the downturn means the rapid rate of growth of ecommerce will slow, but while sales are actually contracting on the High Street, the fact that online business is growing at all marks it out as one of the more recession-resistant areas of the economy.
More competition?
So if you already sell online, brace yourself for extra competition. The recession could well increase the rate at which businesses move to the internet. But don't worry too much – as an established online trader you have an edge over newcomers.
And if you don't already sell online, well, now could actually be a good time to start – particularly if you're already running a business and concerned about the impact of the recession.
Why? Well It's a great way to find new customers, simply because you can reach a much wider audience. For instance, if you're a local shop selling a niche product, a simple website lets you sell to anyone in the country (or the world) – think of the number of potential customers out there!
You can try ecommerce out easily too. The outlay for something like our ecommerce package is pretty small (under a tenner a month) and with a few hours work you can have a fully-functioning online shop.
How to get an ecommerce edge

Whether you're a new or established online business, there are lots of ways you can get an edge over your competitors. Here are a few top tips, along with links to places you can get more information:
Finally, don't forget to read our online shop top tips and this advice from PayPal.