Optimising a website for search engines is not easy and it's a continuous process that takes time. Go through the most frequently asked questions on Search Engine Optimisation and find answers that can help you understand the basics of SEO and what techniques you can use to have your site rank higher than your competitors.
What is SEO?
When you enter a word or a phrase in a search engine, whether it's Google, Yahoo, Bing or another one, and click "Search", you get a list of search results that include that word or phrase. People usually visit the top 5-10 websites on that page because they consider them to be the most relevant to their search query.  SEO (Search Engine Optimisation) is responsible for getting those sites in the top results on search engines.
SEO is a technique that helps improve the visibility of a website or web page in a search engine's list of results. This means that SEO helps a site rank higher than millions of other sites when people search for a certain word or phrase. Ultimately, SEO is responsible for getting more visitors to your site.
What are Meta Tags?
Meta Tags provide details on what type of information is included on a web page, thus helping search engines categorise it easier.  These elements are inserted into an HTML document and are not visible to users visiting your site.  Meta Tags are a very effective marketing tool because they are used to give users snippets of your website content. Thus, they're a hook that you can use to get Internet users to visit your site. Read more on how to create meta descriptions.
How do I create Meta Tags?
InstantTraffic a search engine optimising tool from 123-reg, will help you create the perfect Meta Tags for your site by using a Meta Tags generator. This powerful tool gives you suggestions of Meta Tags you can use based on the content on your site.

Where do I add Meta Tags?
The Meta Tags generator tool from InstantTraffic will not only suggest the perfect Meta Tags for your site, but also show you exactly where you need to insert them inside your site's HTML document.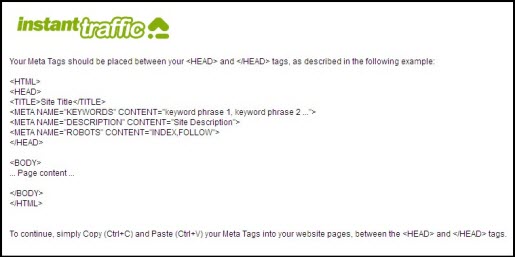 How can SEO help me?
SEO is an invaluable technique for any site owner that wants to rank high in search engines and increase the number of users visiting the site.  InstantTraffic includes everything you need to reach as many Internet users as possible. We can submit your site to over 400 search engines every month including Google, Yahoo and Bing to increase your website's visibility which can lead to traffic increase. We will also advise you on what keywords to use to help increase your site's rankings.
What is Google Ranking or PageRank?
Google Ranking or PageRank is a link analysis algorithm that determines how important a website is.  The PageRank is responsible for your site showing up at the top of the first page of results or on the 15th page of results that almost no one visits.
What elements influence the Google Ranking of my site?
There are a number of factors that contribute to a better PageRank and the most important one is the number of quality websites that link to your site, also known as incoming links. An incoming link is interpreted by Google as a recommendation or a vote of support.  Having links from websites with a high PageRank can also help increase your site's PageRank.
How long does it take for a website to have a good ranking?
There is no exact answer because this depends on a lot of factors such as the quality of your content, relevancy, the keywords you are using and their location, and many others.  However, if you publish quality content constantly and get authority sites to link to you, you can increase the chances of ranking higher faster.
How long does it take for a website to be indexed?
As for the previous question, there isn't an exact answer for this question. For more information, read our blog post on this subject.
Why doesn't my website appear in search engines?
If you have a new website and have already submitted it manually to several search engines, it may not be crawled and indexed right away. There are so many new websites that are submitted daily that it's understandable why it may take longer for it to show up in search engine results.
With our InstantTraffic SEO software, we can help get your site listed on Google within 8 weeks. We will submit it to numerous major search engines like Google, Yahoo and Bing to increase your site's visibility worldwide and get traffic to your site.
How do I choose the right keywords for my website?
InstantTraffic will perform a detailed keyword research in order to recommend you with a list of strong and relevant keywords that you can use. These will be targeted keywords that we will choose based on your audience, your competitors, your site's performance and incoming links. Using the right keywords can help your site rank higher and ultimately increase traffic to your site.
How can I get quality websites to link to my site?
InstantTraffic will do an analysis on your competitors to determine what they are doing right so you can use this information to your advantage. You will be able to see what sites link to your competitors' websites and where most of their traffic comes from.
How can I market a website created with InstantSite, Website Builder and eCommerce from 123-reg?
If you are using InstantSite or Website Builder website creation tools from 123-reg to build your site, then InstantTraffic is the perfect solution to market it on the Internet. It will help you increase your site's visibility and get more traffic. Once you implement it, you will get to use the powerful InstantTraffic tools to modify the URLs, titles, descriptions, alt tags and keywords based on our recommendations.
 Do you have other questions about SEO? Let's hear them in a comment below.
—
Alexandra Gavril is a web copywriter or as she describes herself "a recovering journalist". Since joining the 123-reg team, she has been covering subjects on our blog from search engine optimisation to choosing the perfect domain for your website.