Seven essential shopping cart features
Did you know that nearly 70% of online shoppers abandon their shopping carts?
Imagine if this would happen in the brick-and-mortar world (and Google already did). It would mean that seven out of ten people would leave their shopping carts in the checkout line at the grocery store and just leave and go to another store that accepted more forms or payment, or didn't ask for too much information.
That's why it's important for your shopping cart to have the key features that matter to your customers. If your customers want a variety of payment options or the option to checkout without having to register for an account, you need to have these options available for them. Don't and you'll drive away customers and lose revenue.
So, without further ado, here are the seven essential shopping cart features that can help you to boost customer confidence and boost sales.
1. Search filters
Good navigation is key to a great shopping experience. This means that you need to make sure that your shopping cart comes with a functional search button at the top of the page as well as a variety of filters that make it easier for users to find the products they want.
Need some ideas? Here's an example of search filters from Asos: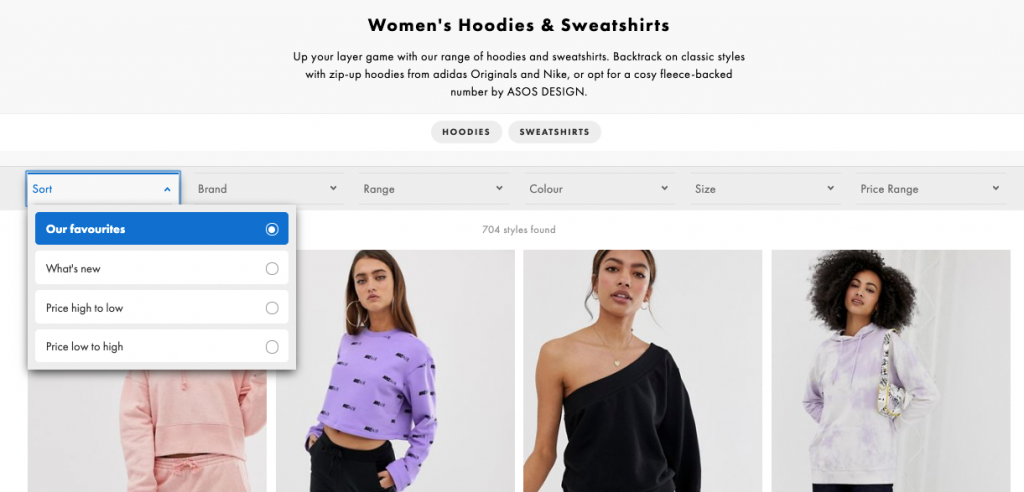 And here's another example from FitBit: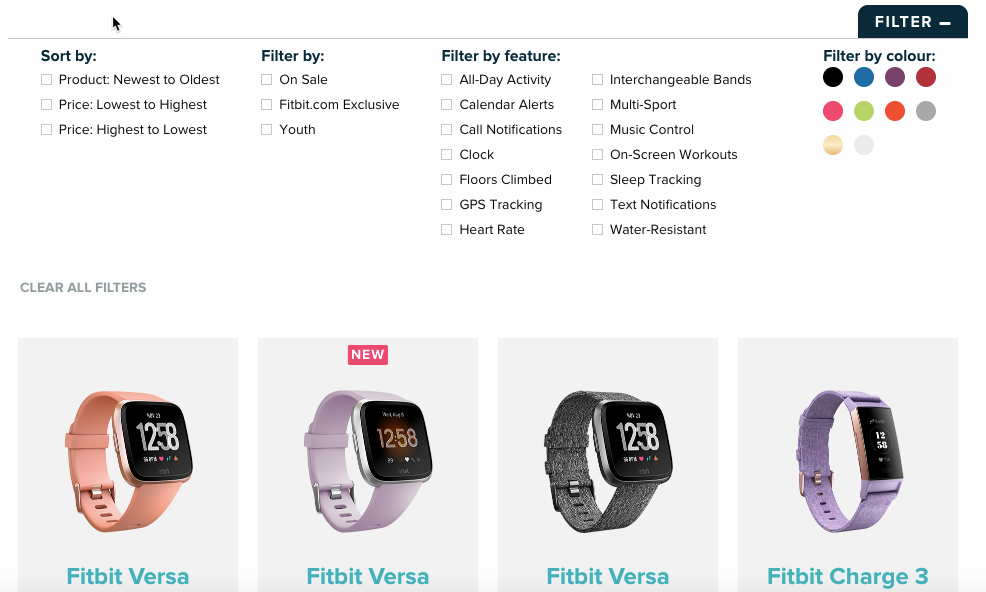 Search filters are an essential to helping your customers find just the right item quickly. When designing your product search tools, more filters are generally better than fewer. Sorting by price, popularity or rating are always good options so make sure to use them.
2. Wishlists
99% of first time website visitors are not ready to buy from you yet. In fact, it can take multiple visits and even multiple shopping cart abandonments to complete an order.
You know how you can bring them back?  By offering a "save for later" option, also known as a wishlist.
Here's an example from Amazon:

Wishlists allow customers to "save items for later" if they can't commit to a purchase at that moment and find them quickly whenever they return to your store.
Why is this useful? Because some people may want to do further research before buying a product. Others may not have their credit cards on them at that time.
Whatever the reason, wishlists are known to drive engagement and sales. What's more, mobile shoppers find this feature particularly useful because it saves a lot of "browsing" time on a smaller screen.
So make sure that your shopping cart gives customers the option to create a wishlist where they can quickly add items for later purchase.
3. Fast checkout
The checkout process at many ecommerce stores can be as frustrating, if not more, as standing in a long checkout line at a supermarket. What happens then? Since most people aren't patient, they're likely to leave and go elsewhere.
The solution? Make sure that your shopping cart gives customers the options for express and/ or guest checkout. This way they can pay for their orders quickly and hassle-free.
Express checkout is for users who already have an account with you. In this case, when they want to checkout, all they need to do is to log in and the shopping cart pulls up their stored payment and billing information.
This is a great feature as it reduces the number of steps in the checkout process and makes it easier for customers to buy from you.
Amazon uses the express checkout option, also known as "buy now with 1-Click":

Another option is to allow users to checkout as guests, meaning without having to create an account. In case you didn't know, forcing people to create a profile to be able to pay for their order is the second most common reason for shopping cart abandonment.
So when you give customers a guest checkout option, it speeds up the process which can help to boost sales.
4. Payment options
You don't want prospects to leave your site without buying anything because you don't accept the payment method they want to use, do you?
Here's the thing: the days of offering a single payment option and only accepting Visa or Mastercard are over. People want options. They want to pay for their orders using their favourite card or their preferred PayPal or Apple Pay accounts. If they can't, they'll just go to your competitors instead.
Need some proof? Research shows that 54% of people feel having a variety pf payment options is important when buying products online:
So make sure that your ecommerce shopping cart allows you to accept payments from not only major credit cards and debit cards, but also alternative forms of payment such as Apple Pay, PayPal, Android Pay and even Bitcoin.
Here's a screenshot from the Adidas website where they display the payment methods they accept on their store: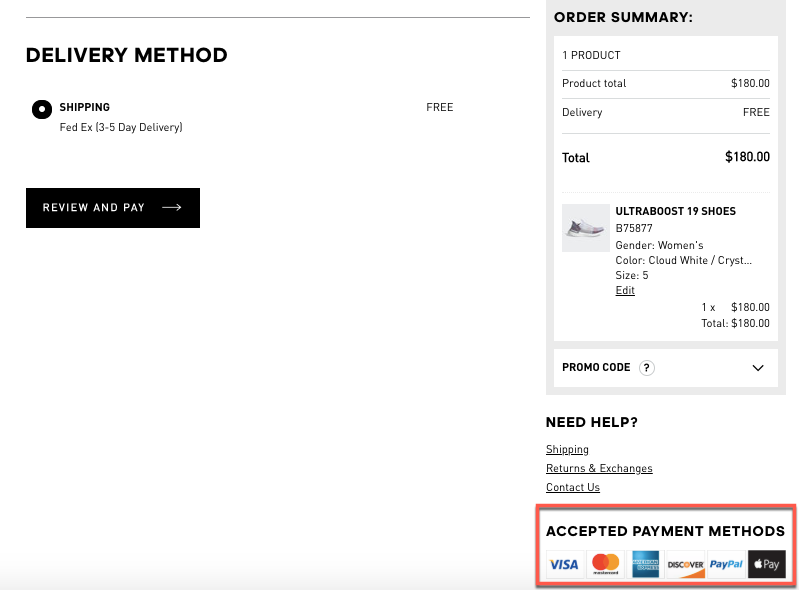 If you don't know which payment options to accept on your online shop, take a look at Statista's study on global preferred online payment methods.
5. Order tracking
Once a customer places an order on your site, they want to be kept informed on when they can expect to receive it. Your shopping cart needs to make it easy for you to do that and communicate with your customers.
What does that mean exactly? It means that you need to be able to send automated order confirmation and shipping notification emails so that customers know at all times when their order will arrive at their door.
If a customer has signed up for an account, they should be able to track their order from their account as well.
Remember that good communication with customers isn't just important before making a purchase, but also after.
6. Website security
It takes a lot of time and effort in this competitive world to attract new customers and to convince them to trust you enough to buy from you.
If there's one thing that can make customer feel safe and secure while entering their credit card details on your website, that's an SSL certificate seal.
An SSL will encrypt communications between you and your customers (i.e. a credit card number), which will allay their fears of providing such information.
Here's how it looks:

So make sure that your shopping cart comes with a built-in SSL data encryption for website security. If it doesn't, you can purchase an SSL certificate from 123 Reg anytime you like.
Whichever option you choose, this is a feature that no online shop should be without. That's because it's a simple way to boost sales by reassuring customers that their personal and sensitive information is safe and secure with you.
7. Chat support
A great online shopping experience also means being there for your customers when they have questions or concerns. So make sure your shopping cart offers an integrated chat capability that allows you to be there for your customers anytime they need support or a quick answer to a question.
In conclusion
These are some of the most important features that your shopping cart needs to have so you can sell products online with ease. If you haven't yet found the right solution, check out our 123 Reg ecommerce website solution that's already packed with everything you need to run a successful online store.