Why you need your own website if you're selling online
If you're thinking about selling products online, you might be asking yourself if it's better to sell through a marketplace like Amazon or eBay or to start your own online shop.
On the surface, selling on a popular ecommerce platform sounds like a good idea. You can quickly get your products in front of a huge audience of consumers who are ready to buy.
But did you know that there are certain types of products that you can't sell on 3rd party platforms? Or that if Amazon decides to suspend your listing and close your account, you're left with no backup option?
So while selling your products on an ecommerce platform may seem like a good idea in the short term, it won't help your business grow in the long term.
Let's look at a few reasons why you need to setup your own website if you're selling online, and why starting your own branded shop is a much better play in the long run.
To build your own memorable brand and customer experience
When people shop on a big marketplace like Amazon, most think they're buying from Amazon even though it's your products they're buying.
Why? Because all product pages look the same. The design, the fonts, and the colours are pretty much standardised across most marketplaces. While there are some things you can do to differentiate yourself, they're so small that they're unnoticeable to most shoppers.
Just look at how tiny a brand name is on an Amazon listing:

There's no other information about the brand, no website address or contact information. Just a brand name that most customers hardly ever notice.
So what does this mean for your business? It means that you don't exist as a brand. The only brand here is Amazon and that's the only one customers really notice.
But when you have your own website, you're building your own brand, one that visitors and customers notice, remember and recommend to others.
It's a brand that you have complete control over. You get to decide how you want your shop to look and the kind of experience you create for your visitors and customers.
You can choose what template, logo, fonts and colours to use to reflect your brand personality and niche industry, the type of products you sell and how you sell them. It's all entirely up to you since you're building on a platform you own, and not one you've rented.
Bottom line: when you have your own unique website, it's easier to differentiate yourself from the crowd. It's also easier to create a memorable experience that can turn first-time visitors into loyal customers.
Watch this webinar to learn more about developing your small business brand and read these tips on how to create your unique brand style guide.
To get customers' undivided attention
Since 3rd party platforms like Amazon, Facebook and eBay are so popular, lots of businesses, big and small, have started using them to sell their products online. This also means that you're competing with other businesses every day. And it's not just in the search results when people search for your products but also directly on your product page.
Check out this example of a product page where another listing from a competitor is displayed directly on the page.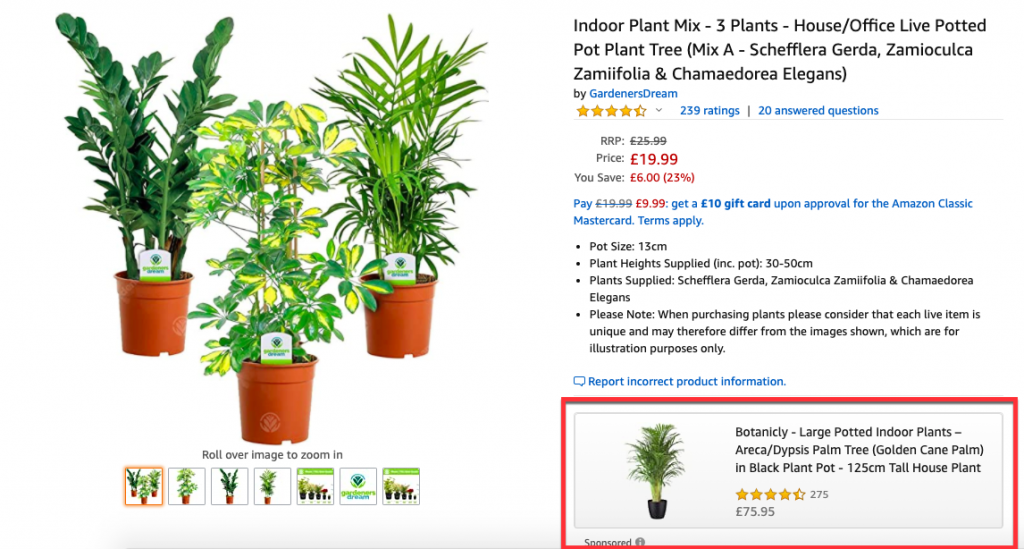 So not even your listing is your own. There's always another product that can catch a prospect's attention and have them click away from your listing.
That doesn't happen when you have your own online shop. Once a prospect lands on your website, they'll only have your products to browse through. No other distractions or sponsored ads for other products to compete for their attention once there.
To build your email list
One of the biggest disadvantages of selling via 3rd party platforms is that you can never have access to your customer base. That's because they're not yours but the platform's you're selling on.
This means you can't reach out to customers to ask for their feedback or to offer to help. You also can't interact with them via email to share news, special offers or information about other products you're selling that they might be interested in purchasing.
In other words, you're missing out on a huge opportunity to build a relationship with your customers and grow your revenue.
But when you have your own shop, you have access to everything from their contact information to what they bought and when, and how much they spent.
Even if they're first-time visitors who are just browsing through your site, you also have the opportunity to entice them to sign up for your mailing list. This gives you the chance to email them with special promotions and educational content that helps to build trust and convince them to buy from you at a later stage.
To promote your products and increase your reach
When you have your own website, you get to decide where and how to advertise your business and products, and what types of campaigns to create to attract more customers to your shop. And, most importantly, you're sending all that traffic to your own website and get to keep 100% of the profits.
But when you're selling on a 3rd party platform, that traffic isn't yours. The promotions you run and the campaigns you pay for to advertise your products, they all help to build someone else's brand, traffic, customer base and revenue, not yours.
To get independence from 3rd party platforms
There's not much flexibility on popular marketplaces when it comes to how you present and promote your products. It's all standardised and there are lots of rules and limitations to what types of products you can sell and how you sell them.
But when you have your own website, you have complete control over what and how you sell. You can add photos, videos and demos to help customers choose the right products for their needs, and provide further assistance whenever they need it.
To build your own successful business, not someone else's
One of the benefits of selling on marketplaces like Amazon and eBay is that you can sell products quickly, with little resources and little effort on your part.
While that may be true, building your own custom online store is now easier and more affordable than ever before.
For example, our 123 Reg Online Shop packages come with everything you need to run a successful online store, from mobile-friendly templates and checkout so customers can buy with ease no matter what device they're using to free domain, web hosting, email account and SSL certificate for a secure shop.
In addition, you can still sell your products on 3rd party platforms but you'll get to manage everything from your own site. Read these support articles to learn how you can integrate your 123 Reg Online Shop with Facebook and Amazon, and how easily you can manage your listings from your own site.
So instead of relying on a 3rd party platform to sell your products, a platform you have no control over, why not sell on your own branded shop while also promoting your products on popular marketplaces? This way, no matter what happens, you'll always have your own shop where customers can visit, buy and get in touch with you.
Wrapping up
When deciding where to sell your products, ask yourself what is your long-term strategy. Selling on popular marketplaces can be a low-friction way to get started, but what about the future?
If you're serious about building a memorable brand and a successful business, one where you're in complete control over how you present, promote and sell your products, then you need to have your own website.