Do I need a website for my small business?
If you have a small business, you may be wondering whether you need a website. You may think that your operation is too small to warrant a website, or that your customers don't use the internet to find businesses like yours. So, is it worth getting online if your phone is still ringing and your business is still doing well?
There are many reasons why you need a site, regardless of the size of your business. Consider these statistics:
There are currently 4,929,926,187 Internet users
Google averages 40,000 searches every second
4 in 5 consumers use search engines to find local information
56% of people stated that they won't trust a business without a website
Now, are you sure these users don't also include your prospects who are going online to find businesses like yours? If they are, they're all going to your competitors instead; competitors who do have a presence online to promote their products and services, attract new customers and grow their revenue.
If you're still not convinced, here are a few key reasons why you need to create a website and help your small business succeed in the long term.
Getting found online
If you have a local business, you might think that you don't need a website. People can find out about your business from friends and family, flyers, or by walking past your physical location. But the truth is that these days, almost everyone uses the Internet to get information – even local information. We hardly ever look at flyers or notice the local businesses around us, at least not as much as we used to.
People prefer to go online and run a Google search on their PCs, laptops, tablets, or smartphones to decide where to go, what to buy, whom to hire. And why shouldn't they? It's so quick and convenient. Need a flower shop that delivers or a good plumber? Why spend time asking friends and family, or taking a walk to find a nearby flower shop or a plumber, when you could just go to Google, run a simple search and in seconds get results like these?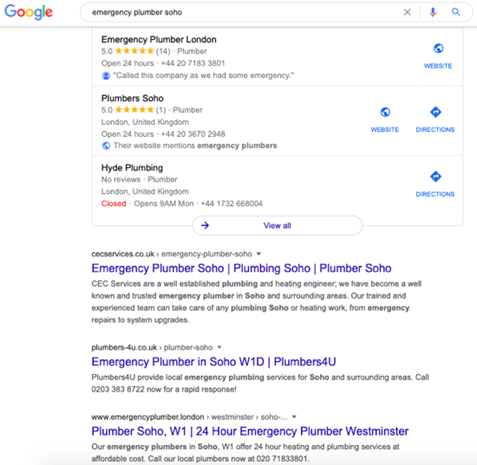 What does this mean for your small business? It means that if you don't have a website, your business won't show up in the search results when prospects are searching for your offering. And if you're not in the search results, you're missing out on attracting new customers and growing your revenue.
Giving prospects the information they need in seconds
When you have a website, prospects don't need to give you a call to ask things like:
What kind of products or services do you sell?
Do you have that specific product in stock?
How much do your products or services cost?
What is your return policy?
When do you open?
Where are you located?
They can find all this information and more on your website. If you also have a contact form on your site, they can also choose to fill it out to ask questions or book your services, rather than give you a call.
If you're a small business with a small staff, this can save you lots of time picking up the phone and answering the same questions over and over again. Imagine being on site, doing plumbing work, and being able to focus on what you do best, instead of having to pick up the phone every 15 minutes to answer yet another common question like "what time do you open?".
Keeping your business open 24/7
One of the best things about having a website is that it's open 24/7/365. Prospects can go to your website, read about who you are, what you sell, and your customers' experience with you. And they can do that whenever is convenient for them – at 6am while enjoying a cup of coffee or at 11pm when they've just remembered they needed to hire a plumber or buy a gift for a loved one.
Having a website also means that you can make money in your sleep. People can browse your website at any time and place orders for your products, book your courses or events, or hire you for a job. If you have a contact form on your site with a booking calendar, visitors can quickly fill it out to book your services. The next day, you can set an hour aside to follow up, confirm your bookings for the day, and then do what you do best.
If that sounds easy, it's because it is. And you can do that with the 123 Reg Website Builder in seconds, by simply dragging and dropping a contact form widget onto a page. Here's how your contact form can look: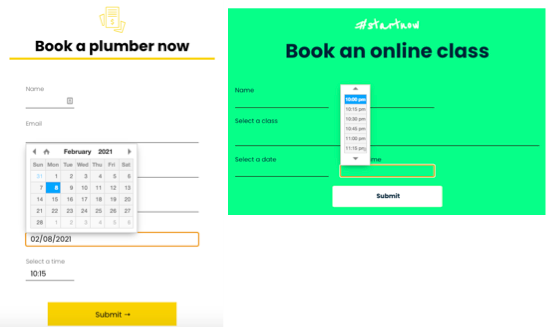 If you don't yet know about our Website Builder, it's a solution that lets you create and get your website online even if you have no experience with sites or coding. All you need to do is choose a pre-made template, add your content, and hit publish. Learn more about our Website Builder packages.
You can also read this article to learn more about the benefits of using a booking calendar on your site to get more customers.
Building trust
These days, it's not unusual for people to assume that if a business isn't online, it might be because it's not legitimate, serious, or credible. Because why wouldn't a business be online considering a website is not only affordable but also easy to build?
Not having a website can cause trust issues with potential customers. It can also have an impact on your reputation, leading prospects to assume that your business is out-of-touch and outdated.
So, if you want prospects to trust to buy from you or book your services, you need a website. You need a website that tells people that you're up to date, you have the solution they're looking for, you're an authority in your industry and, above all, a pleasure to work with.
Learn more about building customer trust when you're just getting started online:
Build customer trust when you're a new business
Earn customer trust when you're a new ecommerce business
Build your online authority and attract new customers
Wrapping up
If you're wondering whether you need a website for your small business, the answer is yes. If you're serious about getting new customers, growing your revenue, and helping your small business succeed, you need to be online because it's where your prospects are.
The 123 Reg Website Builder makes it easy and affordable to get online so, you have no excuse not to create a website and get found online by anyone who's looking for your products and services. Check out our step-by-step guide to creating a website to help you get started.
Or you could try our Managed WordPress hosting. Managed WordPress gives you access the power of the popular hosting platform, but without the need for as much technical knowledge. You can learn how to create your first WordPress website in this guide.