How to build meaningful relationships with customers using email marketing
Did you know that nearly half of email marketers send everyone on their list the same email? And this email is usually a promotional one that pushes for the sale of a product or service.
It's no surprise that so many people choose to ignore, immediately delete, hit unsubscribe or send these emails directly to the spam folder.
Here's the thing: while email marketing can be a powerful tool to boost sales, it won't work if all you use it for is to talk about yourself and your offering. And it also won't work if you send the same message to everyone, hoping someone will be interested in what you have to say or to sell.
Want to get your subscribers to look forward to receiving your emails, to open and read them, and to buy from you? Then you have to first put in the work and build meaningful relationships with them.
And how do you build relationships with your subscribers? By respecting their time, offering relevant expert advice and tips, and sharing things that they can benefit from.
In this post we'll look at a few ways you can use email marketing to deepen relationships and truly engage with your customers.
Be welcoming
The first welcome email you send to a new subscriber is like a handshake. Make sure it's warm, friendly and inviting.
At the same time, keep it short. Use this opportunity to thank them for signing up and to tell them a bit more about what's in it for them and how you can help. You should also let them know how often they can expect to hear from you.
Here's a good example: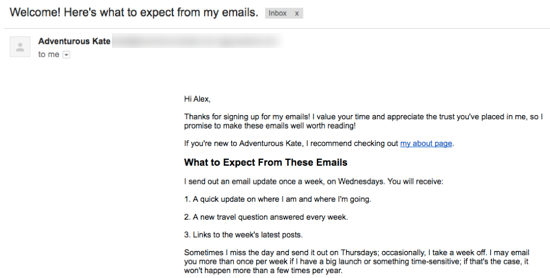 Need some help or inspiration to create a great welcome email? Check out this post for tips and examples on how to write a welcome email to ensure you get the most out of it.
Don't hesitate to automate other types of emails as well, such as birthday wishes or other events and dates that are important to your customers.
Make it personal
Just because you're sending an email to 50, 100 or more subscribers, it doesn't mean you can't make the message personal. On the contrary, people respond better when you treat them like they're people and not email addresses.
Here's an example: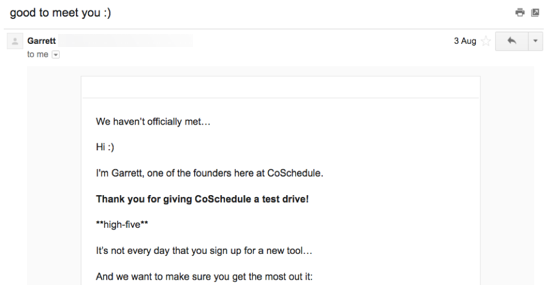 So how can you make your emails more personal?
The first step is to segment your mailing list. This allows you to organise your list into different groups based on your customers' interests and problems. You can then send out messages that are targeted to the specific needs of each customer group.
The second step is to personalise your emails. How? Try simple tactics like adding the subscribers' name in the subject line and in the email body copy. In this post you can learn about other effective email personalisation tactics that you can use to make your messages more personal.
The third step is to use a personal tone. No one wants to read an email that sounds like it was written for a random group of many. So write to your subscribers like they're people who walk into your store. You wouldn't say "they" when talking to them, would you?
Use personal pronouns like "you" and "me". Be friendly and inviting. Remember: you're talking to people so be personal about it.
The fourth step is to humanise your brand and show that there's an actual person who is sending them those emails. How can you do that? Simple. Use your name in the "from" line of your email like "John at Company XYZ". This makes it appear like more of a person-to-person conversation than if you simply send emails from "Company XYZ". Also, include your headshot in your email "from" line.
Focus on the relationship
No one wants to be sold to all the time. So if you're only sending emails to try to convince people to buy from you, you're doing it wrong.
Here's the thing: your subscribers don't actually want your products or services. What they want is for you to help them solve their problems, answer their questions and address their concerns. Use your email content to do that and make your products and services part of the solution.
A good rule of thumb is the 80/20 rule – 80% of your emails should be packed with useful content and helpful resources. 20% should include paid offers for your products and services.
So if you want to build a long-term relationship with customers, you need to offer something of value with every email you send, something that speaks to their particular interests, needs and concerns. It's the only way to position yourself as an expert and trusted resource.
Make sure your emails are always packed with great content that's relevant to your subscribers. This can be anything from fun or inspirational videos to how-to and educational articles as well as product deals and discounts.
When your emails are relevant and valuable, your customers will be more likely to keep opening, keep clicking, keep buying and keep spreading the word about how awesome your business is, thus enticing others to give you a chance.
Be consistent
When someone decides to give you their email address, it usually means they want to hear from you. It's your job to connect with your subscribers and keep that relationship going.
Think of the relationship you have with your friends and family. Chances are you regularly talk on the phone, chat on WhatsApp, send pictures on Facebook and get together for coffee or dinner.
Your relationships with your customers are no different. So make sure you send emails to your subscribers on a regular basis. Depending on the type of business you're in, this can be anything from twice a week to once a month.
And whatever you do, don't just email your list when you have something to sell. This is a surefire way to lose their interest and drive them away.
Get their feedback
Collecting feedback from customers is an essential part of the communication process. So if you want to build strong, meaningful relationships, you need to make time to talk to your customers on a regular basis, and to listen to what they have to say.
So send them an email or a survey to find out what they like about your content as well as products and services, and what other information they'd like to receive from you that could help to improve their lives.
If you need more advice and examples, this article includes lots of useful tips on how to use surveys to get valuable feedback from your customers.
Wrapping up
The only effective way to boost sales and to turn one-time customers into loyal ones is to focus on building meaningful relationships. Email marketing is a fantastic way to do that and if you do it right, it won't be long until you get the results you want.
Start by being friendly and inviting, keeping your communication personal and providing value with every message you send, and you'll quickly reinforce customers' desire to keep doing business with you.