How to use content to promote the launch of a new product
Did you know that more than 65% of new products launched by established companies fail? When it comes to start-ups, the failure rate takes a huge leap to 90%, according to McCombs School of Business professor Rob Adams.
These statistics can be scary, especially when you consider the countless hours and the amount of effort and money that go into building a new product.
But why do products fail? In some cases, it's because they're useless. But in many cases, it's because of the "if you build it, they will come" approach to launching a new product.
Here's the thing: no matter how useful, innovative or life-changing your product is, it will fail unless you also invest time and effort into a better product launch.
You know what's the best, most effective tool to get people excited and talking about your new product?
It's content. High quality, useful, entertaining content in different formats can help you to reach your target audience and keep your brand and product top of mind.
In this post we'll share a few ideas on how you can use content to drive buzz before the big day.
Generate buzz on social media
A product launch starts well before the actual launch. So the goal of content marketing is to build awareness and anticipation and to get people talking about your new product in the weeks and months prior to the launch date.
A great place to start generating buzz is social media. With so many options for your followers to like, react, comment, and share your posts, it's a fantastic way to get more exposure.
So if your business has an active presence and a significant following on social networks like Twitter, Facebook or Instagram, make sure to take advantage. How? Keep sharing useful and fun content, and engaging your audience in meaningful conversation.
When your audience is engaged and trusts your advice and knowledge, they'll also trust to buy your product when it's finally on the market.
Of course, apart from your everyday social media content, make sure to also post hints about your new product. For example, you could use Instagram or Facebook Stories to share a photo or video with a small detail of the product in order to build excitement and enthusiasm.
Be sure to not disclose too much information, though. Just enough to get them interested and wanting to find out more.
Need some inspiration? Before Microsoft launched the Lumia phone, they shared this image to get people excited about their product.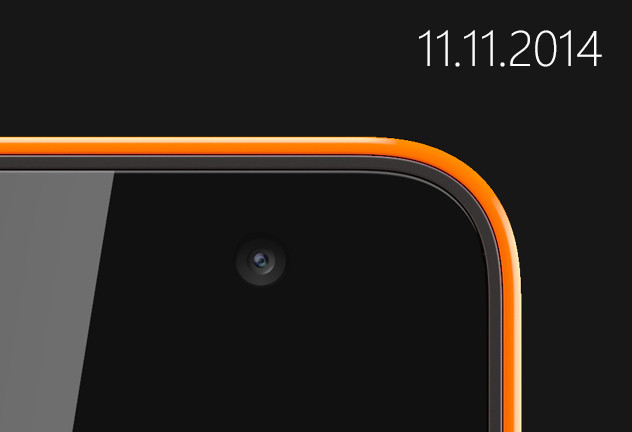 The ad only showed a small detail of the phone alongside the date "11.11.2014."
And this is what the announcement read:
"Microsoft is delivering the power of everyday mobile technology to everyone. Come back on November 11, to find out more! #MoreLumia"
Now, if you're just getting started with social media, the first crucial step is to choose the right platforms that your audience spends time on.
Next, start building your following by sharing quality content and engaging with your audience. This will help to build your reputation as an expert in your industry and will also earn you the right to promote your product when it's ready to launch.
Make sure you take these steps a few months before the launch date so you have enough time to garner a significant enough following to have an impact.
Send educational email content
Another very important thing you should before you launch a new product is to build an email list of potential leads or early adopters.
If you don't already have an email list, now's the time to start building it as it's one of the cheapest, most effective ways to stay in touch with your audience and to sell more products. Check out our beginner's guide to building your first email list to learn how to get people to sign up to hear from you.
Now, if you already have an email list, don't be afraid to use it to promote your new product. Since your subscribers are already familiar with your brand and have likely also bought from you, it makes them a prime audience for promoting your product.
However, don't just send sales emails one after another where you talk about how amazing your new product is. As with social media content, make consistent contact with your subscribers and keep providing valuable content while gradually building anticipation for your new product.
For example, if you're planning to launch a to-do list app, you could send emails with useful advice on ways to overcome procrastination or productivity tips for extremely busy people.
This way, when you announce the launch of your product, they'll know it's worth spending money on and/or spreading the word about it because it comes from you.
Blog about it
Did you know that businesses that blog witness their monthly leads rise by 126% more than those who don't?
Blogs aren't great just for building brand awareness and trust but also for promoting new products. So take advantage of your existing blog and a few months in advance write posts about your new product in a way that doesn't sound too salesy.
For example, if you're a fitness instructor and you're preparing to launch a complete exercise programme, you could publish a post with advice on how to stick to a daily exercise routine. Then let readers know you're about to launch a programme that'll help them stick to a schedule. The idea is to weave it naturally into an already valuable blog post.
This is just one post but you should publish many more where you talk about the product and its many benefits in order to build anticipation for your regular readers. Make sure to share these blog posts on social media and in your email newsletters as well.
What if you don't have a blog? There's no better time like now to start blogging. Need help? Read our beginner's guide to blogging for business for lots of tips and advice on how to get started.
Create and share videos
It's difficult to overstate the importance of video content. Just look at these statistics from Wyzowl:
79% of consumers would prefer to learn about a product via video than text
84% of consumers have made a purchase after watching a brand or product video
The great news is that you don't need fancy or expensive equipment to produce video content. Here are a few quick and simple ideas of videos you can create for your product launch:
Use your phone to create and share video stories on Facebook and Instagram with what's going on behind the scenes. These types of videos are very effective at building excitement before the actual product launch.
Record a how-to or a product explainer video where you walk people through the features of the product and how it works.
Get someone from your team or a friend on camera and show them using the product.
For more tips and advice, read our small business owner's guide to video marketing to learn how to create your first marketing video.
Wrapping up
Don't hesitate to use as many channels and types of content as you need to drive buzz around your upcoming product launch. Just make sure that they make sense for your brand and your target audience.
Hopefully, by using the tips in this article you'll get people talking about your product and excited for its launch date.