How Woodstock IT Services supports its customers with help from 123-reg
IT services are the backbone of most modern businesses. If your computer doesn't work, then the chances are your business isn't working either. That's why Woodstock IT services focuses so much on providing a good, reliable service to its customers. The firm, which provides the full range of IT support to its business customers, as well as residential support, understands how important it is to get a problem fixed quickly. It also understand that while IT may be part of our everyday lives, not everyone is tech literate enough to solve the problems that crop up when things go wrong.
As Woodstock IT Services director Julian Shelley explained, helping people in an easy to understand way is part of the company's ethos.
He said: "When we set up the business we always wanted to be relaxed and friendly and approachable, that's not a front, that's not fake I mean it's just who we are what we do."
"In 2010 we started this company and incorporated the name in 2011 and we've grown steadily year on year ever since," he added.
But in order to provide a reliable service to its customers, Woodstock IT Services itself needs a company it can rely on. That's where 123-reg comes in.
"I've used 123-reg for many years actually it's just one of those accounts that I've always had and its always kind of been there and its always been reliable and then the premium hosting service came up just at the right time," Julian said.
He added: "So we made a decision that we would take that on and it's just been a really great system for us. I like the fact that its scale able, I like the fact that it's reliable and I like the fact that the control panel is easy to navigate."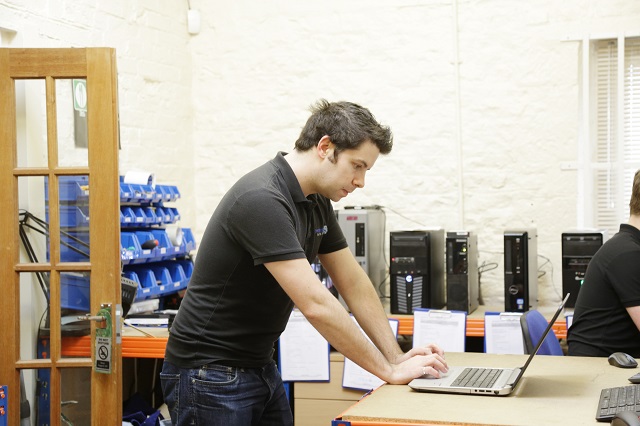 Julian explained the fact that 123-reg Premium hosting, which his company uses as a reseller, was so easy to use had been a significant bonus when getting started with the product.
"We had a couple of questions you know just with the initial set up and the support that we had from 123-reg in that initial set up was great, I couldn't fault it," he said.
Nick Leech, group director digital at 123-reg, said: "We've got a lot of admiration for businesses like Woodstock IT Services
"The world of computers, the internet, and websites are a mystery to most. Often technical people who work in service companies use jargon as shorthand to describe an IT set up. But when you turn this jargon on a customer they're baffled. That's why we like Woodstock, who have gone out of their way to simplify what they do for their customers.
"We try to do the same at 123-reg. We don't bang on about technical features, but rather talk about the benefits that it brings to our customers. That's the difference it will make to their lives."
Premium Hosting from 123-reg is the ideal solution if you have a large demanding website, or if you need to run multiple websites from one server without having to compromise on quality. With prices starting from as little as £29.99 a month, you won't have to break the bank either.
To find out more about our Premium Hosting, you can check out the all details on this page. And if you'd like to talk someone about your needs, feel free to give us a call on 0330 221 1007
Still have questions? If there's anything that you need to know that we haven't covered in this article, then feel free to leave a comment below and we'll get back to you as quickly as we possibly can.