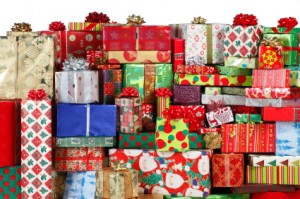 One more sleeps as the kids around here (big and little) appear to want to tell everybody. Yes, today is Christmas Eve, the day before the most exciting day of the year for small children across the world. So how do you cope with the excitement? How do you pass the waiting hours? We've found a few suitable websites for you:
NORAD Tracks Santa
If you've never tracked the NORAD Santa system before, it is well worth a check. Using Google Earth in 3D you can see just how busy Mr Christmas is as you follow Santa's journey across the globe in anticipation for his arrival at your home. Starting on December 1, there will be activities posted each day to help with the wait. The big event starts at 9am UK time and you will need to download Google Earth to view it.
Portable North Pole Video from Santa Claus
As a grown-up spend five minutes answering a few simple questions about any special children you know and upload some pictures and you will be sent a link for a personalised video from Santa. A digital version of the traditional letter from Santa it will bring even more excitement to the kids, big and little.
Santa Claus Live
Part of a bigger site trying to sell trips to meet Santa, this site offers web cams live from Santa's home, inside and out as they gear up for delivery. Well worth a sneaky peak.
Santa Design Christmas Printables
Print out and colour for all the family. Not just about creating an unwanted mess on your dining room table either. SOme of these things are quite practical for the festive season. So if you've not been able to find suitable napkin rings, or forget to get Xmassy place name cards, or even run out of Christmas gift tags, then this site offers you a chance to make your own and have some festive fun at the same time.
LAST MINUTE PRESENTS!
If you've left it late, there is still hope. A number of online shops offer you the chance to order, download and print gift vouchers but we've also found these two sites who were expecting to still be taking orders this morning and guaranteeing same-day delivery.
ASOS
Women's fashion and men's clothing online. With over 40000 styles, including dresses, jeans, shoes and accessories, there is plenty to choose from. Order before 2pm – although check this, the weather might affect this.
Interflora
Flowers say everything simply. This infamous flower delivery network uses florists across the nation who hand-deliver flowers, bouquets and arrangements. Order before 11am for same-day delivery, but there may be certain areas where same-day is not available and also issues with availability of certain stock.