A beginner's guide to Google Shopping Ads
Your success as a business rides on your ability to attract new customers at an acceptable cost. Google's Product Listing Ads (PLAs) are one of the top traffic sources that can give your small business a competitive edge. That's because they enable you to promote your products and services at the moment potential customers are searching for them online.
PLAs, also known as Google Shopping Ads, are growing in popularity as an effective method to increase visibility and generate more sales. In fact, to get you excited, let me share some neat stats. Google PLA click volume grew nearly five times faster than Google text ad volume in the second quarter of 2016. Also, according to a report by performance marketing agency Merkle Group Inc., Google Shopping Ads are set to account for more than half of retailers' paid search clicks by the end of the year.
So, what does this mean for your small business? It not only means that this method is effective but also that there's plenty of opportunity there for you to advertise whatever it is that you're selling, and increase your revenue.
In this post we'll walk you through everything you need to know about Google Shopping Ads, how they work, and how you can maximise their potential to generate more sales for your ecommerce store.
What is Google Shopping?
Google Shopping is a dedicated shopping search engine from Google that allows businesses to advertise their products directly in the Google search results and in front of ready-to-buy audiences.
These results appear within regular Google searches whenever the search engine believes there's a shopping match. They appear in a special shopping box, which shows a "Sponsored" disclaimer.
Here's how Google Shopping ads look: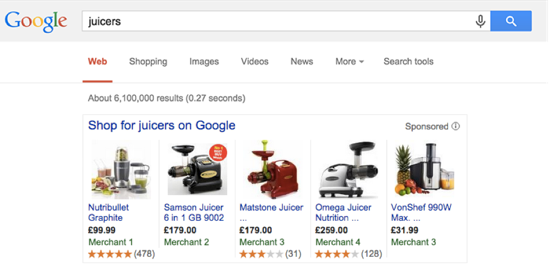 Unlike Google Adwords, where the ads are text-only, the search results included in Google Shopping feature product information, prices, stock availability and ratings. That's what makes them so effective. Also, since these ads usually appear at the top of the search results, your products will show up where searchers are looking the most.
Who is it for?
This isn't a service for organic listings or increasing your rankings. It's for any business, large to small, that can afford to invest money into advertising their products and compete against other similar-sized businesses or bigger brands.
Apart from that, Google Shopping Ads can also help to send more traffic to a store at the time users are ready buy. Also, thanks to the richer search results that also include images, prices and other valuable information, the click-through rates are also higher, as compared to standard AdWords text listings.
So whether you're looking to boost sales for your online or offline store, Google Shopping Ads can help. Ready to get started with your first Google Shopping ads campaign? Let's begin.
Getting started with Google Shopping
You can find Shopping within Google Ads. This is where you'll be able to create PLAs where you'll include details for your products like description, images, prices and more.
Now, to start a campaign you need:
A Google AdWords account
A Merchant Center account
If you don't have an AdWords account, it's easy to set up. Just visit this page and follow the steps to set it up.
Next you'll need to create a Google Merchant account, if you don't already have one. This is where you'll be able to provide Google with information about your products. To set up your Google Merchant account, go to this page and simply follow the steps to create your account.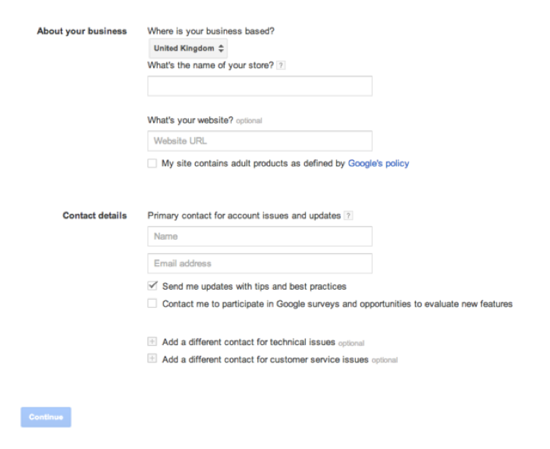 You'll now be redirected to your Google Merchant Center Dashboard. The next step is to create a 'Feed' where you include the products in your shop.
So click on 'Feeds' located in the left hand column.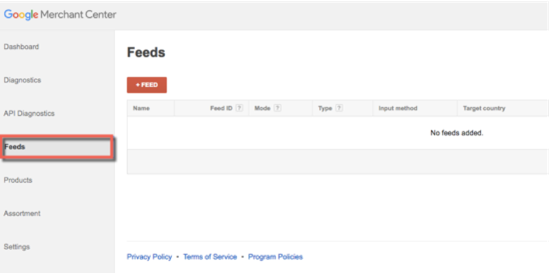 Setting up your feed is not very difficult and all you need to do is fill out a spreadsheet. However, if you encounter difficulties, you can watch this video that gives further instructions on how to create and submit a data feed:
Once you've set up your Product Feed, you now need to link your AdWords account with your Google Merchant Account. To do that, click on 'Settings' in the sidebar, and then select AdWords.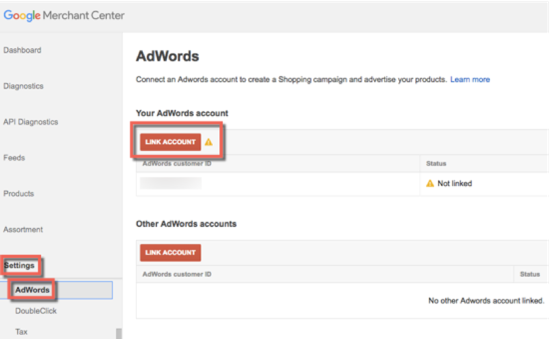 Now just click on 'Link Account'.
Creating your first campaign
You can now create a Shopping Ads campaign from within the Merchant Center. However, you can also set up a campaign through Google AdWords.
To make the process easier, visit this page and Google will walk you through the process of setting up a 'Shopping Campaign.' When there, just click on the 'Guide Me' button.
Basically you'll need to log into your AdWords account and then click on '+Campaign' -> 'Shopping' and you'll be on your way. You'll also need to set your budget and bidding options. You might want to start with a small amount, like £10, to test the waters. After a few days or a week, you can take a look at the results and see whether you should increase the campaign spend or make changes to it.
Important! Shopping ads don't allow you to pick keywords when advertising products. The service works by taking the products in your Product Feed and then showing them to searchers using Google's own keyword data. This is one less thing to worry about as you know Google has great insights and data on the keywords that people type in when searching for products like yours. This ensures your products will appear in the search results for relevant keywords.
If you'd like to create a campaign for a specific product, you can do that too. Go to the 'Advanced Shopping settings' on the page where you initially set up your Shopping Ads campaign. You'll see a section called 'Inventory filter'. This is where you'll be able to choose the product that you'd like to advertise in your campaign.
You will also see an option called 'Campaign priority'. This is particularly helpful if you're running several campaigns at once where you advertise the same product. You can use this option to give priority to certain products so that they get a higher bid and, thus, better exposure.
Tips to maximise revenue when using Shopping Ads
If you feel that your results could be better, you might consider implementing these following tips.
Adjust your bids. If you're familiar with how AdWords work, you probably know that it's based on a bidding system, meaning that those who pay the most for an ad usually receive the most exposure for that ad. So if you find that your ad isn't performing well and isn't getting clicked, you might consider raising the bid for your ad.
Use high quality images. You already know the massive impact that images have in terms of grabbing users' attention and getting them to click on your ad. So if you notice your ad isn't getting too many clicks, you might want to change the image for your ad with a more powerful one that really stands out. Just make sure that any image you use in your ads is high-quality.
Optimise your product descriptions. Make sure that the name of your product accurately describes what you're offering. As with any text ad, words sell so make sure you test the copy in your ad to ensure it's not only keyword-rich and descriptive but also appealing to a potential buyer who is viewing your ad.
Yes, do use relevant keywords. Think about it – a product number like YLO63597XC3 says nothing to a potential customer. However, "Extra Large Red Hoodie" can mean the difference between an order and an ignored ad. Also notice that I didn't write "red hoodie" but "extra large" as well to describe it. This means that you should use keywords and terms that describe your product and help users easily understand and visualise your product. Using these keywords that your audience would use to find your product can also increase the chances of that product being found and featured in a feed.
Take advantage of labels. You can create custom labels to help group and manage your products. For example, you can have labels for seasonal products that you'd like to promote heavily for a given period of time, or you can have labels for best sellers, or you can do price buckets. You can even create a label for all your products between £5-20. There's nothing you can't do with labels when it comes to organising your products so they perform well.
Always mention promotions. If you're running a sale or a promotion – whether it's a discount or free shipping – it's always a good idea to mention this in your ad.
Wrapping up
If you sell products, Google Shopping Ads shouldn't be just another option to advertise your products, but one of the top ones. Using these ads allows you to show image and text-rich ads right at the top of the search engine results. And this is where they'll be seen by ready-to-buy users.
Don't forget to experiment and test different product descriptions, images and bids to see what works best for you and your target audience.
So, go ahead and give Google Shopping Ads a try and see how well they work out for you.