Key online marketing tactics to grow your small business in 2021
If you want your small business to thrive in 2021, it's time to start planning your digital marketing strategy. But what should you focus on to attract, engage, and retain customers and generate more revenue?
Below, we'll cover the key online marketing trends of 2021 to invest your time and resources next year, so you get the most out of your marketing budget. If you don't know where to start, start here – because these trends can give you the best chance to get a head start over your competition.
1. Email marketing
While there are lots of online marketing options to choose from, there's no denying that email has long been one of the mainstays of effective marketing strategies. We expect that won't change any time soon, considering these findings from the Marketer email tracker 2019 report:
Email marketing has an impressive return on investment (ROI) at just over £42 for every pound spent.
76% of marketers report an increase in open rates in the past 12 months; 75% say click-throughs are higher; 51% say ROI has risen.
Opt-out rates have decreased according to 41% of marketers, and 55% say spam complaints are also down.
What does this all mean? It means that businesses are finding success with email marketing. So, the chances are yours will too if you invest (more) time in communicating and building relationships with customers via email.
If you're new to email marketing, make sure to get a professional email address first. This is a custom address that uses your domain name after the @ symbol, such as you@example.co.uk.  A professional email address helps you build instant credibility and trust, and it can also keep your emails out of spam filters. You can learn more about the benefits of a professional email address from this article.
Read these articles for tips on how to make the best of email marketing in 2021:
2. Interactive content
This is one content marketing trend that's been around for a while but is only now being recognised as a powerful practice to engage with customers.
But what is interactive content exactly? It refers to any piece of content where users can engage with your brand. This can be anything from quizzes and surveys to polls, contests, assessments, and calculator widgets.
Interactive content can be a great way to provide value for your visitors, entice them to engage with your brand, while also learning more about them. For example, if you're a plumber, a simple way to incorporate interactive content into your digital marketing strategy is to add a simple cost calculator to your site. This allows visitors to enter some information about what they need to get a quote.
Here's an example of how this might look for a plumber:

And here's another example of a calculator for estimating interior painting prices: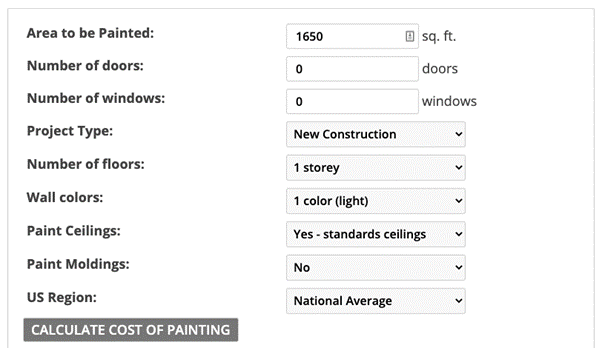 So, with this cost calculator, you're offering value to potential customers while also learning more about them based on the details they enter in the calculator. This valuable information can then help you to refine your offering and provide better and faster answers to potential customers.
3. Search engine optimisation (SEO)
One of the SEO trends that's becoming increasingly popular is about gaining more visibility in "position zero". Position zero refers to Google's "featured snippet", which is different from the other search results. That's because it's a highly visible block of information that shows up at the very top of the first page of results. This makes it stand out immediately since it's displayed above all other links and results.
Here's how it looks: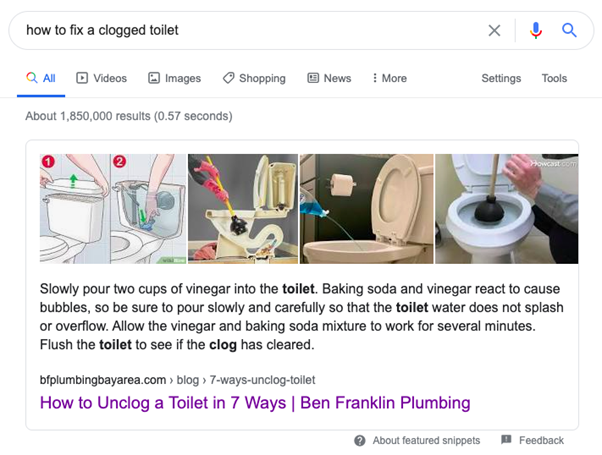 This snippet displays an answer to a question, so the searcher doesn't always need to click to go to a site to learn more.
While this may sound counter-intuitive because that person might not be visiting your site at that time, there are benefits to having your site show up in that featured snippet. One of the most important ones is that you'll build awareness and recognition for your business. People will come to think of you as an expert in your industry. So, the next time they need one of your products or services, they'll immediately think of your business.
But what can you do to take that "position zero" spot and stand out from the competition? Here are a few tips to get you started:
Start a blog. A blog gives you the perfect platform to provide high-quality content and information to your target audience on a regular basis. It also gives Google a good reason to display your blog at the top of the search results.
Create and publish relevant how-to content that answers your customers' most pressing questions.
Provide quick, concise answers below each subhead that Google can grab and feature in the snippet.
Run a search for your main keywords and keyword phrases, look at the current snippets that show up, and learn from them to make yours better.
Use headings and subheadings to address your audience's most common how-to questions.
4. Website speed and user experience
An increasing number of people is using mobile devices to get online, run searches on Google, visits websites, and shop. Is your small business website equipped to provide a great experience to mobile visitors in 2021? Can visitors quickly access your site, browse around, fill out a form, give you a call, or buy from you?
If your site takes too long to load or it doesn't work properly, visitors will leave in seconds. And if too many people leave seconds after they're landed on your site, Google will interpret it as a bad user experience. As a result, your rankings can drop, which means your site can become more difficult to find in the search results.
With all that in mind, in 2021 you can't ignore the need for a responsive and fast-loading website. If your site needs a redesign or upgrade, make sure to check out our 123 Reg Website Builder. You can use it to create a speedy and professional-looking website quickly, even if you have no technical skills.
Wrapping up
If you're planning your digital marketing strategy for 2021, make sure to consider these key small business trends. Email marketing, interactive content, relevant how-to content, and a great-looking, speedy website are sure to help you stand out from the competition, attract more visitors, and generate more revenue in the new year.