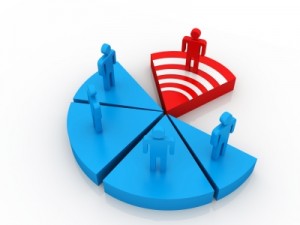 Segmented marketing has been around for a while. Categorising your customers (or potential customers) gives you a chance to be more direct and appealing to your recipients and hopefully see a better hit rate and end results. It works and there is science to back it up, but with every trend there is always room to tweak and improve.
So news last week that Yahoo has filed a patent that will used social influence scores to segment ads shouldn't be a shock but certainly sounds like an innovation that could change the way marketeers work and also finally fully integrate social media into the marketing mix of everything they do.
According to the BBC the patent was filed in the US back in December 2011 but has only now been published, amid much excitement ion the industry. Even after the publicity surrounding cookies with new legislation last year, cookies have come to be pretty universally accepted and marketeers are already exploiting that to tweak their existing ads.
Under the new patent however, Yahoo and whoever it sees fit to licence technology to, could take this to another level by specifically targetting certain ads at perhaps brand ambassadors, or those with key influence over a certain sort of follower / audience. Where Yahoo's real business opportunity lies here is that under the Patent it would use that social score – based on their popularity, influence and usage of social media channels – to charge advertisers more to target those with a higher score. the theory being there is more value in reaching these influential and more pro-active audiences.
Interestingly, there are already concerns about the big data and the privacy issues around it, but since most of this information is already readily available for collection, it is in many ways a redundant argument. While profiling is something many fear, few realise how widespread and common place it already is. In online terms it is easier to sort and add additional factors, but since time began, human nature has always used the brain to sort and segment people and their strengths, this Patent just may tae it to a new level.