Six Google Analytics reports you should start using today
Google Analytics isn't just for checking how many people are visiting your website. If you know where to look, you can get valuable insights into how your visitors are engaging with your site. You can figure out why people are coming to your website, why they're not staying for longer than a few seconds, why they're not buying or signing up for your newsletter, and more.
Sure, it can be difficult to know where to look or which reports to analyse when you're wading through so much data. So, to help you brush up on your analytical skills and get the insights and answers you need, we've put together this list of six Google Analytics reports you can't afford to do without.
Log into your Google Analytics account and let's get started.
1. Interests
The Interests report sits under the Audience report where you can learn lots of useful things about the people visiting your website.
So if you click on Interests, you'll see a report called "Affinity Categories".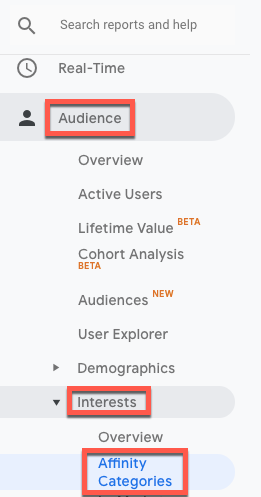 You'll need to enable it, if you haven't already. Once you do, you'll have access to useful information about your users' interests, passions and lifestyle so you can get a better sense of their overall identity. This information is based on their browsing habits and online patterns outside your website.
Here's how it looks: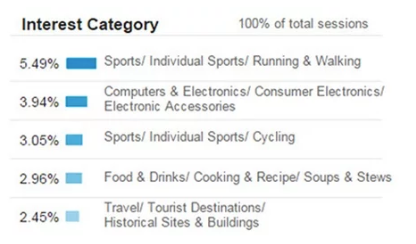 For example, a specific user may not have searched for the hiking shoes you sell but they may have a natural liking or interest for the outdoors. Maybe they subscribed to travel blogs or watched YouTube videos to prepare for a hiking trip.
So, based on their browsing habits, they're interested in the topic and are likely to make a purchase if they see one of your ads, web pages or blog posts.
The great thing about this report is that you get to find out what your potential customers are interested in. You can then take these ideas and use them to create new content for your blog, social media channels and ad campaigns.
2. Mobile
You probably already know that mobile traffic is bigger than ever before, which means that your site needs to perform well no matter what device your visitors are using to browse around – whether it's a smartphone, a tablet or a PC.
Not only that but Google can also penalise your site if it's not mobile-friendly.
In other words, you need to make sure that your site functions properly on smaller screens if you want to win over customers and stay alive in the search engine results pages.
The Mobile report can give you insights into how well your site is optimised for mobile and whether you need to make improvements.
So if you go to Audience -> Mobile -> Overview you can see which devices your visitors are using to access your site: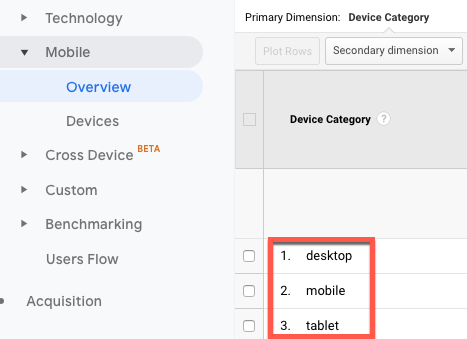 And if you go to Audience -> Mobile -> Devices you can see which mobile devices they're using to access your website:

To see whether your site is performing poorly on some devices, take a look at bounce rates, average session duration and conversion rates to determine whether your user experience on any of those devices is failing.
Keep in mind that mobile conversion rates are often lower than desktop conversion rates. That's because visitors often use their mobile devices to browse around and research, so they're not yet ready to purchase or sign up.
3. Acquisition reports
Want to know if that guest post you published is sending you any traffic? Or if people are clicking on your ads? Want to know how well your social media or your search engine optimisation (SEO) strategies are working?
The Acquisition report will answer all these questions and more. You can find it by going to Acquisition -> Overview and here's how it looks:

An interesting report you'll want to take a closer look at is the Referrals report, which you can find by going to Acquisition -> All Traffic -> Referrals. This will tell you which external sites are driving traffic to yours, whether they're from web mentions, PR or guest blogging.
If you're running pay-per-click (PPC) ad campaigns, it's imperative that you also look at your Google Ads report to see how well your ads are performing. You can find this report by going to Acquisition -> Google Ads.
4. Content efficiency report
If you publish lots of content on your website or blog, you can't afford to be without a report that tells you how well it's performing.
Fortunately, you don't have to create a custom report yourself as Avinash Kaushik, author of Web Analytics 2.0 and a Digital Marketing Evangelist at Google, already created it for you.
The report tracks page views, bounce rates and goal completions to help you answer questions like:
Which content is engaging my audience the most?
What type of content does my audience enjoy best? Is it blog posts, videos, infographics or reviews?
Which content convinces visitors to buy from my website?
Which content is shared most by my readers?
Here's how the report looks as shared by Avinash himself: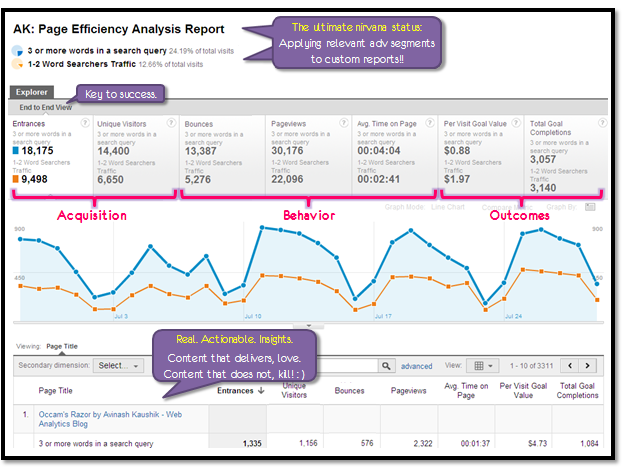 You can read more about the Content efficiency report on his blog. Here's the link to grab a copy of the report and use it on your own Google Analytics account (make sure you're logged in first).
5. Landing pages
Your visitors will enter your site from all sorts of pages. Some will type in your home page URL directly into their browsers, others will find one of your pages in Google's search results, and others will click on a link you shared on your Facebook or Twitter page.
The Landing Pages report will tell you which pages visitors are landing on when they first enter your site. You can find it by going to Behaviour -> Site Content -> Landing Pages.
Why is this report important? Because it allows you to see how users are interacting with your website.
For instance, if the report reveals that some pages have a significantly higher bounce rate than others, you'll need to figure out what's causing your visitors to leave so quickly. Then you'll be able to take the necessary steps to fix those pages or to make them more engaging.
6. Site search
If you have a search box on your website, then this report is very useful. Why? Because it can indicate a user experience issue on your website.
If a product or a page is so difficult to find that users have to search for it, then it may hint at a site navigation issue. So consider improving your site's navigation to make it easier for your visitors to find what they're looking for.
Another reason this report is super useful is because it can help you to identify keywords or search terms that you may need to create a new page for, if one does not already exist. In other words, it can also give you keyword ideas that you can then incorporate into your website content.
You can find this report by going to Behaviour -> Site Search -> Search Terms.
Wrapping up
Of course, there are lots more reports in Google Analytics that can help you understand how well your site is performing and what problems need fixing to ensure you provide a fantastic experience to your visitors.
You might also find this free course on Google Analytics useful, especially if you're just getting started online. It'll help you to get a better understanding of who your visitors are and how they're using your website. Good luck!