10 clever ways to attract more local customers to your business
If you're a business that has physical premises such as a café, or operates in a fixed area such as a plumber then attracting customer from your local areas is a priority.
In this guide, we'll look at some things you can do to increase your chances of getting the attention of local customers.
10 ways your business can attract more local customers
1. Include local keywords on your website
When someone goes to Google and searches for a specific local business, the chances are they aren't aware of your business or what you sell. Your potential customers are likely searching for terms like "carpet cleaners near me" or "dog groomers in Manchester".
If you want potential customers to find you, then the keywords on your website need to reflect the kinds of searches your potential customers are making.
That way, Google and other search engines are more likely to understand what your website is about.
You don't need to stuff your content full of keywords, use them naturally in places where they're relevant.
It's also important to include keywords in the URLs of your website's pages where appropriate.
For example, if you offered accountancy services in Ealing, you'd probably want a page which had the URL example.com/accountancy-ealing or example.com/ealing-accountants
Don't create a page for every possible variation of a keyword. Instead, include your main keywords in your URLs and include other variations in the page's content.
To find appropriate keywords and the number of people who search for them each month, you can use a tool like 123 Reg's Search Engine Optimiser.
You can learn more about keywords and how to use them in this guide.
2. Get included in map-based search results
Including keywords on your site is just the first step. If you're serious about getting found by local customers, you need to do all you can to show up in map-based search results.
To show up in Google Maps, you need to set up a Google My Business page.
You should also consider setting up a Bing Places for Business Page as this is where Bing and its partners gathers information for its map service.
3 Ensure your name, address and phone number are consistent
Your business's name, address and phone number (NAP) play a crucial part in local SEO. Search engines use your NAP to understand when your business is mentioned across the web.
They then use this information as part of their complex algorithm which decides what to show in search results.
For this reason, it's important to ensure that your NAP appears in exactly the same way across the web.
This includes on your website and any other websites (such as listing pages) where your NAP appears.
Even a slight difference, such as a missing area code, can have a negative impact on your local SEO, so keep your NAP consistent.
4. Get included in article reviews for your area
Run a search for a well-known local business and you'll find at least a few "top 10" or "best in London" types of articles where that business is included. Here's an example of what shows up when searching for "top takeaway food in London".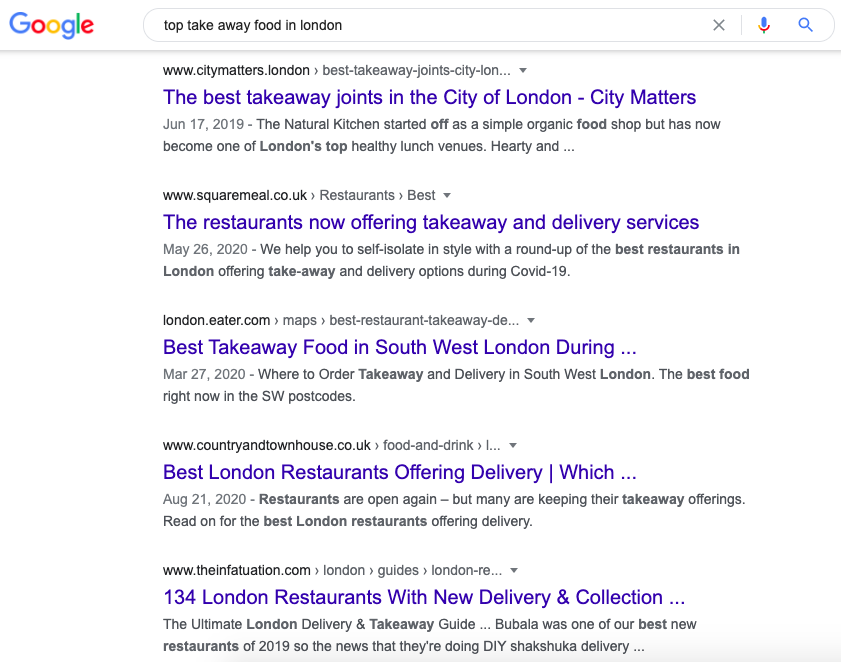 These lists are an excellent opportunity for your local business to be seen by people looking for what you offer. But how do you get on these review sites? You could hope that they notice you, but that hardly ever works.
Instead, do some research and see what top lists and article reviews show up when searching for your business or other businesses in your area. Your goal is to find gaps in the lists or opportunities for improvement.
If you find relevant reviews that don't include your business, reach out to the site owner and suggest an update that includes your business. If you stumble upon a great review site that doesn't have any articles about your type of business or industry, suggest that as a topic of interest. Then prepare a list of businesses that also includes yours and share it with the site owner. You'll not only be doing that website a favour by providing valuable information to their readers but you'll also be reaching more potential customers.
5. Submit your site to local directories
Local directories are a huge source of traffic that you can't afford to ignore. These are slightly different from search engine results and review sites because the main priority of a directory is to provide information.
A local directory will show your business location, hours, photos, customer reviews, and contact info.
However, it can be a challenge to submit your information and keep all of the directories updated, especially if you don't have a marketing team who can submit your business to relevant local directories and keep an eye on your listing to ensure it's accurate.
6. Show off customer reviews and testimonials
Few things are more important than what people are saying about your business online. In fact, most people take some time to research before buying a product or a service. A 2019 BrightLocal survey shows that an average customer looks at 10 reviews before they feel able to trust a business, and 97% of customers will read a business' response to reviews.
So, if you can show people that you're a local favourite, not just by the quantity and quality of the reviews but also by the way you respond to them, they'll be more likely to trust you and more willing to spend their money with you. The next time you receive a negative review (rest assured every business does), make sure you take the time to respond and address the concerns as best as you can. Even a bad review with a great response can become a win for your business if you can show that you care about your customers' experience and finding ways to improve it.
7. Build relationships with complementary businesses
Not every business is your competition. Some companies can become a great source of mutual referrals. So, if you own a wedding photography company, you could try building relationships with wedding DJs, florists, and everyone else in the wedding industry. If you sell homemade peanut butter, try connecting with jelly and bread makers in your area. When you start referring people to complementary businesses, they are likely to return the favour.
Start by creating a list of complementary products and services in your area, and reach out to the owners to discuss ways to promote and send each other customers.
8. Offer coupons and loyalty rewards
Giving away stuff for free or rewarding customers for their loyalty are great tactics to get more local people coming in and enticing them to come back. A pizza parlour that gives first-time customers a free slice will quickly become a local favourite.
Sure, offering a coupon might cost you a bit of money, but it can be something small if it proves the quality of your products or services, and people quickly realise you're their first and only choice for that product or service.
A loyalty card can also be a great way to get people to return to your business. A stamp card that gives customers a free coffee after ordering five is a low-cost way to build a habit and turn them into loyal customers.
9. Get involved in the local community
It might be volunteering or it might be sponsoring a local sports club or event.
Any way you can get involved in your local community can help build your profile in the local area. This, in turn could help attract customers.
Of course, if you want to get involved on a voluntary basis with local causes and events you have to do it for the right reasons. So focus on things that will benefit the community and not self-promotion.
But building community links can be crucial for any business that relies on a local customer base.
10. Build relationships with local journalists
Local journalists are always looking for a story, so if you've got one you can use that to get press coverage.
If you've got more than one story, you can use that to build a relationship with local journalists and increase your chances of getting repeat press coverage in the future.
You're more likely to get press coverage if there's something unique about your business, or if you're doing some interesting (such as getting involved in community events).
You can learn more about getting press coverage for a small business in this guide.
Wrapping up
Finding local customers is all about letting people know where your business is and what it does.
With that in mind, you'll probably want to start with getting the basics of local SEO, that is keywords and a Google My Business page, sorted so your business is more likely to show up for local searches.
After that, you can focus on improving your local SEO and attracting attention through things like press coverage.