Google kills side ads – What this means for your small business
Google has removed all pay-per-click (PPC) ads from the right-hand side of its search engine results page. It has also increased the number of ads for highly commercial search terms at the top from three to four. Since this news hit the web, there's been a great deal of speculation as to how this will affect marketers and businesses. Will ads at the top become even more expensive? With organic listings being pushed even further off the first page, will small businesses still be able to compete with big brands and rank on the first page of the search results?
In this post we'll try to answer the most important questions about these changes, and how they can benefit or negatively impact your business so you're prepared.
But first…
What specific changes have occurred?
Right-hand side text ads have been removed.
There can now be four text ads displayed at the top, instead of the previous maximum of three text ads.
There will be three text ads at the bottom of the search engine results page.
When top four ads are showing at the top, this will push some organic search results below the page fold (or below the second half of the search results page).
Here is a screenshot showing the four ads at the top for the desktop search "plumber London":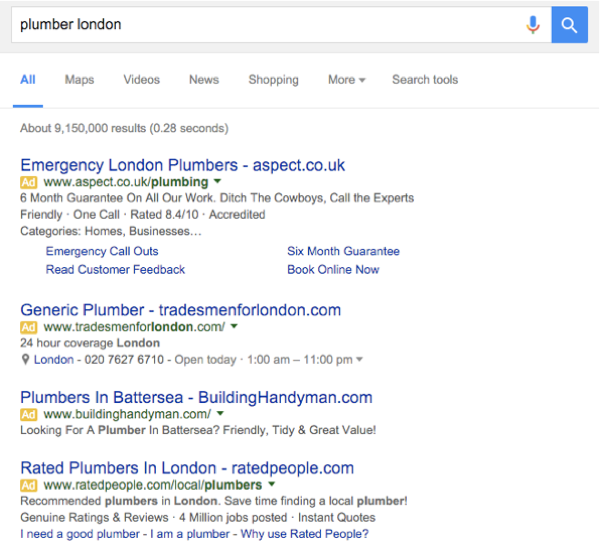 While Google has been testing the four ads at the top since 2006, they only stepped up the tests in late 2015.
"We've been testing this layout for a long time, so some people might see it on a very small number of commercial queries," Google told Search Engine Land. "We'll continue to make tweaks, but this is designed for highly commercial queries where the layout is able to provide more relevant results for people searching and better performance for advertisers."
Finally, on February 18, Google killed the right-column ads and replaced them with four ads at the top.
But why has Google decided to remove right-hand side ads? Some of the most mentioned reasons are:
To increase their revenue
To allow more space for Product Listing Ads (PLAs)
To prompt business owners to improve the quality of their websites for organic purposes.
Another reason would be that side and bottom ads only accounted for 14.6% of total clicks, according to research from WordStream Customer Data.
Whatever the reason, this change will push organic results down, which means that businesses will need to step up their game and focus on improving their website's quality if they want to appear above the fold, and on page one of the search results.
Let's look at what the death of right-side ads really means, who will benefit and who will lose.
Who can benefit from these changes?
Marketers and businesses that were already investing into ads shouldn't be too worried. With about 85% of clicks coming from top ads, the removal of right-hand side ads won't result in a major loss of clicks, considering that Google has also added a new fourth ad spot, plus new bottom spots.
The moderator at the WebmasterWorld forums believes that position 4 ads will be amongst the biggest winners. That's because the click-through rates on position 4 is skyrocketing. Depending on the keyword, position 4 is going to have a 400%-1000% CTR increase.
Also, a great benefit is that the fourth top ad spot gives marketers and businesses the opportunity to use ad extensions. This means they'll have more room to highlight more information about their business, such as product images, links and contact information, which can increase click-through rates. These have never been available for side ads.
Now look at this: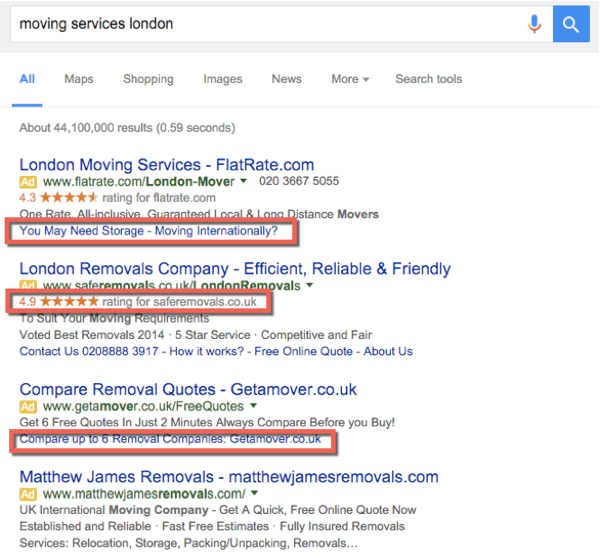 Being in the top four ads means you'll get to display extensions, which can help increase your click-through rate. So make sure you investigate all ad extensions and add any that you think might improve the performance of your ads.
Who will be negatively impacted by these changes?
Without a doubt, this change is bad news for anyone focusing more on search engine optimisation (SEO) than anything else. That's because the fourth position replaces the old organic position #1. Organic space will now become more precious than ever for businesses, which means they will have to focus their efforts on SEO even more and ensure they're doing everything in their power to make their organic listing stand out.
Also, with some organic search results now being pushed right off the front page of Google onto page two, some businesses will lose a lot of traffic, considering that as much as 85-95% of Google traffic occurs on page one of its search results. This is an organic battle that businesses can win if, aside from SEO, they also include PPC in their marketing strategy, if for no other reason than to help keep that first page presence that may be lost for those important keywords.
With brands trying to maintain impression share and fight for top-of-page positions, bidding will also most likely increase. This means that advertisers will need to get more competitive with keyword bids and up their ad budgets in order to get a top four spot.
If you're just getting started with PPC, check our our guide to learn how to launch a Google AdWords campaign that works.
Wrapping up
As a small business, you need to find a balance between PPC and SEO. However, with ads becoming more expensive, SEO has to do more work than ever before. So make sure to optimise your website properly to increase your rankings so you aren't forced to spend a fortune on ads.
Here are a few guides to get your started with SEO:
7 simple yet vital SEO first steps for a new website
A beginner's guide to SEO tools (and what to use them for)
SEO for articles: How to optimise your WordPress blog posts
How to effectively integrate SEO into your business and marketing
We'd love to hear your thoughts on this change so what do you think about it? And how are you planning to adjust your SEO and PPC campaigns to cope with this change?