If you want to help search engines better understand what your site is about and increase the chances of your site showing up in the search results when users are looking for your business, keyword research is a big part of it. Only by understanding the terminology your potential customers are using to find you online can you optimise your site for search and get found for the terms you actually care about.
In this article we'll walk you through the keyword research process that you can follow to come up with a list of terms that you should be targeting. You'll also learn how to use the 123-reg Search Engine Optimiser tool to help you build a relevant list of keywords that you can use to optimise your website and blog posts.
Why is keyword research so important?
Every time a user searches online, search engines like Google or Bing have to determine which results to display from millions of possible pages. They have to decide which are the most relevant matches for every single query. That's why it's critical to choose your keywords carefully so that search engines can match and display your website in the search results for the most relevant user queries.
The goal is not only to rank on the first page of a search engine results page for relevant keywords, but also to rank in the top positions on the first page, because those are the ones users click first. The closer you are to the top of Google's search engine results page for relevant search terms, the more traffic you can get.
The basics
Before we get started with the keyword research process, let's first explain a few basic terms that are important to know and understand:
Keyword – In the context of search engine optimisation (SEO), a keyword is a word or phrase that describes the content found on a web page or site. The main reason you use keywords is to summarise the content of a page or site and to help search engines better understand what your site is about so it can then match it to a specific user search query.
Long tail keywords – These are 3-4+ word queries that, according to Moz, make up over 70% of online searches. Why? Because they target users who have already done the initial research and are much closer to purchasing. For example, a user who is searching for "wedding photographer" is likely in the early stage of gathering information while someone searching for "wedding photographer London price" is much closer to purchasing. Learn more about increasing your traffic with long tail keywords.
Search volume (average monthly searches) – This is usually measured in average monthly searches. It represents the total number of searches per month for a particular keyword or search term. Ideally you should be looking at targeting keywords with the highest search volumes as this increases your chances of getting more traffic and sales.
How to research keywords for your SEO
Now that you understand the importance of proper keyword research and the basic terminology, let's move on to the keyword research process. To make it easier to understand, we've broken it down into three steps:
Step 1: Come up with a list of relevant search terms
To begin, you'll need to put together an initial list of search terms that you believe your target audience would search for to find your business. So put yourself in the shoes of your buyer personas and try to determine which terms they would search that you'd want your website to get found for.
Include as many short and long tail keywords as you can think of. The goal here isn't to build your final list of keywords but to gather as many relevant terms and phrases as you can that you think your audience might use to search for content related to your business. We'll narrow the list down later in the process.
Step 2: Use tools to get additional keyword ideas
If you're struggling to think of additional keywords people might be searching for, why not look at some of Google's suggestions? Simply go to Google.co.uk, type in your phrase and scroll down to the bottom of the page to see Google's suggestions for searches related to your original input. These are excellent for sparking ideas for other keywords you might have missed.
Here are Google's suggestions for the keyword "wedding photographer":
Another great tool for getting keyword ideas is Übersuggest which scrapes Google for suggestion keywords. It's very easy to use. Simply type in a keyword, select the language and source: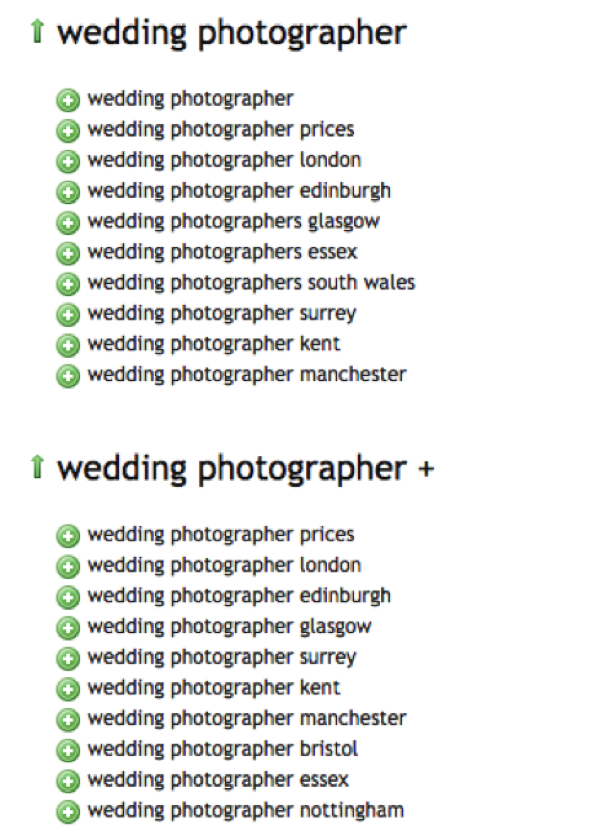 For other useful keyword suggestion tools, check out our beginner's guide to SEO tools.
Step 3: Narrow down your list with the 123-reg Search Engine Optimiser
Now that you have your initial list of keywords, it's time to narrow it down and only keep those that are relevant and profitable. The 123-reg Search Engine Optimiser tool is a good solution for keyword research, especially if you're a beginner and don't have too much technical knowledge.
Here is how the keyword research section looks: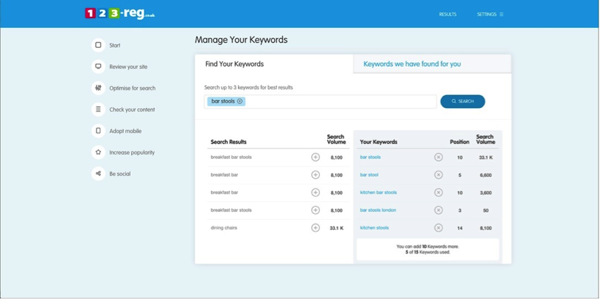 This section shows you valuable information including the search volume for each of your keywords. On the left side, in Search results you will also find a few keyword ideas and suggestions based on your original keywords along with the search volume for each.
If you're a small business just starting out, it might not be worth targeting keywords with a very high search volume. Why? Because they're very competitive and it's extremely difficult to rank for those terms. You'd be competing against popular brands that have been around for longer and have already gained the authority they need to rank for highly competitive keywords. If you're a new business, your chances of ranking highly for those keywords are slim. So instead go with keywords that have a lower search volume.
Click the "+" icon to add the keywords to your list. If you have already added your website to the 123-reg Search Engine Optimiser tool, it's easy to assign those newly discovered keywords to specific pages. In addition, the tool will make useful recommendations to help you optimise your pages for your selected keywords. Based on the keywords you want to optimise your content for, it will tell in which key sections to add them such as meta data, headlines and more.
If you already have content on your site, the tool will also help you ensure that it's indeed relevant. It will research which keywords are most relevant for that content thus simplifying the keyword research process. Now, if the tool finds keywords that you don't want to target, you will need to edit your content as it may not be perceived as relevant by the search engines either.
Now that you have your final list of keywords, it's time to use it to optimise your website and your content. You can either follow the suggestions provided by the 123-reg SEO tool or you can read the following guides and learn how to optimise your site yourself:
Your work is never done
This final step is an ongoing one. Keyword research never ends. Over time, the terms your customers use to search for your business change so you'll need to re-evaluate your list of keywords every few months and adapt to new trends. As your business grows and you gain more authority in the search engine results pages, you can add even more keywords to your list so you show up for more related searches.
Your turn now. What other tools and methods are you using to conduct your keyword research?