"How Search Works" – Google Search Quality Rating Guidelines
If you've always wondered how Google's magical search engine works and how it decides which results to show first for a certain search query, then you're in luck. Google has recently released a fantastic resource to help answer all your questions and show you what's happening behind the scenes.
The new section of the site is called "How Search Works" and it's basically an in-depth interactive infographic that takes you through Google's search process, from Crawling & Indexing to Algorithms and Fighting Spam to only show the most relevant results.
While the topic of how search works has been discussed and over-analysed for years by SEO consultants all over the world, Google's main purpose for publishing this new section is to help site owners figure out what Google values in terms of content, why Google has penalised certain sites and what publishers need to do to make it all better.
So let's start at the beginning…
Part 1: Crawling & Indexing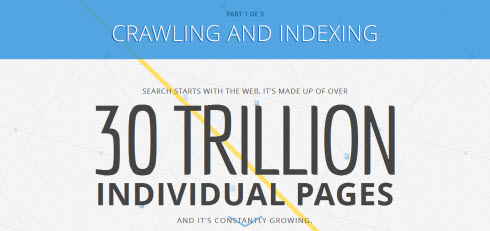 This first part focuses on how Google crawls or finds pages on the Internet and then indexes them so they can be searchable and show up in search results. Take your time exploring this section as there's a lot of interesting information. Just hover your mouse over the areas you're interested in and click to find out more.
Part 2: Algorithms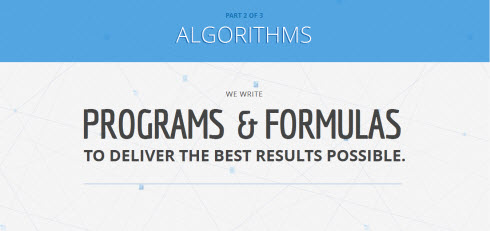 This second part explains how Google returns specific results when a user enters a search query and also how it decides which pages are more relevant and of more quality that they need to be ranked at the top of the results. Google's algorithms – a headache for most of us I know – consider about 200 ranking signals before actually deciding which web pages are more relevant to the search query.
Part 3: Fighting Spam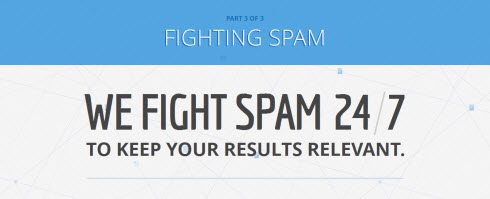 The third and last part of this interactive infographic focuses on how Google is trying to make the web a better place by fighting spam and removing all those irrelevant and useless sites we all hate.
There are a couple of great things you might also want to check out in the Fighting Spam section, such as:
First: The "Live Spam" area where Google shows the spam removed from its search engines in the past 15-30 minutes due to violation of quality guidelines.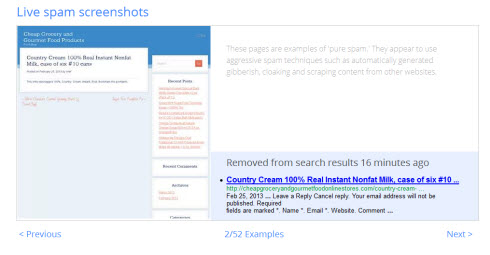 Second: A chart of Google's "Manual Actions" from August 2004 to present! A "manual action" refers to when a quality rater (not a robot) manually reviews a site and penalises it for being "pure spam" (spammy content), for being hacked or for having unnatural links which are all in violation of Google's Webmaster Guidelines. (There's also a useful list with the types of spam that you should check out).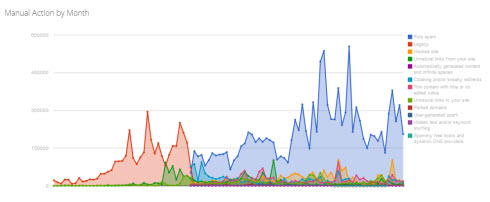 Third: Another chart with the "Reconsideration Requests" that Google receives in a week from publishers whose sites have been penalised,  asking Google to manually review and reconsider their site.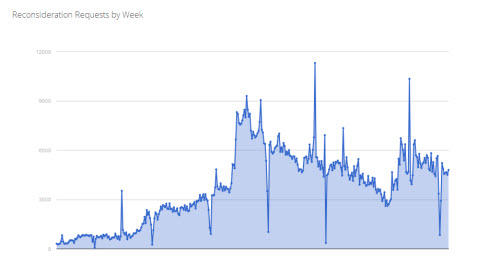 This is a fantastic resource for any site or blog owners, no matter if you're a beginner and don't know how to get started or if you're an expert and want to make sure you've got it all right. So, whatever you have planned for today, clear your schedule for an hour or two to have a closer look at this infographic.
Google also released its Search Quality Rating Guidelines
As part of the "How Search Works" area, Google also decided to publish their Search Quality Rating Guidelines publicly for the first time. This document is being used internally by Google's quality team to rank websites manually.
Sure, previous versions of this guideline have already seen the light of day back in 2001, 2008 and 2012 so making it public now is no longer breaking news. However, it is an important document and if you want to rank well you should download  the PDF document and give it a read.
What's surprising is the length of the document. This public version has been stripped down to just 43 pages from 161 pages. The removed sections showed specific examples of how "search quality raters" should review and rank websites on Google.  Even with these sections removed, it's still a very useful resource and a must-read for any publisher that's struggling to understand what Google is looking for in a quality website.
What are the Search Quality Rating Guidelines all about?
This is the URL's rater's handbook. Basically, this document highlights how Google's team of search quality raters perform search queries and rank the links that show up in Google's search engine results page. This helps them ensure the results are relevant to the search queries.
Are search quality raters human?
Yes, they are and they're here to "represent the user", as Google states in the guidelines. Their mission is to grade the URLs but their scores don't influence website rankings. Instead, they help Google determine if they need to make changes to their algorithms to improve the quality of their search engine results.
With the new "How Search Works" interactive infographic and the search quality rating quidelines published, you have plenty to read today.
Have you read Google's search quality rating guidelines?