When carrying out a search on Google, do you always get the best results first time? If you're anything like me, you probably have to try a slightly different search query – sometimes two or three times – before hitting the right information.
If you're getting tired of repeatedly rephrasing your query, you'll be interested to hear there are some other ways to refine the Google search results. They can make it a lot easier to find what you're looking for.
On the search engine results pages (SERPs) just above the results there's a link that says "+ show options". Click this and you're presented with a sidebar containing a list of options that lets you dig far deeper to find the right information:

Now, here's what some of these links do:
All results -> Updates:
When you select to see "updates", Google will pull in the latest chatter about your search term from social networking sites like Twitter. The feed from Twitter is updated every 5 seconds – you don't get much more up to date than that. Search for your own company name to see what people are saying about you, right now!
All results -> News / Blogs / Forums:
This option fills the results pages with snippets of what people are saying about your search term on news websites, blogs or forums. This "sentiment analysis" also allows you to see whether people liked a product, its advantages and disadvantages, and other "opinionated excerpts".
All results -> Visited pages:
This option narrows the results page to only include pages from sites Google knows you've visited before. It's a good way to find something on a site you know you've been to before, but can't easily find again.
Any time:
This is a great way to find the most up-to-date web content on a specific subject. It also allows you to have a look at how information emerged at a particular time – very useful when reviewing a news event.
Standard results -> Shopping sites:
If you're looking to buy something then the shopping sites option is the one to go for. This shows more products and prices from shopping sites right in the search results.
Standard view -> Page previews:
This lets you preview destination sites right in the results page before you click on them. It saves you having to click through to check out multiple websites.
Standard view -> Translated search:
This option translates your search query into popular alternative languages. You can then search the web with this translated word – Google will automatically translate the results pages back into English. Magic!
Standard view -> Wonder wheel:
This "visualization feature" allows you to refine your search query by adding new suggestions to the original query. If you're not sure exactly what you should be searching for, this can really help.
This is what the wonder wheel looks like for the search term "Florist":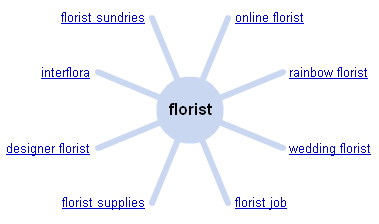 The original search is at the centre of the wonder wheel, and spokes suggest related searches. Click these spokes and you can preview the new results, refine your search further, or revert back to the previous results. This is what the wonder wheel looks like after you've clicked a spoke: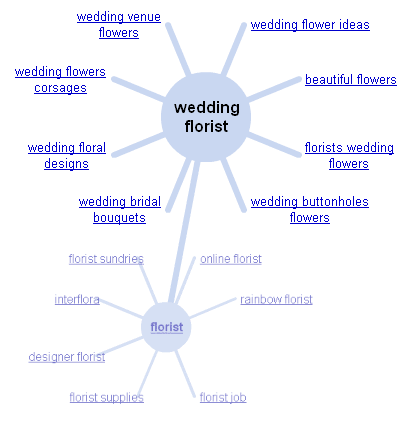 Have a go at refining your searches using the search options sidebar, and let us know what you think of it.
By Nick Leech of Euston Digital.