Did you know that Google blacklists 6,000 websites every single day? You might be doing everything white-hat and running your business website according to Google's rules but still experience the ultimate ordeal – being blacklisted by Google. If you are excluded from Google's index, your website will disappear and no one will be able to find you on Google. It's like your business never existed!
Imagine the negative impact this would have on your business. You can lose revenue and your reputation can go down the drain.  Getting your ban lifted is a long-drawn-out process and recovering from it is not easy. Gaining your customers' trust back and reassuring them your site is safe may take a lot of effort, a lot more than when you first launched your business online. In other words, if your site gets blacklisted, you could run the risk of losing your business for good.
But my website is safe…
There are so many things that can make your site vulnerable and create an opportunity for hackers to inject malicious code into your site, such as: poor choice of passwords, web-app vulnerabilities that allow users to post comments, subscriptions to newsletters and even popular third party add-ons, as well as others.
Getting blacklisted is not pretty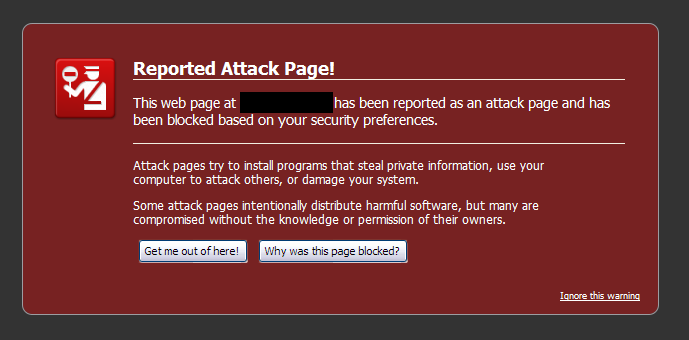 The main reason Google blacklists a site is because it has been hacked and infected with website malware. It doesn't matter if you run a legitimate business. If malware code has been injected into your site, it's considered dangerous and Google takes it down completely to ensure no one can access it and get infected.
If your website is blacklisted by Google, imagine the ramifications for your business. You will lose revenue because potential customers won't be able to find your site and your actual customers will be unhappy because they cannot buy or review or re-download their ordered products. When visiting your site all they will see is a red page with "Reported Attack Site" and that's enough to scare them away and maybe prevent them from coming back again.
Imagine how disappointed your customers will be to discover your site is not as safe and secure as you claimed. Gaining trust online is already very difficult. Would you return to a website after discovering that it was vulnerable and potentially unsafe? So, aside from potential loss of revenue you also lose your customers' trust and reputation as a reliable business partner.
Also, hacked sites are often used to launch phishing or spam campaigns that send unwanted emails to users to get them to visit pharmaceutical sites, fake banking sites, or other sites.
What can you do to protect your site from malware?
Prevention is key. Protect your site and your reputation by reducing the risks of your site getting infected with malware. 123-reg will be launching StopTheHacker which is a malware monitoring tool to help keep your site safe and secure. This great tool will scan your site, find security vulnerabilities and show you how to become safe, alert you if you have malware and show you exactly where the malicious hack is within the code of your site so you can act immediately and keep your site safe.
When your site gets hacked, you are taking so many steps back because of a single incident. Is it worth the risk of losing your business after putting so much effort into building your brand, your reputation and your customers' trust?