Eight quick SEO techniques that you can use right now
People who succeed with search engine optimisation (SEO) do two things very well:
Firstly, they identify and implement the key SEO techniques that will pay off big down the road.
Secondly, they know that SEO doesn't always have to be difficult and time-consuming. Sometimes it's the quick, little things that can turn the needle when it comes to ranking higher in the search engine results.
There are lots of things you can do right now that barely take any effort at all. All you need to do is carve out a few minutes of your day and tackle one of these eight quick SEO fixes to your website.
So, let's dive right in…
1. Revise and improve your lowest performing page title tags and meta descriptions
It's no secret that compelling title and meta description tags get more clicks in the search engine result pages. In fact, great copy can actually steal traffic from the top results. So, how can you use these tags to grab searchers' attention and prompt them to click through?
This article shares some fantastic tips and advice on how to improve your title and meta description tags and boost your SEO performance. Keep in mind that while these tags have lost their influence as a ranking signal, they can still indirectly help with optimisation.
Here are just a few of the ideas mentioned in the post:
Use numbers in your metadata as they tend to stand out against text and can make a huge difference to your click-through rates. You can add anything including dates, prices and percentages. So if you have special offers or are running a promotion, this is your opportunity to include numbers into your metadata.
Include a strong call-to-action to encourage users to click through to your site. Make it a simple one like "Call today to see how we can help" or "Buy now for free next day delivery".
Create a sense of urgency to prompt users to take action now, rather than later. For example, you could suggest that the product or service you're trying to sell is in high demand and is running out. Use short timeframes and suggest limited stock levels to encourage users to make an immediate purchase.
But in order to improve your title and meta description tags, you need to first figure out which ones could use some tweaking.
To do that, log into your Google Search Console account, then click on Search Traffic -> Search Analytics. Next click on the Impressions and CTR filters for Pages.

This is where you'll see the pages with high visibility but low click through rate. Is it possible that these pages need better title and meta description tags? Try that out and see if it works for you.
If you're not familiar with Google Search Console, check out our beginner's guide to learn how to set it up and what other features you can use to get great insights into your site's performance.
2. Compress images to speed up your site
If you don't already know this, large images can substantially slow down the time it takes for a page to load. And a page that takes too long to load can hurt both your rankings and the user experience as people don't have much patience for slow loading sites.
In fact, according to surveys done by Akamai and Gomez.com, nearly half of web users expect a site to load in two seconds or less, and they tend to abandon a site that isn't loaded within three seconds. This means that a few seconds can result in lots of potential sales down the drain.
Since images are the "heaviest" element when it comes to page load, this is something you want to look into immediately and make sure they're as small in size as possible, while still retaining quality. This is probably one of the simplest and quickest tricks for improving site speed.
It's incredibly easy to compress and optimise images to a more reasonable size. Check out our guide for complete steps on how to optimise images for search engines.
Want to improve your site speed even further? Try our Search Engine Optimiser tool and you will be able to test your site speed and receive recommendations and useful advice on what else you can do to get your site to load faster.
3. Add rich media to your search results
If you want to grab users' attention in the search results, one of the things you can do is to add schema markup to your pages and make your results look similar to this one, for example:

Schema markup also helps Google understand the elements on your page by better describing the content on a page, which can result in better visibility for your business in the local search results.
You can use it to add your NAP (name, address and phone number) as well as testimonials, reviews and ratings from customers. Combine these with great, enticing title and meta description tags, and you'll really stand out from the crowd.
For more tips and advice on how to create attention grabbing rich snippets, check out this post on our blog. We also recommend reading this post to learn more about the other different types of schema markups you can use to make you results stand out.
4. Verify your Google My Business page
To increase your chances of showing up in the local search results, make sure to not only sign up for Google My Business but also to fill it out with all the essential information about your business. This includes: phone number, physical address, website, opening hours, images, reviews and more.
The more information you provide on your Google My Business profile, the more likely it will be that someone interested in your offer comes across your name.
In general, when it comes to optimising your site for local search, make sure that:
All your information is accurate, up to date and consistent everywhere on the web where you've created a profile or where your business is mentioned
The images showcasing your business, products and services are appealing and of high quality.
Need more tips? Check out our short tutorial on how to get started with local search and Google My Business (formerly known as Google Places for Business).
5. Name your images so search engines can "read them"
Google Image Search can drive a significant amount of traffic to your site so make sure you take advantage by properly naming the images on your site and blog. Since Google can't actually "see" your images, you need to describe them using text so they can "read them" instead.
This involves adding an alt tag to each image.

This alt tag acts as a short description of an image and it can also be a great place to add relevant keywords and help increase your chances of showing up in image search results.
For actionable steps, make sure to read our guide to optimising images for search engines.
6. Send juice to pages sitting on page 2 or 3
We're not going to sugar coat it for you: if you're on page 2,3,4 of Google's search results… you might as well be on page 25.
So, how can you give pages on your site a boost so they hit the first page? Here's a quick, simple SEO technique: do some internal linking between pages.
How does this help? Internal linking between relevant pages helps users navigate through your site more easily, giving them the chance to explore more pages on your site that they might be interested in. It also helps search engines understand the relevance of the content on that page.
So what you're doing is linking to other resources that are relevant to a specific topic and that you believe your visitors might find useful.
Now go and take a closer look at each page on your site and ensure they all have a few internal links. Pay close attention to the anchor text and make sure they're pointing to pages that are relevant to the content on the page.
Here's a nicely detailed guide on how internal linking works, and some best practices you'll find useful.
7. Fix your 404 not found pages
404 not found pages show up when users land on a page that has been deleted, moved or doesn't exist. While letting old pages go to 404 is not going to hurt your SEO, having too many 404s can be an indication that something might be broken so you should investigate if you're losing out on potential backlinks or offering a bad user experience.
So things like deleting pages with authority instead of redirecting them back into the site, many broken links that lead to a negative user experience, losing on backlinks that now point to a 404 and so on, can have an impact on your rankings.
Imagine that  another site is linking to one of your pages and when people click on it they see something like this:

That doesn't make a very good first impression, does it?
But here's the thing: you're not only driving visitors away but also squandering link authority every minute that 404 page remains unfixed.
So, log into your Google Search Console account, then go to Crawl->Crawl Errors -> Not Found to find all the URLs on your site that are returning a 404 error. Make sure each of these URLs are 301 redirected to other relevant pages on your site, if relevant pages are available. Also replace the broken links with working links. You can also leave them as a 404s if, for example, they're old pages where you're promoting products or services you're never planning on selling again and also there are no similar products or services on your site to redirect visitors to.
This guide explains how to do a redirect on any platform.
8. Turn your YouTube descriptions into mini blog posts
If you're on YouTube and are already taking advantage of the fact that YouTube video results are dominating Google's first page, why not make the most if with a simple SEO trick?
Write 200+ words video descriptions for each video you upload to your YouTube business account. This is a fantastic opportunity to describe the content on your videos, to add in some relevant keywords and thus get your videos to rank higher in the search results on YouTube and Google as well.
So, instead of doing what the majority does, which is to toss a few words into the description box, make sure you use the text-based title and description to add extra content that can help you rank higher for your target keywords.
Here's an example from one of the videos on our 123 Reg YouTube channel: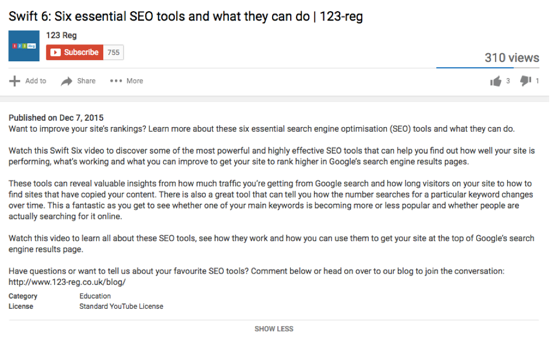 That's a quality, 200-word description, which can help a video rank higher when people run a search for a targeted keyword.
If you want to learn more about YouTube SEO, check out this step-by-step guide that explains how to optimise a YouTube video.
Wrapping up
These are just a few of the insanely practical SEO techniques that anyone can take action on right now to get more search engine traffic.
Have you used any of these SEO techniques? Any other you'd recommend trying? Share them with us in a tweet @123reg.