YouTube is the second biggest search engine in the world. That means using it can get you noticed by new potential customers. But as with any search engine there are ways of ensuring your content gets noticed more often.
Let's take a look at how you can optimise your YouTube videos in a way that will help them rank highly in the platform's internal search engine, as well as in all-purpose search engines such as Google. At the end of the guide, there's a link to a YouTube optimisation cheat sheet, which you can use to guide you whenever you upload a video.
Video filename
Before you upload your video, you need to make sure the name of the file is descriptive of the video content. In this case, the filename we've chosen isn't ideal. We would have been better off going with something like "gTLDS-the-new-generic-domains-from-123-reg-final.mp4". For your video, include the name of your brand and any product mentioned in the video.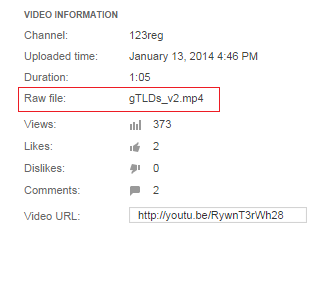 Video title
Again, your video title should be descriptive of the video's content. You should also include a relevant keyword or phrase. In the below example this is "New Generic Top-Level Domains. It's also important to include your brand so people can easily see who is responsible for the content they're watching.
However, space is at a premium here so whenever possible keep the title to a maximum of 60 characters (including spaces). If this isn't possible, ensure you include the most important information (such as your keyword) in those first 60 characters.

Choosing a thumbnail
The thumbnail is a static image displayed before a YouTube video starts to play. The ideal thumbnail is eye-catching and gives people a taste of what they can expect from the video. YouTube will automatically generate three thumbnails for you to choose from. However, these aren't always great so you may need to upload a customer thumbnail to ensure you use the best possible image.
Tip: If your video features someone talking and you want to use a picture of them as the thumbnail, take a still photograph at the time of recording. Freeze frames of people talking rarely look flattering.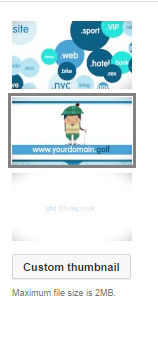 Video description
Here you get to go into detail about the content of your video. Make sure your description is unique (eg don't just copy and paste a description you've used on your website), includes your main keyword or phrase along with other relevant keywords and that it accurately summarises what the video is about.

Video tags
Tags offer another chance to add keywords. Simply add any tags that are relevant to your video. Don't forget to include your brand.

Video annotations
Annotations allow you to add links to your video. This means you can direct people to a product page. Make sure you include a link to a relevant page.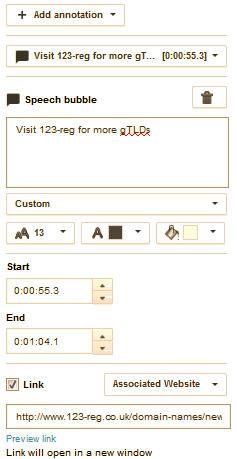 SEO for YouTube cheat sheet
By following the above steps you'll be able to ensure your videos are easy to find. Below is our YouTube optimisation cheat sheet. Keep it handy and use it whenever you upload to YouTube.