SEO tips that will work for your small business in 2016 and beyond
We've seen significant changes over the past few years when it comes to search engine optimisation (SEO) and ranking factors. The rules for effective SEO are no longer the same which means that if you want to get at the top of the search results you need to be able to quickly adapt to changes in the industry.
We're aware that for many marketers and small business owners SEO is a minefield of misinformation and conflicting advice. We read things like "link building is dead", "SEO is no longer important" and "Google doesn't care about keywords anymore". But are these really true?
If you're a small business owner, you probably don't always have the time to keep up with the latest trends in the SEO world. Fortunately, we took the time to make sense of this confusing SEO landscape so you know which ranking factors are important for SEO in 2016 and beyond.
In this post we'll cover:
Mobile search: Is having a responsive site enough? Which elements are necessary to rank well in mobile search?
Content and keywords: Are keywords still important? How do your incorporate them into your content?
Link building: How do you acquire links without getting a penalty?
User experience (UX): What is the impact of usability and user experience on SEO results?
Social media: How do SEO and social intersect?
Local optimisation: Why does local search matter, how can you gain more visibility in local search and what mistakes should you avoid making?
Let's get started.
Mobile
Since Google's mobile-friendly update earlier this year (also known as Mobilegeddon), mobile-friendliness has become a significant ranking factor in Google's mobile index. In other words, having a mobile-friendly site that uses a responsive design, meaning one that displays well and can be easily browsed on a smartphone, is now of paramount importance.
While not having a mobile-friendly site will not affect your desktop rankings, you should definitely consider creating one, if you haven't already. Here's why:
But here's the thing: while having a responsive site is a must, it's no longer enough. When optimising your site, you need to do so with mobile in mind. Google has released a handy guide for businesses ready to create a usable and attractive mobile site. Use those guidelines to make sure that the site is ready for the influx of mobile users that 2016 will likely bring.
Their top advice is to make it easier for your site visitors to complete the most common tasks, from browsing through the pages on your site, learning more about your products to ordering and paying for a product. That's the most important thing to consider as most web users mention ease of use as the most important quality of a mobile site they visit, according to a study by Maxymiser, a mobile site testing and optimisation platform.
Apart from having an easy to use site design, what other factors are important for ranking in mobile search?
Mobile-friendly format and structure: Considering that mobile users are often accessing the web while 'on the go', your content should be structured in a way that makes it easy for them to read and understand it. Using bulleted lists can help with this, and so can the use of slightly larger font sizes.
Load time: Almost half of mobile users expect sites to load in two seconds or less. So make sure to check your pages for unnecessary images or scripts that could slow down the time it takes for your pages to load. While images are important and can add value to your site, having too many can increase your load time.
Web forms: Make it easier for users to complete forms. First, make your forms short and remove any unnecessary fields. Next, ensure that entry fields are large enough to click in, and buttons big enough to click easily.
Marking up your forms for auto-completion: Use autocomplete to speed up users' progress through web forms. Whether it's for email addresses, city or country, this will make it easier for mobile users to complete a form.
Use the following two tools to check and see how your site looks on different devices and how long it takes to load:
Content
Tactics that used to be effective for achieving high rankings – such as short content filled with lots of keywords – no longer work. While you should still aim to find words and phrases that your customers are using to seek out your business and products online, the strategies of incorporating keywords into your content have changed.
It's no longer about matching keywords to queries. What's important now is writing long-form, comprehensive and valuable content that meets the needs of your audience. Also, content that does a great job at covering a particular topic will naturally incorporate relevant terms as well as helpful internal and external links.
Instead of looking at search queries solely in terms of keywords, Google now analyses queries in terms of user intent, both explicit and implicit. This means that you should perform keyword research to learn more about your audience, their needs and interests, and based on these insights find relevant and interesting topics to structure your content around.
Read our post on the importance of keywords in 2016 to learn more about the future of search and how context, implicit and explicit intent, voice search and predictive search can help in determining what your users want.
Another thing to consider optimising your content for is Google's Quick Answer Box. In September 2014, Google introduced a new method to quickly answer to "how to…" or "what is…" queries. This allowed Google to take snippets of content from specific web pages and feature them in the "Quick Answers" box. This appears just above the first organic result in SERPs and below paid listings. In addition to the content, Quick Answers also provides a link to the page with this content.
Here's an example: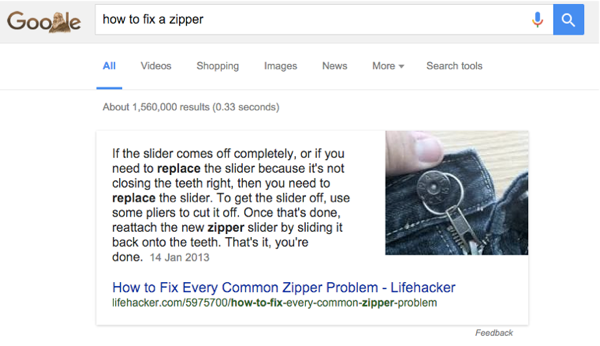 So make sure you optimise for the Quick Answers Box as well. Kirill Kronrod, senior global SEO Manager at Adobe, offers a few great tips that can help improve quick answers visibility:
Choose a topic that's interesting for your users. This should also be relevant to your business.
Create quality content relevant to the theme (use "buyer persona" studies, focus groups, and engagement analytics to determine the content mix)
Structure the page with user experience in mind
Where relevant, clearly define a how-to list, including the phrase "how to" in content and bullet points clearly present answers
Implement SEO practices like basic on-page optimization, theme-relevant cross-linking and technical SEO tactics
Read more about the Google Quick Answers Box and what else you can do to get your content featured in it.
Backlinks
The old school strategy of link building – buying or exchanging links, manually submitting your site to web directories or using automated software to do so, leaving spammy comments and forum links – is long gone. These link building tactics are not only ineffective now, but can also get your site penalised. Read our complete guide on Google penalties to learn which link building tactics can cause ranking penalties to your site, and ways to recover.
Your strategy should now be focused on earning backlinks rather than paying for them. It should be about building a great brand that people love and creating useful and interesting content that others want to share and link to. So rather than building links, you should be working towards earning links through publishing high-quality content that your audience will enjoy or find useful.
In their 2015 ranking factors report, Searchmetrics explains:
"For many years, links formed the absolute basis for search engine rankings, for SEO's, and for the analysis of ranking factors. This was also the reason for the highly tactical manipulations in this sector over a long period. These times have largely passed. We are also convinced that links will continue to lose relevance in the age of semantic contexts and machine learning with a user focus. For search engines it is a question of ranking the best and most relevant content. In the capability to determine this, they are continually improving – especially Google, as the data in this study shows."
In an analysis performed by Moz and BuzzSumo, they identified the types of content that are most likely to earn lots of links. These are:
Content that is well-researched
Opinion forming journalism
Long form content over 1,000 words
List posts ('listsicles')
'Why' posts
Aside from publishing great content and hoping it attracts links, you should also promote it on social media. Great content that gets liked and shared gets in front of a larger audience. And as more people see and appreciate your content, the more links it accumulates. The more links it gets, the better the chances of ranking higher in search.
User experience
Site owners all have the same goal – to attract visitors to their site and to convert them into customers. To achieve this goal, you need to create an experience that draws people in, that piques their interest, that addresses their needs and concerns, and finally, that entices them to purchase. Creating a great user experience (UX) also encourages positive feedback, return visits and inbound links. These are all signals that contribute to high rankings. Read this fantastic guide from Moz that explains how usability, experience and content affect search engine rankings.
So, what does UX entail?
Great UX begins with a great website design that responds to the needs of your users.  This means that your site needs to be: responsive, intuitive and inviting. If your site is unattractive, difficult to navigate and takes ages to load, your users are going to leave very quickly.
Make it easy for them to engage with each page on your site. Google can tell whether your site is user-friendly by the way people interact with your site. So make sure your site is easy to use, easy to navigate and understand.
Answer their questions with actionable information that's relevant to their query. This means you need to do some proper research and find out what kind of information your prospects are searching for. When you know what people are already asking, create content that addresses their queries. Then think about questions they haven't realised they wanted to ask yet and answer them.
Offer supplemental content. Add features on your pages that are designed to help users find other products and content they might also like. This will make people want to stay longer on your site.
Consider rich formatting. People are more impatient than ever, which means they want to find answer quickly without having to read all your stuff. Rich formatting points them to the exact information they're looking for. It also decreases bounce and increase average time on page.
While Google denies that user behaviour factors affect rankings, many experiments reveal the opposite. So, even if user signals might not be influencing your ranking now, they might be the ranking factors of tomorrow, so make sure you're ready.
Further reading:
The impact of user experience on Google ranking
Using UX to turn visitors into customers
Social
While social signals aren't officially a ranking factor, pages with high engagement and social activity have higher rankings. Google take this into account as well as how social activity grows over time, and whether or not social engagement results in loyalty and return visits.
Here are some of the social signals that Google might take into account:
Number of Facebook fans.
Number of Facebook likes, shares and comments.
Number of Twitter followers.
Number of tweets that mention your brand name or include a link to your website.
Number of people that "have you in their circles" (Google+).
Social signals are going to play a bigger role from now on. That's because the more your content is shared, liked, retweeted and recommended, the more valuable it becomes. And the more popular your content becomes, the higher your rankings will be.
Google and other search engines are already starting to incorporate social media posts in certain search results, as you can see from the below example: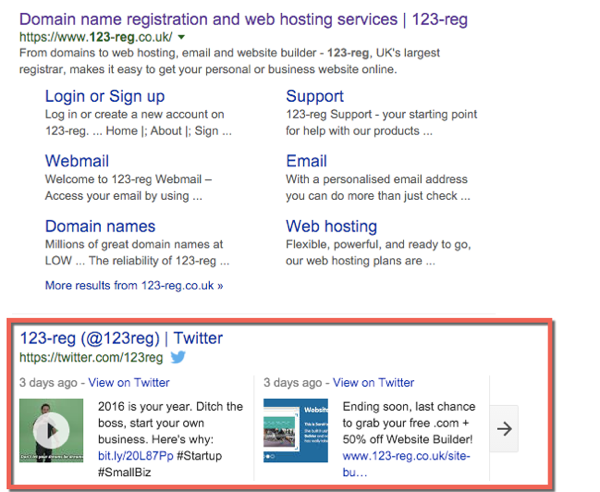 This means that posting on social media will continue to grow in importance to search visibility, though probably not in direct correlation to your site's rankings.
Local optimisation
Local SEO will become more important than ever. That's because an increasing number of users are using mobile devices to perform searches online to find businesses near them.
Here are some stats to consider:
As a business, you need to let Google know where your business is located and what you're offering in order to increase your chances of showing up in front of a relevant audience. To help you get started, check out our beginner's guide to local SEO for local businesses for some local SEO best practices.
Now, when optimising your site for local search, make sure you're not making these mistakes that can hold your business back from achieving strong local visibility in search:
Missing or non-discoverable location. If you don't have a contact page with your location or if this information is hidden or difficult to find, how can you expect Google or local searchers to find you? Make sure your contact page includes your location as well as other information that users might be looking for such as opening hours, email address, phone number.
Incomplete or inaccurate information included in your Google My Business profile. Check your Google My Business profile and ensure that your name, address, phone number, website URL and categories are accurate and up-to-date.
NAP inconsistency. NAP stands for Name, Address and Phone Number, and a consistent NAP is crucial for local visibility. Run a search for your business and ensure that your NAP information is accurate and consistent everywhere it is mentioned.
Further reading:
Local SEO ranking factors in 2015
Wrapping up
We hope you've found this guide useful and that you can use our tips and suggestions to boost your site's rankings. But more importantly, we hope you realise the impact of providing the best possible experience to your visitors and how this can help turn them into paying customers.
Have any other SEO tips that you believe will work this year and beyond? Share yours in a comment below.