6 ways you should be using Twitter for your small business in 2017
When it comes to social media marketing, Twitter is still one of the major players for a small business and the ways you can use it are only getting more advanced. With a new year and a fresh boost of inspiration on our hands, let's take a look at the ways you should be using your Twitter account to ensure you put your business on the map.
You should be
Constantly tracking hashtags and trending topics for anything your small business could get involved in.
Why?
Chiming in on a hashtag that's trending is a great way to get some exposure for your page. You can be sure that a higher number of people will see your tweet, giving you more chance of getting retweeted and shared. The art of putting a spin on a trending topic to promote your own products and services is commonly known as 'newsjacking' and when done right, it can have the potential skyrocket your post to viral heights.

The topic doesn't always have to be directly related to your business – check out the example above from Innocent Drinks. A humorous, witty spin on a local or national event that people are tweeting about could be the key to getting some exposure from your brand. Need some inspiration? This article is packed with examples of good and bad newsjacking
You should be
Going live. Periscope has amassed millions of users since its launch it 2015, and for a small business – it's a marketing goldmine.
Why?
Every small business can benefit from using an app like Periscope because of the amount of things you can do with it. Check out our informative post on using Periscope for your small business here.
From live Q and A sessions, filming at events to tutorials and new product launches, it's a whole new way to connect with your followers and show them the authentic, true voice of your brand. Live broadcasting apps are a huge development in social media and as other channels create their own offerings – Facebook Live for example – it's sure to get even bigger from here.

You should be
Hosting polls and discussions for your followers to get involved in.
Why?
Twitter polls are a win-win for both your small business and your followers. You get insights into the opinions of the people who are following your business to help you market to them better, while your followers are kept entertained and engaged. Plus, customers love to feel that their opinions are valued and the brand they are buying from really cares about what they want. Polls can be used to show your followers that their thoughts and opinions matter to you. Having said that, polls don't always have to be marketing related either – they also make an easy way to entertain your followers.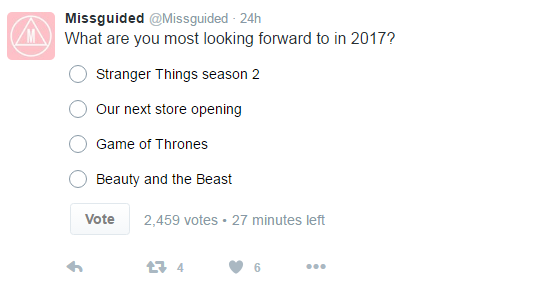 Like the example above, they can be lighthearted, but it's best practice to keep them loosely related to what your business deals with. Check out this post for inspiration on polls you could create, and the different ways that real brands use them to market to their followers.
You should be
Doing daily searches on the web for interesting content you can link to in your Twitter posts.
Why?
The key to keeping your followers engaged is to present them with interesting content you know they will like. It has been proven that tweets with links perform better, so always be on the hunt for articles, blog posts and videos you can share with your followers. The better the content you share, the more likely people are to retweet it to their own followers. Not sure where to start? Take a look at this article for a round-up of all the different tools you have at your fingertips to help you find engaging content.
You should be
Posting more videos to communicate with your followers.
Why?
Twitter is about being able to keep your message short and sweet, whilst still making a strong point. It's not the place that users to go to read long, detailed posts. It's more about flashes of inspiration and quick bursts of content. And that's where video comes in.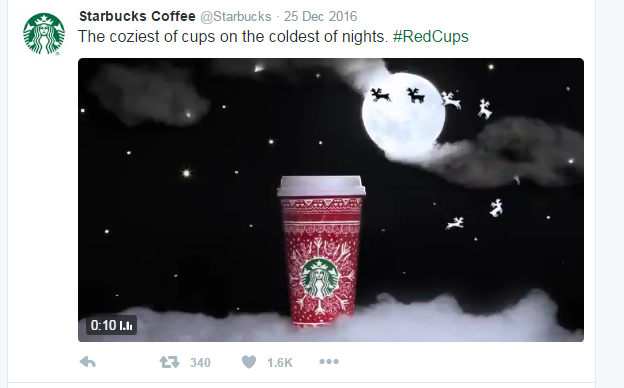 Not only are they fun and engaging for your followers to watch, they're also a fantastic way to give your followers updates on what's currently going on with your business. You can embed 140 second long videos directly into your Tweets – more than enough time to entertain your followers with a quick video and mix things up with a break from text tweets.
You should be
Tagging your influencers in relevant posts.
Why?
We've discussed the importance of engaging your influencers previously, but with so many developments happening in social media these days, it's more important than ever! That crucial retweet from an influencer could make all the difference to your follower numbers, so whenever you're posting something of interest to your influencers, be sure to mention them directly. Reaching your influencers is just as important as reaching your own followers, so don't forget to include them in your social media strategy!
Twitter is more than just a social media platform. When used as simple yet effective marketing tool, you'll be surprised at what it can do for your business. The best part is that it's free, so start making the most of it today.