Growing amongst brands – Is Vine the business platform for 2014?
It's a year old, but Vine could hold the key to business marketing in the 12 months ahead. Many laughed when the 6 second video platform launched by Twitter in January 2013 and certainly how could it be any good as a business tool? The laughing didn't last long, but the focus by brand agents upon Vine has. Even the launch of a double-length rival from formerly picture only platform Instagram, didn't really have an effect.
The success of social media has been much down to the ability to squeeze big messages in to tiny creatives and Vine does that better than any. If visuals encourage engagement, quick fun-filled, moving visuals are like the gold dust of online content. Six second Vine videos rock and you can do it all in the palm of your hand.
According to agency 7th Chamber, 5 tweets per second contain a link to a Vine video. Brands such as McDonalds, Virgin Mobile and Microsoft have all engaged via Vine and according to 7th Chamber, a branded Vine video is four times more likely to be seen than a branded video.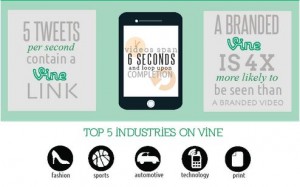 With reduced budgets in 2014 the ability to create more engaging content, on a smartphone, in a matter of seconds not weeks, is almost a no-brainer. Vine will become more prominent as more and more brands see the positive click-through rates.
The key to success though is likely to be in user-generated content (UGC) promoted by brands. Already brands such as Paddy Power, Michelin & Confused.com are using Vine as a way of building interactive competitions with their followers.
Paddy Power for example, ever afraid to cross new boundaries with their marketing ran a Vine competition during the Cheltenham Festival. Users had to tweet a video showing where they planned to watch Cheltenham Festival using the hashtag #LuckyPants, with the winner of the free bet prize based on the number of re-tweets they received.
US brands as may be expected do appear to be leading the way using Vine as an information tool. Brands, like Gap and General Electric have been creating and promoting various campaigns. The latter creating a series of Vine videos under the hashtag #6SecondScience.
So Vine is here, it is proven to work and with budgets ever tight and ROI ever the focus, 2014 seems the ideal opportunity for your brand to take a look and get involved. At the very worst it will produce 6 seconds of unforgettable video, at the best it may just be the viral hit you have been looking for.
Have you used Vine? What has your hit ratio been like?