The 27 best marketing tools for your small business
You probably know by now that having a nicely designed website isn't enough to get your business seen in 2017. So what will you do to get exposure and grow your small business this year?
If you don't have the budget to assemble a top-tier marketing team, you'll need some great tools to take your marketing to the next level. To help you reach your marketing goals this year, we've put together a list of 27 must-have tools to get you started. This list covers a variety of different uses and needs, from search engine optimisation to social media and email marketing, and lots more.
Oh, and if you're just starting out with online marketing, then check out our free Online Business Training courses. They'll teach you everything you need to know to start promoting your business.
Ready? Let's go…
Content marketing
Content is leading the way in online marketing, with an increasing number of marketers creating more content than ever before. However, brainstorming ideas and putting together something unique for every post can be time consuming. With the right content curation tools, marketers can shave valuable time off their content creating process.
Here are a few tools you might consider trying out:
1. Google Trends – Use it to see what the world is searching for and how interest in concepts has changed over time. For example, if we run a search for "plumbing", Google Trends will reveal the interest over time as well as related searches, which you can use to generate new content.

2. BuzzSumo – This is a great tool for researching the content your audience really wants. Simply enter a keyword into BuzzSumo and you'll get a detailed report showing how well previous content on that topic performed.
3. Scoop.it – This is a nice tool that helps you find unique, relevant content that you either share on your social channels or use a starting point for your own posts.
4. Feedly – Feedly is a content aggregator that you can use to see what other people in your industry are writing about. You can choose the blogs, publications and topics you're interested in and monitor them to get content ideas.
5. Quora – The popular social network is a platform for question and answer discussions. Identify trends from consistently asked questions to inform your content creation efforts.
6. Reddit – Discover what's trending worldwide on Reddit for content inspiration on a variety of topics from across the web. Observing which headlines are more effective on Reddit can bring insights to the subject of your next article, infographic, video or other type of content.
7. Twitter – Search trending topics on Twitter to see what is popular worldwide or in a specific region to gain insights on what content to develop. Also search hashtags that are relevant to your expertise and industry to research what subjects of our interest to your existing audience and potential audiences.
Read our post for some other great tools to help you discover great content.
Now, after you have your list of ideas ready, you can try creating content in different formats other than blog posts. The following are a few tools that you can use to create infographics, videos and animated presentations:
8. Easel.ly – Create stunning infographics and data visualisations. Explore the ones already created on the website for inspiration for your content marketing.
9. Infogr.am – This is a great free tool which gives you access to a wide variety of graphs, charts and maps as well as the ability to upload pictures and videos to create cool infographics.
10. PowToon – Create animated videos and presentations with PowToon to add a commercial quality experience to your original content.
Search engine optimisation
Search engine optimisation (SEO) is such a big part of most businesses' online marketing efforts. This explains why there are so many tools out there that help brands optimise their websites.
11. Moz – Moz has two products: Moz Pro and Moz Local. Moz Pro helps you with the classic SEO practices like tracking rankings and link building efforts, while Moz Local helps you improve your local SEO listings.
12. 123-reg Search Engine Optimiser – If you need a tool to scan and evaluate your entire site's SEO health, try our 123-reg Search Engine Optimiser tool. It allows you to run in-depth scans for dozens of SEO factors so you can get a complete overview of your site's health. This way you can spot problems without having to check every page on your site manually. The tool will also provide SEO recommendations to fix them. It'll let you know if you have pages with missing or duplicate titles and descriptions, which keywords to focus on to optimise your site, the backlinks you're getting and more. This tool is perfect for beginners as it doesn't require much technical knowledge. You can start with a free report and then choose the package that best suits your needs.
13. Google Search Console (Formerly Webmaster Tools) – It includes a variety of invaluable tools that you can use to identify issues with your site as well as opportunities to improve its performance and boost website traffic. If you want to find out what else you can do with Search Console, make sure you read our in-depth beginner's guide to GWT.
14. SEMRush – A good tool to improve your search rankings and also to track your competitors and see what they're up to. Use it to pull your competitor's backlinks, monitor their fluctuations in ranking and conduct a full competitive analysis.
15. Screaming Frog – Screaming Frog quickly crawls websites, lists of websites or specific web pages to give you a complete analysis on performance. You can use the tool to see if you have any broken links, broken pages, bad redirects and much more. Fixing most of these errors is a quick win for search marketers.
In case you missed it, we have a comprehensive beginner's guide to SEO tools where we've included the most useful SEO tools that you can use to optimise your website and step up your SEO game.
Email marketing
Email still plays a big part in our online marketing strategies. Even though it's one of the oldest marketing channels, it's still also one of the most effective. If you're unsure about where to begin with email marketing, or just want to make your email marketing better, then this webinar is for you.
Here are a few tools you can use for your email marketing:
16. An email marketing tool – Email marketing tools allow you create stunning email marketing campaigns from beginning to end without much hassle. From building your mailing list and creating and sending highly personalised emails depending on the specific audience you're looking to attract, to tracking the success of your campaigns in real time. Check out our tips on how to improve your email campaigns to learn what other cool things you can do with an email marketing tool.
17. Test Subject – Use this tool to test how your email subject lines appear on the most popular mobile devices. This way you can ensure that mobile email clients and devices don't truncate your subject line. Simply input your name, subject line and pre-header text, and see how it looks on various devices: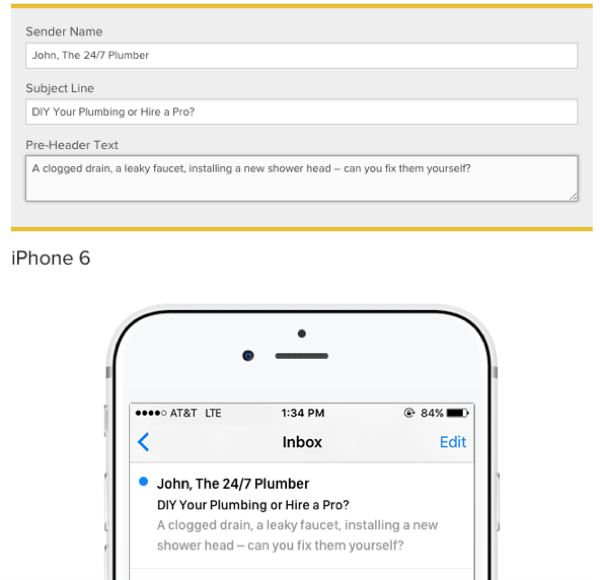 18. The Hemingway App – You're talking about your products every day. This means you understand the terminology more than the average user ever will. This tool will help improve your email content and make it less confusing or overly wordy.

19. Canva – If you have no design skills, that doesn't mean you can't create or edit images to use in your email campaigns. With Canva you can do this easily, even if you're graphically-challenged. A similar tool that is just as easy to use for editing images is PicMonkey.
Social media marketing
With so many people spending so much time on social, it's becoming one of the most important channels for brands to engage with current and prospective customers. Here are some tools you can use to manage your social media presence:
20. Tweetdeck – This is one of the most popular social media tools for managing multiple Twitter accounts. Many also use it to find great content to share on social channels. Within Tweetdeck you can create different columns for specific terms and keywords. For example, if you're an event planner, run a search for "wedding planning" and create a column dedicated to this topic. This column will include a list all the posts and tweets that fit in this category. So instead of going to Twitter to search for content on this topic, all you need to do is go to your Tweetdeck account, see what new content has been shared and pick the most interesting ones to retweet.
21. Socedo – Want to find leads on Twitter? With Socedo, you can. Simply enter your target keywords or hashtags and the tool will return a prospects list.
22. Tweriod – This neat tool analyses your Twitter account and shows you the best times to tweet for more exposure.
23. Tagboard – This is a hashtag-based search engine that lets you see mentions and related content across major social platforms. This is particularly useful if you want to create and claim your own hashtag. Simply register it on Tagboard and include a description to make it clear that you've claimed it. When anyone uses Tagboard to search for your hashtag, your description and image will pop up.
24. BuzzSumo – BuzzSumo is one of our favourite tools as it makes it easy for anyone to research, analyse and identify what's happening around your industry in real time. With BuzzSumo you can find authority blogs, influencers and topics based on your keywords. Want to see what people are talking about or how well certain content has performed across social media? Simply type in a term and the tool will return a list of the top shared content. This also allows you to gain a better understanding of what your target audience wants.
25. FollowerWonk – As a Moz app solely for Twitter analytics, FollowerWonk helps you find, analyse and optimise your social media efforts on Twitter. You'll gain great insights into your followers, their location and when they tweet. You can also use it to find new influencers that you can then reach out to to help spread your message.
26. Onalytica – This is another great tool that helps you find the right people to follow, but with a different approach. Instead of searching for keyword, you'll need to upload or add a link to one of your blog posts. The tool will then scan your content, determine its topic and finally return a list of influencers that might enjoy your content.
27. Inkybee – This social media tool helps you to locate those influencers who can increase your brand's visibility and attract more potential customers your way. In simple words, you can use it to search for authority bloggers and influencers interested in your industry so you can then connect with them.
Wrapping up
We hope this list will help guide you through the many marketing tools to the ones that best fit your needs. Now, if you need practical advice on getting started with digital marketing, we've got you covered.
Check out the following guides to familiarise yourself with SEO, email marketing and social media marketing:
Learn how to do big digital marketing on a small budget
Just launched a new site? Get your SEO up to scratch with this guide
Get the lowdown on email marketing in this comprehensive webinar
How to choose the right social media platform for you