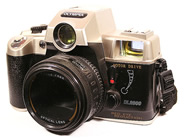 Finding photos for your website can be difficult. Copyright means you can't just grab ones you like from other sites – and if you do, there's a bigger-than-ever chance you'll get caught.
This recent story about a US family who discovered their photo was used by a shop in Prague demonstrates just that, and tools like TinEye (which is so impressive it deserves a post of its own) make it easier to find where photos are being used online.
How to find photos you can use
Going down the legitimate route isn't quite as tricky as you might think.  There's a vast range of free, high quality photos you can draw on – the secret is knowing where to look. Read on to find out where to go.
Today we'll look at how to find great photos using Flickr, a really popular photo website. Then next week we'll look at other ways to get your hands on free or very low-cost photos. (Edit: the post didn't get written when we promised but is coming soon, so watch this space!)
Introducing Creative Commons
When photographers put their photos online, they can attach a licence to each image. The licence explains what other people are allowed to do with that picture. These days many photographers make their photos available under a Creative Commons licence.
This is good because you can usually use photos licensed under Creative Commons on your own website. And although they can generally only be used for non-commercial purposes, some photographers do release their work under a Creative Commons licence which lets you use it for anything – commercial or not.
Using Flickr to find Creative Commons images
The easiest place to find creative commons images is Flickr. This website hosts millions of photos and anyone can upload theirs to it. Here's how to find ones you can use:
Visit Flickr's advanced search page
Type what you're looking for into the Search for box
Scroll down to the Creative Commons option
Select the checkbox next to Only search within Creative Commons-licensed content
If you need photos for a commercial site, select Find content to use commercially
Click Search
You'll see a page of search results. As you scroll through, hopefully you'll see a photo you like. If you do, click the image to see it larger. If you still like it and decide you want to use it, do this:
Scroll down till you see Additional information on the right of the screen
You'll one or more symbols and Some rights reserved. Click this.
You'll see the licence for this image. (Here's an example.)
It's important you read the licence carefully, because there are several types of Creative Commons licence. It'll explain, in plain English, how this particular image can and cannot be used. If you're happy you won't be breaking the terms of the licence, you can grab a copy and add it to your site:
Hit the back button on your browser
Click the All sizes icon above the image
Click Download the Large size to save a copy of the photo to your computer
You can now resize the photo (if you need to) and add it to your website. If you're planning to alter the photo (like cutting out an element and using it elsewhere), make sure the licence lets you do this. For basic changes, Picnik is a good online photo editor.
Credit where it's due
When you upload the picture to your website, it's important you give the original photographer credit. You can do this by adding a line of text to the page, linking back to the original photo on Flickr and stating the type of licence. The image on this page is a Creative Commons photo, so see the bottom of this post for an example.
It's also polite to leave a comment on the photo on Flickr to let the photographer know you've used it. Most photographers there are pleased to see their work get used elsewhere – that's why they make it available under Creative Commons!
And that's it: you now know how to access a library of images which you can use on your website. Get searching – and remember to play by the rules.
(By the way, Flickr is a fantastic way to waste time online. There are loads of photographers on there uploading all sorts incredible pictures, and it's quite easy to lose yourself in it. Try searching for stuff you're interested in, looking at the explore page or viewing interesting photos from the last seven days.)
What next?
Find something specific with the search option
And remember to check back here soon to find out about other ways to get photos for your website
Image courtesy of OliverAlex under a Creative Commons Attribution licence.