Beginner's guide to WordPress: Logging in, posts and uploading
WordPress gurus, look away now! We're getting back to basics, and real basics at that. If you're completely new to the world's most popular content management system (CMS), or you don't even know what a CMS is, then this is the post for you.
Find out how to log in to the platform, how to write your first post and how to upload files in our first in a series of WordPress tutorials. Yep, real beginner's stuff but everyone has to start somewhere!
Logging in
It's easy to assume that a new user will instinctively know how to log in to a WordPress site, but too often simple barriers like that frustrate potential new users into abandoning projects altogether. So let's not assume that everything is obvious, it usually isn't.
The most common way to reach the login page is to add the suffix /wp-admin to your domain's URL.
If this doesn't work then you can try typing /wp-login.php instead, a variation that we have seen on many sites.
Then you simply enter your login details and are taken to the WordPress dashboard. Where do you get you these login details, you ask? Well, you should be given them by the site owner; if that's you then you can create a new user, but that's a story for another day!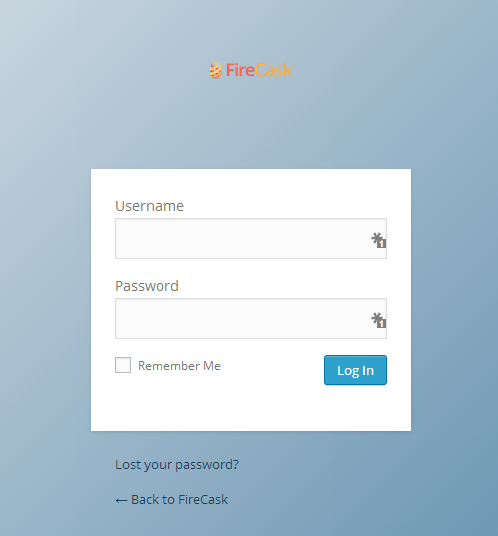 WordPress dashboard
Now, hopefully, you're looking at the WordPress dashboard. Depending on the version of WordPress installed, you'll see slight differences but it'll look something like this: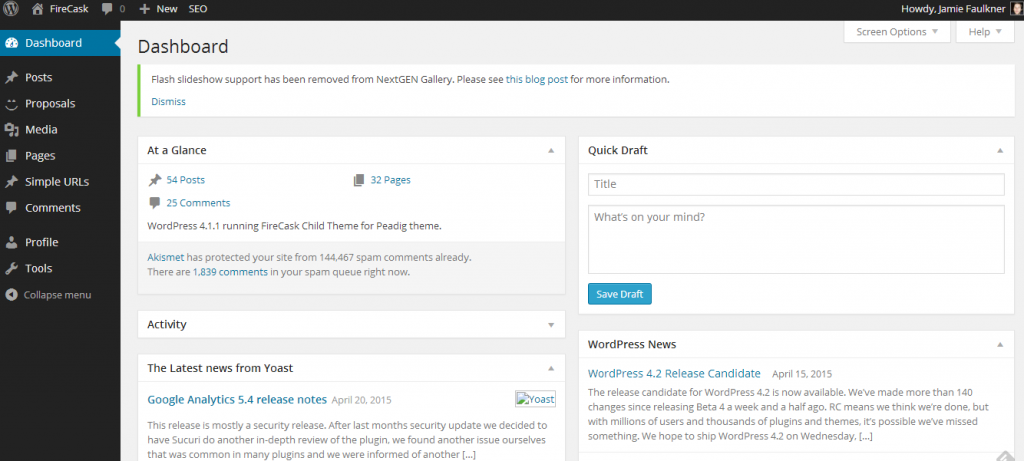 It's beyond the scope of this article to talk about the whole dashboard, we'll be covering that in a later post, but from here you can see on the left-hand sidebar "Posts", "Pages", and "Media", the places where you create and edit posts and pages, and upload files, respectively.
Creating a post
One of the first things you'll want to do is publish a post, right? Something like, "Hey, welcome to my blog!" or "Look, I can use WordPress!". No problem, just:
Click on "Posts" in the sidebar and this will take you to the main posts page. Here you can click on "Add New" in the sidebar on the main page.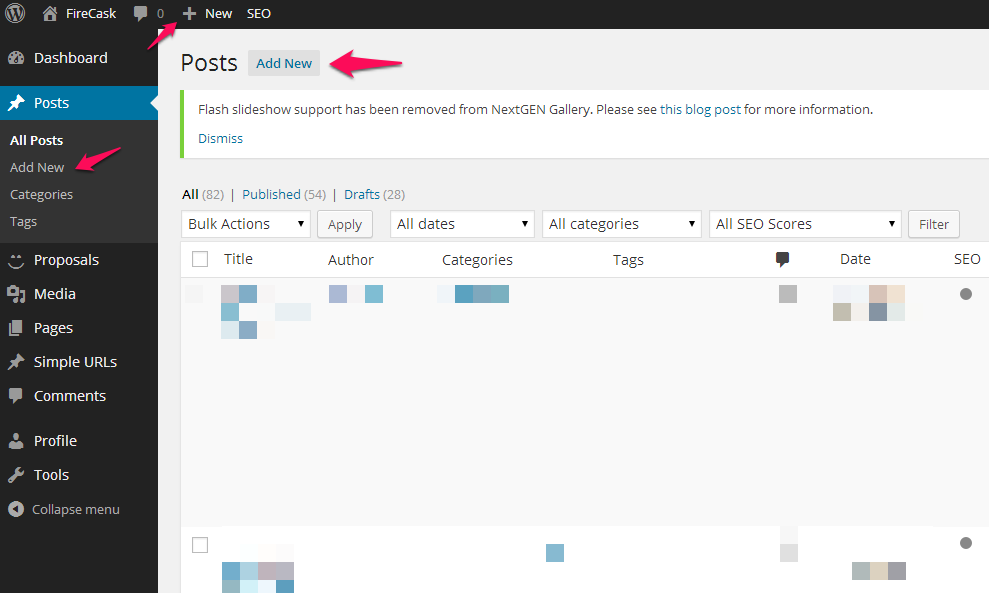 Or, if you're feeling confident, just hover over "+ New" at the top of the page and click "post", as indicated by the small arrow on the image above.
3. From here you can write a post in the editor much like you would in a standard word processor, and many of the icons are easily recognisable. Give your post a title and then start writing in the large text box.

To save a draft of your post, click on "Save draft" and you can come back to it later (you'll see it on the main posts page) or if you're ready to publish then go for it (check over everything first to eliminate any errors). You can set the time and date for posting by clicking the "Edit" button next to "Publish immediately" (backdating is possible, too).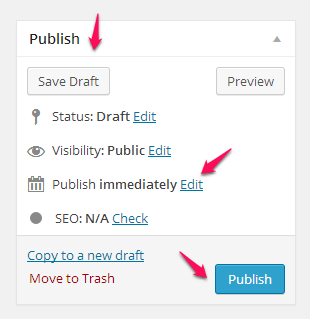 To view or preview your post at any time, just click on "View Post" or "Preview Post" when in the editor, or click the view link by a post on the main posts page: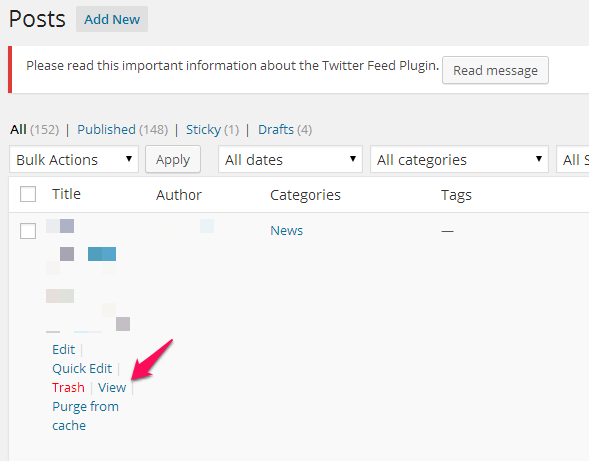 That's about it for beginners, but for all the in-depth information on posts, see this post:
How to upload files
Like creating posts, when it comes to uploading files there are a couple of ways to do essentially the same thing.
Option one:
Click on "Media" in the sidebar, which will take you to the main media page, where you can upload images, videos, audio and PDFs, as well as filter your uploads.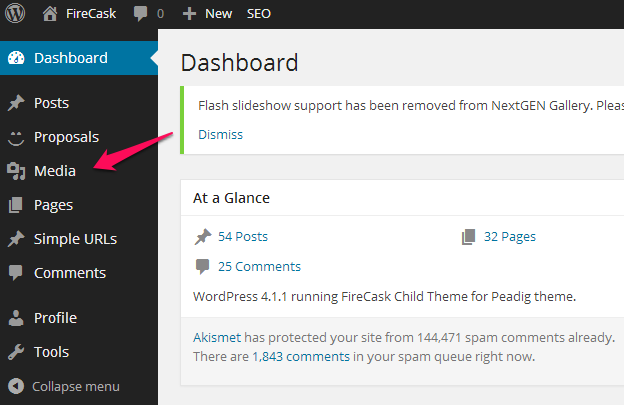 Click "Add New", which triggers the following pop-up: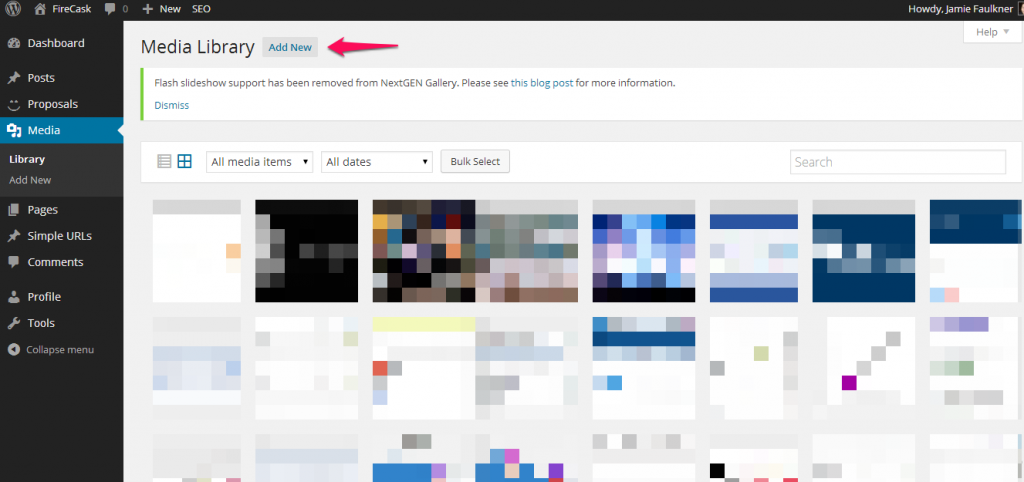 Click the "Select Files" button then navigate to the files on your computer that you want to upload.

Option two:
Upload files to an existing post or page:
Open up a post, either one that's in draft or has been published (there's a challenge for you!)
Click "Add Media" which will open up the media library, which will bring up the "Insert Media" box .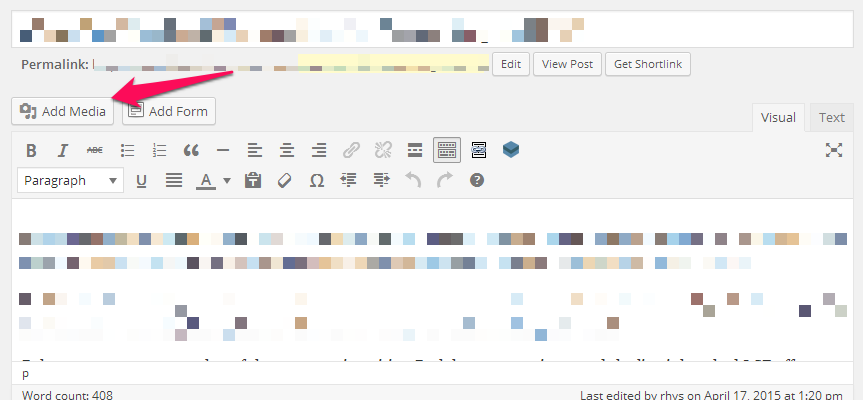 3.From there it's pretty much the same process as from the media gallery. Click on the "Upload Files" tab, then select your files: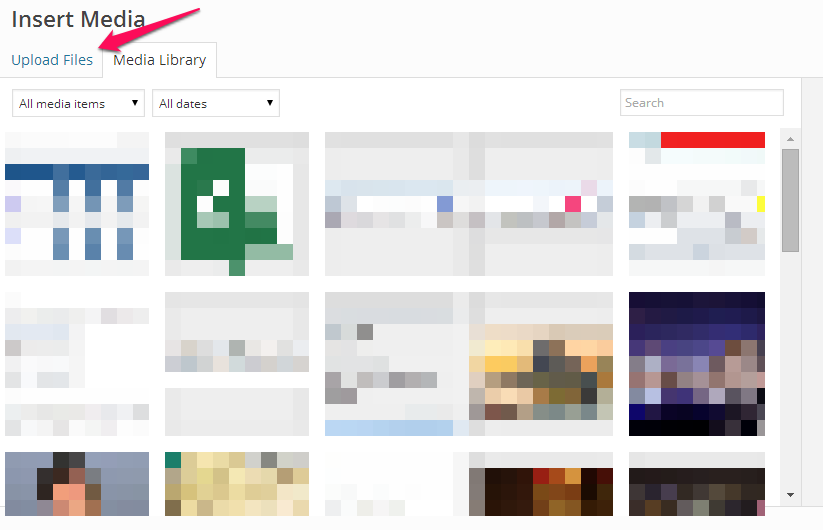 It's also worth, as best practice, doing a few things every time you upload an image.
Make sure you fill in the description and alt text (which will appear if the image can't load and also gives a description of the image to search engines), and caption if necessary.
And remember that you can use the same process to upload PDFs, videos and GIFs if necessary.
If you need further help with uploading images, see here:
That's enough to get you started with your WordPress site. How have you found it? Over time and use the system will become almost second nature. Keep practising and keep an eye out for the next in our beginner's guide to WordPress series.
This article was written by Jamie Faulkner of Manchester SEO agency FireCask.