The easy website builder: Adding Social Media widgets to your site
When I'm a fan of a website, whether it's an online clothing shop, a travel agency or a restaurant, I usually become a fan on Facebook or follow them on Twitter. I think that's what we all do so we can engage with them and to ensure we don't miss any of their offers.
Everything is moving toward social networks like LinkedIn, Facebook, Pinterest, Twitter and many others so it's only normal to add them to your site to let your visitors and customers know where they can find you online. When you're building your site, whether it's a personal site, an e-shop or a presentation site, integrating widgets into your site is very important.
Let's look at a few reasons why you need to add 3rd party widgets to your site and how easy you can do that.
Help your customers find you
Whether you're a lawyer or you own a shop or run a coffee shop, people need to know where they can find you. Adding a Google Maps widget on your site is the easiest way to give them directions, rather than writing your address in plain text.  People are looking for directions from a specific location and with Google Maps they can see exactly what route to take to get to you.
For instance, last week I was looking up directions to a hotel in Berlin that I booked for this month. As I've never been to Berlin before, I was having trouble finding their address based on the limited directions offered on their site. No step-by-step instructions from the airport, just an address.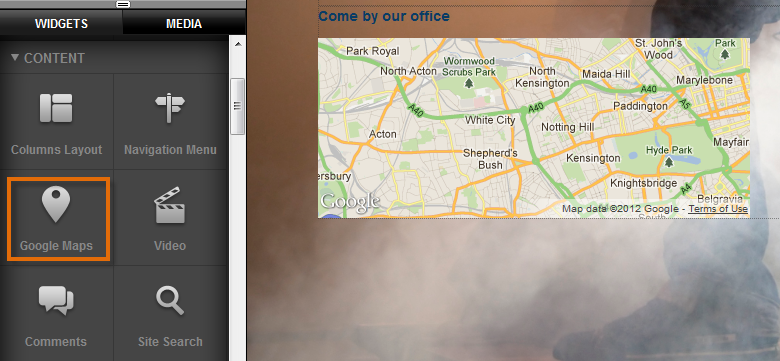 When you add a Google widget on your site, it makes it easier for your customers to find you as they can see exactly how they can get to your location. When you're building your site with the easy website builder from 123-reg, you simply need to drag'n'drop the Google Maps widget on to your template and add a line of code from Google Maps to show you location.
Engage openly and ask for feedback
Most every company in the world is using Facebook, Twitter and many more social networks to interact with their customers and to also attract new customers. You can also use these networks to ask for feedback from your customers and encourage them to share their opinions on the products or services that you're selling. It's the easiest way to communicate with your clients and find out first-hand what they think about your products and what you can do to improve them.
Your customers' testimonials are seen as recommendations and that's why so many companies or brands have included social networks into their marketing strategies.
With our easy website builder, you can add these widgets to your site by simply draggin'n'dropping them from the Social tab on the left menu onto your template.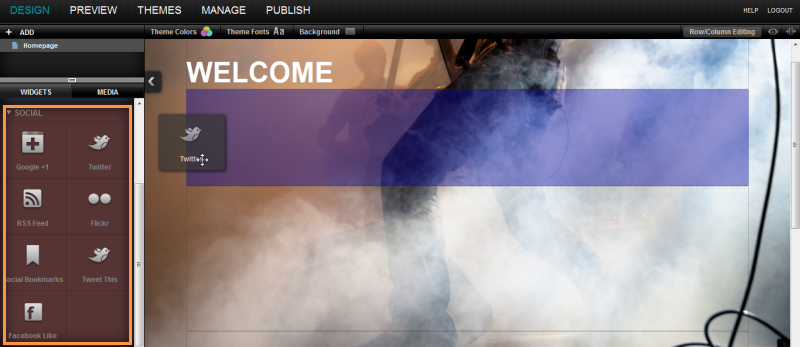 Find out where your customers are spending their time online and add widgets for those social networks on your site so they know where to find you online.
Show how your product works
YouTube is such an amazing tool to grow your business. There are so many things you can do with it to connect with customers, promote your products, share your knowledge and show off your expertise.
You can upload videos, testimonials from your customers to add to your credibility, promote events, share a tour of your office and many more. So, why not also add a YouTube widget on your site?
If you're a fan of Flickr, you can also add a Flickr widget to your site so your visitors can see your photos directly on your site, without having to visit your Flickr account. Add pictures of your office, your team or show how your product works.
You can do all this and more with our easy website maker. Not only can you build a new website from scratch with little to no programming skills, but you can also create a more engaging experience for your visitors. We're offering a 14-days free trials so you can see for yourself how easy it is to build a great website that you visitors will come to love.
What other widgets are you using on your site?