Five ways to make your website more attractive with Website Builder Sections
Building a website and customising it to make it your own has never been easier. If you've been using the 123 Reg Website Builder to get your site online, you likely already know by now how quickly you can go in and change text, images, fonts, and colours.
But what if you want to customise it further? Maybe you're planning to run a discount promotion and the template you picked doesn't include a promotions section. Or maybe you want to add testimonials on every product or services page to entice more visitors to buy from you. Creating a completely new section from scratch is no small change so how do you go about it?
Well, this is where Sections come in. In your Website Builder dashboard, you have the option to choose from a variety of pre-designed sections to add to your site. This gives you the flexibility to customise and improve your website without needing to choose a different template or design a new section from scratch.
In this post, we'll look at five sections you can add in Website Builder to create great-looking content and make your website more appealing to potential customers.
But first…
How to access Sections in Website Builder
Log in to your 123 Reg Control Panel, and then log in to your Website Builder. On your homepage (or any other page on your site), simply hover over a block of text or design, and you'll notice an Add Section icon pop up. Click on it and a navigation will open on the left with all the sections available in Website Builder.
Here's how it looks: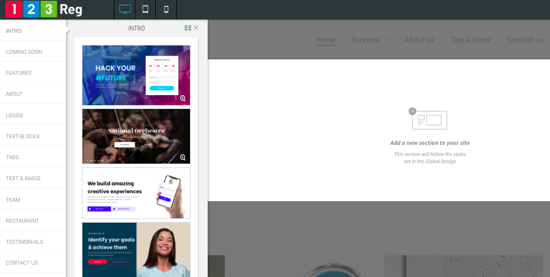 Now, let's look at a few sections that can help you achieve more with your website.
1. Build buzz for a new product or service
Are you planning to add a new product or service to your site? You could keep it quiet until the launch date, or you could build some buzz around it to get customers interested and keen to learn more. Out of the two, we'd vote for the second option.
But how do you do that in Website Builder? Simple. Add a Coming soon section to a current products page or a separate one. Then use that section to share a few details and build some excitement about what's coming.
Click Coming soon from the Sections menu, and then scroll down to see all the designs available. Select the one you like best, and then click Save. Now, simply click on the images and text to replace them with your own. You can also change the fonts and colours to match your site's colour scheme and design style.
Here's an example of how your section can look: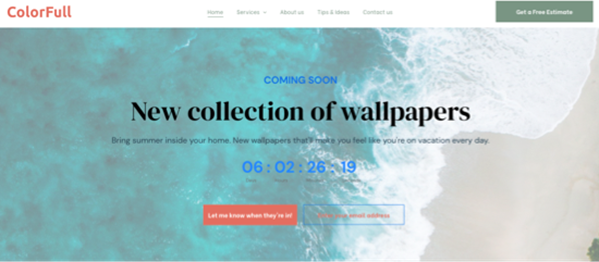 2. Show off your bestsellers using image and video galleries
If you want to add a gallery to showcase all the categories of products or services you provide, or just your most popular ones, you can easily do that with the Gallery section.
Click Add section where you want to add it, and then click Gallery on the right to browse through the different designs. You'll find lots of options, whether you're selling products like t-shirts or services like painting.
For example, if you deliver organic food like fruits and vegetables, here's how your gallery can look: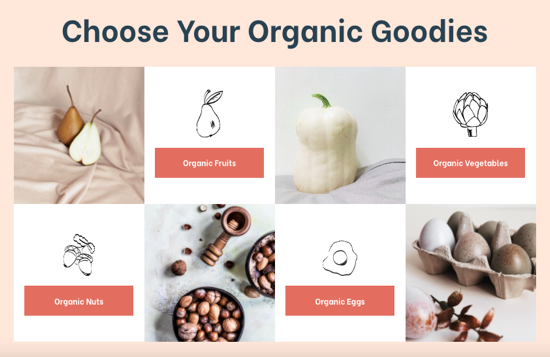 If you want to take it one step further and highlight a bestseller, just replace one of the images in your gallery with a video. Click on the image, and then select Video. Upload your video or enter its URL, if you've already published it elsewhere.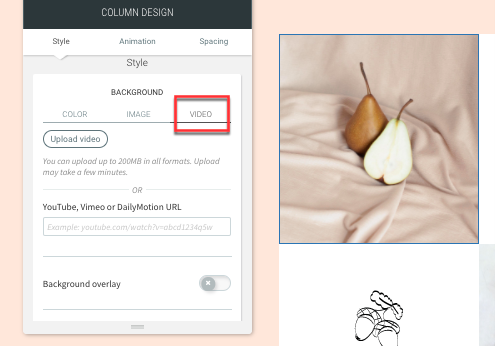 3. Let customers get to know the people behind the brand
Contrary to popular belief, customers want to get to know the people behind a brand. They want to be able to trust you and rest assured that there's actually a human running your business, a human they can reach out to ask questions and get support if they need it.
So, if you want to reassure customers you're an approachable, legit, and trustworthy business, you can't go wrong with a Team section that shows off the awesome people behind the brand. Even if you're running a one-person business, it's still worth introducing yourself to customers so they know who's that amazing person putting so much effort into making customers happy.
Go to Sections, browse through the Team designs available, and pick the one that best fits your needs. Here's an example of how you could present your team in a section on one of your pages: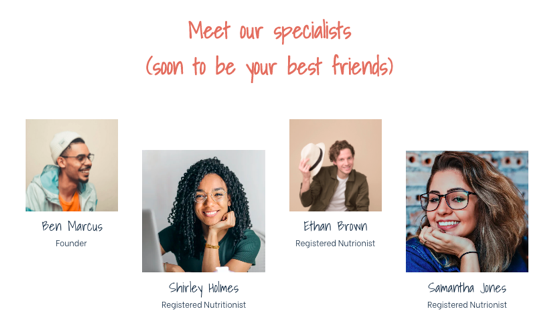 4. Run a successful promotion
It's no secret that discounts and promotions bring in more customers and revenue. But to be successful, you need to do it right, and design is a big part of that.
The great thing about the 123 Reg Website Builder is that you can add and edit your site's design without needing to hire a designer to do it for you. This means that whenever you want to run a promotion, you can just add a new section to your site to get visitors' attention and entice them to take advantage. When the promotion is over, you can simply delete the section.
So, whether you offer a daily deal or you're running a summer sale, you can go to Sections, select Promotions, and then pick your new section.
Check out these examples that we've customised in just a few minutes:


5. Turn more visitors into customers with testimonials
You can have an amazing website design and excellent products and services that you're proud to sell online. But the truth is, there's nothing like rave testimonials from real customers to turn a visitor into a customer. So why not add some customer testimonials to your site and reassure prospects they're making the right choice buying from you?
It's simple with the 123 Reg Builder. Go to Sections, select Testimonials, and then pick your new section. Here are two examples of how your Testimonials section can look:


After you've customised your section, save it if you want to reuse it on other pages of your site.
Wrapping up
One great thing about the 123 Reg Website Builder is that you have the flexibility to customise your premade template as you see fit. And it's not just images, fonts, and colours, but entire sections without ever needing to know design or code.
We encourage you to try out these sections to make your site more appealing and entice more customers to buy from you. Also, explore the other sections available in Website Builder and see if there are others you can use to enhance visitors' experience on your website.