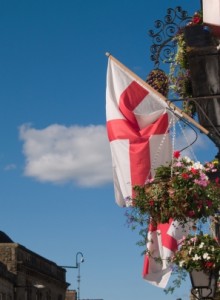 It's St. George's Day tomorrow, celebrating the Patron Saint of England. Effectively, it is England's National Day but did you even know that 23 April is St. George's Day?
It seems while the flag of Saint George might unite England football and rugby supporters, the country's patron saint himself just doesn't match up in terms of popularity to saints of the other home nations. In Wales, St. David's Day (1 March) is celebrated with annual Parades in the main cities. In Scotland, the Scottish Parliament has made St. Andrew's Day (30 November) a 'voluntary Bank Holiday'. Over in Northern Ireland, St. Patrick's Day (17 March) has been a public holiday for over a century and it is so well celebrated and renowned it has become almost an international festival.
This England Magazine has been celebrating everything English since 1968 and this week revealed that England is the least patriotic country in Europe. A survey of nearly 6,000 adults in nine European countries found that only one in three British people knew that St. George's Day is this Friday and forty per cent didn't know why he is the patron saint (according to legend he was a soldier in the Roman army who killed a dragon to save a princess).
So should Englishmen and women make more of the Patron Saint of England? One online group of independent campaigners have been lobbying to make St. George's Day a Public Holiday since 2006. St. George Unofficial Bank Holiday encourage people to take the day off work as holiday to celebrate St. George's Day . Despite signing up an array of celebrities from Ant & Dec to Amir Khan to support their campaign and attempting to get would-be MPs to do the same, another year passes without official recognition of their cause.
We are also in World Cup year when the English nation will be urged to unite behind the England national football team. Several World Cup songs are aiming to strike patriotism into the hearts of England fans beginning with St. George's Day. 123-reg customer DJ Neil Phillips has linked with party song specialists Black Lace for the single We are the England Fans with all profits from the song going to Help for Heroes. The song is only available for download via sites like iTunes and HMVDigital and from the promotional video featured on their website and YouTube it looks like they are trying to evoke a sense of fun and celebration of England. "We chose to launch the song early in time for St George's Day to try to get everybody to celebrate being English" says Neil.
So it may be too late this year to get behind the public holiday push but there are still a few of ways you can look to celebrate St. George – the Patron Saint of England. St. George Unofficial Bank Holiday has a guide to organised events by County. However, If you want to make your own arrangements here are a couple of ideas:
- BBC Good Food Magazine has a selection of St George's Day recipes
- Activity Village has a collection of St. George's Day activities from face painting guides to printable flags. Aimed at children but plenty for the big kids too.