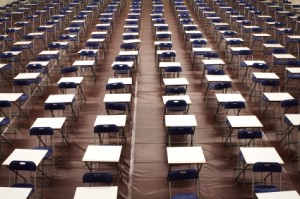 However far you pursued or are pursuing your education, there is no doubt, that feeling of fear and adrenaline you experience when standing outside the exam hall is something you will always remember. Equally so, that eerie silence, almost atmospheric void you experienced once you were in the exam sat at your desk. Yet, now those days may be numbered.
American firm Software Secure Inc have developed new technology, that includes anti-cheating software and could allow people to sit exams from home or at least away from the traditional big examination hall.
Ironically, despite the fears many might have, it may even provide added security against potential cheating. The programme uses a small stand-alone device plugged into a student's computer, which validates a student's fingerprint before access to the exam is granted. With a webcam and microphone also switched on, the system can also detect movement or conversations to stop others entering the room or the student conversing via phone or other communication device with others during the exam. As a further precaution the device 'locks down' the machine being used, so that the student can't turn to the internet or previously saved notes to cheat.
With the system already being trialed in some UK educational establishments it might not be long before the Securexam Remote Proctor offers schools, colleges, universities and training organisations the chance to administer computer-based tests 365/24/7 for students anywhere in the world.
Don't forget if you are a student you can still take advantage of our excellent student hosting offer: hosting for a £1 per month, a free .info domain and loads of free software.