Choosing a company name that grabs attention
Choosing the right name for your company can have a significant impact on your success.
The wrong name can fail to connect with your target audience, causing you to spend lots of money clarifying what your business does.
In contrast, a unique, memorable name gives your audience an indication of what your company is about, and can also help perform a hefty portion of the marketing and branding for you.
In this post, we'll share a few helpful tips and advice on how to brainstorm a good name for your company as well as how to vet your list of ideas to decide on that catchy name that's just right for you.
Make the company name you choose original
It's not easy to come up with an original name but it's worth it as it can help your business to stand out from the crowd. Think Flickr, Uber, Skype, Spotify.
As a new company, your name needs to grab the attention of all who hear it. It needs to be memorable and it needs to stick in the minds of your target audience.
So how do you get started finding that original, catchy name? Here's how to brainstorming ideas:
Explore keywords. Use tools like Twinword or Wordnik to find inspiration for your name.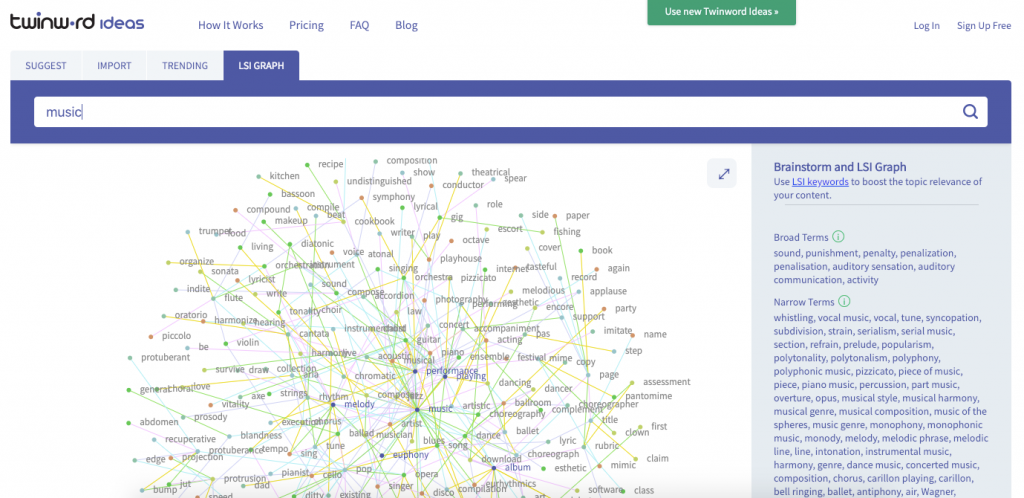 Use dictionaries. Thesaurus is a great tool for finding synonyms and words related to your new business that you can use in the naming process.
Have some fun. It you enjoy wordplay, why not have some fun and try to come up with a few clever made up names that relate to your company? Think FitBit or StubHub. Head to WerdMerge.com and enter any of your related words into it and see what comes up.
Check out this fantastic list for lots more naming tools that you can use to brainstorm ideas for your new brand.
Make the company name your choose future-proof
Your name should be able to grow with you. For instance, your company sells plumbing services now but you may eventually add roofing or building services.
You'll want to keep the name brand reputation you've put so much work into building but, at the same time, you don't want to have a name that would lock you into one section of an industry or a particular location.
Just imagine if Jeff Bezos had gone with a name like "OnlineBooks" instead of "Amazon".
So how do you choose a name that can grow with you? Here are a few things to consider:
Think about your offering. If you're a plumber, you could easily include this in your company name as a suffix (e.g. Pimlico Plumbers).
Consider your brand's story, values and key differentiators. When someone asks what your company does, what do you say? How do you describe it in a way that differentiates your business from others like it? What can you help your prospects accomplish? What feelings do you want to evoke in your customers? What words come to mind when you think about your business? Write them down.
Keep it simple and positive. A company name shouldn't include too many words or the names of too many products or services. It needs to be simple and clear so that people can instantly understand what your business is about. In addition, the name you choose should also convey something meaningful and positive related to your business.
Make the business name you choose user-friendly
Now that you have a list of potential names, it's time to take the next step and choose the one that feels right for your business. In addition to that, you'll need to make sure that it's easy to spell and pronounce, as well as to type into Google.
This is extremely important because if you're a new business and people are confused or have no clue how to write your name into Google's search box, your company might not show up in the search results. And if it doesn't show up, your prospects won't know it exists.
Here are a few tips to make sure the name you choose is user-friendly:
It sounds good when said aloud. Sometimes names seem great on paper, but sound awful or confusing when said aloud. Our advice? Say it out loud to see how it sounds.
It's easy to spell. You don't want a company name that prospects get confused about how it's spelled or how they should write it in Google's search box to find your business online.
It looks good. A great way to see how your name looks is to put it into a logo design or to add it to your email signature. If you like how it looks and feel it resonates with your business and target audience, then you've got a winner.
People like it. It's always a good idea to ask a few trusted friends, family members or investors to give you their honest opinion on your name ideas. Whether you choose to ask them in person or by using a survey tool, make sure to get real feedback before making your choice.
Make sure it's available
At this point, you should be down to two or three potential company names that you like. Now comes the tricky part where you'll need to check to see if the names are available to register as domain names and also that you're not breaching someone's trademark.
That's one more reason why it pays off to come up with an original name because the chances of it being available are much higher.
Here's what you need to check:
Trademarks. Picking a name that's already taken will confuse your target audience. But you know what's worst? You could also end up being sued for trademark infringement which can carry a high cost for your business. So be sure to do a trademark search for the U.K., U.S. and Canada to avoid legal issues.
Domain name availability. If you go to our 123 Reg domain names page and type in your name idea, you can check to see if the domain you want is available to register. In addition, you'll get to see .com and .co.uk alternatives, in case you want to go with a cool extension like .ninja, .london or .shop.
Other options. If you love the name but find that the domain is already taken, don't give up just yet. Take a look at the alternative names and extensions from the results page and see if you like any others. You could also try adding a word at the beginning or the end of the name.
Here's a good example: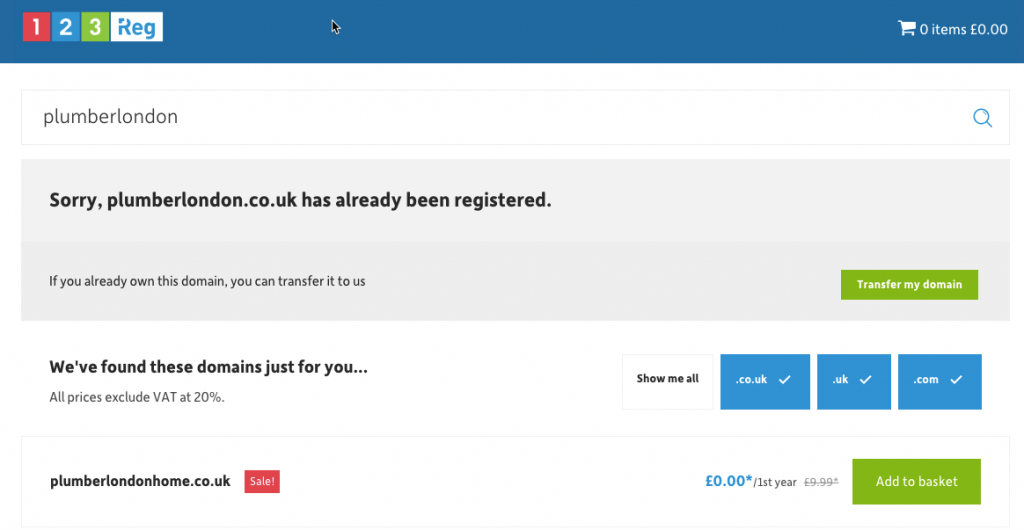 Social media handles availability. You probably know how important social media is to raising awareness for a new business, and to connecting with your target audience. So after you've registered your domain name, make sure to check to see if your name is also available on the social media platforms you plan to use to build your business. If you discover that someone else is using the name, try adding a word or underscore to the social media handle.
Wrapping up
Here's the thing: you are the business owner, which means you'll have to live with the name for a long time. So make sure that you're happy with it and that it resonates with your target audience.
Also, don't rush the process. It's unlikely that you'll be able to come up with an amazing name that's also available in just an hour. So, take as much time as you need to get it right on the first try to ensure your new business is off to a great start.