How to move your site from a free host to your own domain
Setting up a blog or a site on WordPress or Blogger is quick and easy. So when you're just starting out online and have no technical skills, it seems like the obvious option. Plus, it's free so there's nothing to lose, right?
While many people start with a free blog or site, over time, your might realise that free hosting on one of these platforms doesn't provide you with the flexibility and features you need to customise your site the way you'd want to. In addition, your objectives may change as your site becomes more popular.
Maybe you want to build your own business or turn your site into a cash machine by displaying all sorts of ads. Whatever the reason, switching from a free host to your own domain is the best thing you can do.
Read on to find out how you can make the move.
But first…
Why move a website to a new domain?
There are many advantages to owning a domain. Here are a few of the most important ones:
The freedom to add your custom theme and not be limited by a generic template where you can't change much.
The opportunity to monetise your site and make extra cash by displaying ads on your site as WordPress, for example, prohibits the use of Google AdSense and other forms of advertising on free sites.
The option to use advanced tracking tools like Google Analytics to get some insights into how your visitors are using your site, and what you can do to make their experience even better.
Access to loads of widgets and plugins to customise your site, turning it into one that your visitors love.
So when you have your own domain, not you only do you have better control over how it looks and behaves, but can also make a better first impression and build a reputation easier than with a yoursiteaddress.wordpress.com or yoursiteaddress.blogspot.com.
Things you need before you start
To move your site from a free host like WordPress or Blogger to your own domain, you will need:
1. Your own domain name and server space to host the site. (Needless to say 123-reg has got you covered with affordable domains and cheap hosting to get you started.)
2. Access to your existing WordPress/ Blogger account so you can easily move all of your content – images, text, comments – and other data to your new domain.
Set up your new self-hosted site
Our web hosting offers 1-click WordPress installation, all you need to do is log in to your 123-reg control panel and click to install the WordPress application.
When that's done, it's time to export and import all your content into your new self-hosted WordPress/ Blogger website.
Exporting and Importing Content: WordPress
Let's start with WordPress as this is the most popular free hosting platform on the web.
Step 1: Export content and data from your old site
1. Log in to your current WordPress account and go to Dashboard.
2. Click Tools from the left-hand side menu and then select Export.

Clicking on the Export tool should take you to a new page where you will be asked to choose between Free or Guided Transfer. Choose free.
3. Choose which data you want to export.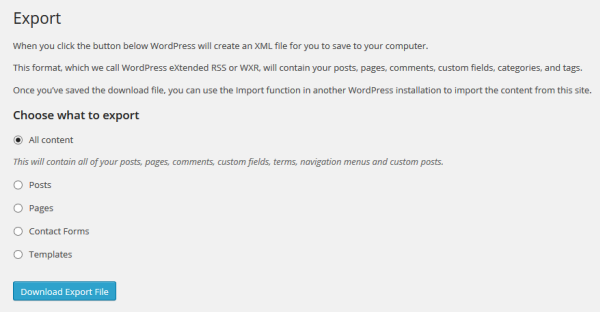 4. Select "All Content" and click on Download Export File. This will save an XML file to your computer with all the content on your site. Make sure that you know where the file downloaded to as you'll need it in a moment.
Step 2: Import content and data into your new site
1. Log in to your new WordPress site
2. Click Tools from the left-hand side menu and then select Import.

3. Click on the WordPress link

(As you can see, you can also import from Blogger and other platforms).
4. You will be asked to install the WordPress Importer plugin. Click "Install Now".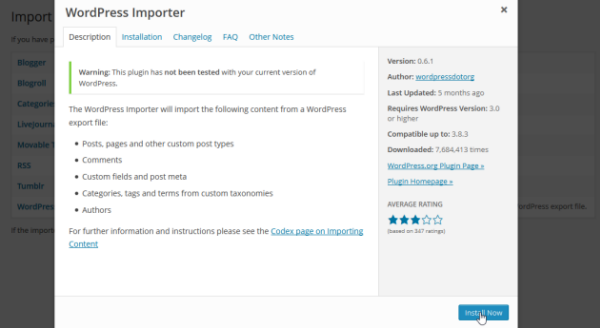 5. Click "Activate Plugin & Run Importer" from the next screen. This will take you to a screen where you will be asked to upload your WordPress.com XML file that you previously exported
6. Next, click "Choose File" and navigate to the export file you just downloaded. Once it's selected, click "Upload file and import."
7. Check the "Download and import file attachments" box to ensure that your images are imported as well.
That's it! All your content and data is now transferred from your free WordPress account to your stand-alone WordPress application.
But you're not done just yet.
Step 3: Redirecting visitors and search engines to your new site
Most likely, one of the main reasons you've decided to move to your own domain is the increased popularity of your blog/ site. So, of course you don't want to lose your visitors and want to maintain your SEO and backlinks.
Since you can't change the .htaccess file on a free WordPress.com hosted blog, you can't add redirects there to redirect visitors and search engines to your new site. You also can't add a rel="canonical" link in the header of the page because you're not allowed to edit the template on the free site.
So, what is there to do? Try a site redirect.
This is your best bet to redirecting yoursiteaddress.wordpress.com (as well as all of your permalinks) to your new domain name.
Basically, it's a 301 permanent redirect which allows your site's visitors and search engines to be automatically redirected to your new site, while also transferring search engine rankings from your old site to your new one. When the redirect is completed, the old site will not appear to visitors at all as will be immediately and seamlessly redirected to the content on your new site.
This is, however, a paid upgrade, and the service costs $13 per year. If you want to use it, you can purchase it from the Store page in your Dashboard. Check out the complete guide on redirecting yoursiteddress.wordpress.com to your new domain.
Transferring Content: Blogger
Follow the steps below to transfer a Blogger website content to your new self-hosted WordPress site:
1. Go to your WordPress dashboard and from the left-hand site menu go to Tools>Import.

2. Next, select Blogger then click the "Install Now" button on the page that follows.

3. You will be asked to install the Blogger Importer plugin. Click "Install Now".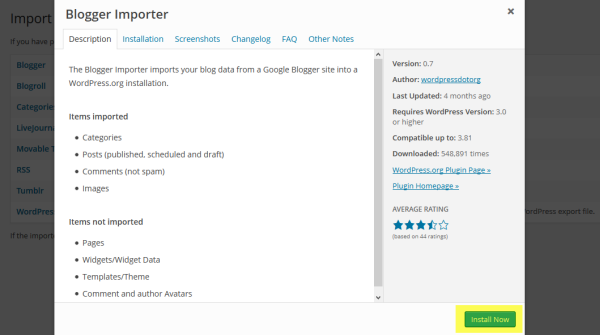 4. Next, click "Activate Plugin & Run Importer" and then click Authorize on the next screen.
5. You will then be prompted to allow WordPress access to your Blogger account, go ahead and Grant access.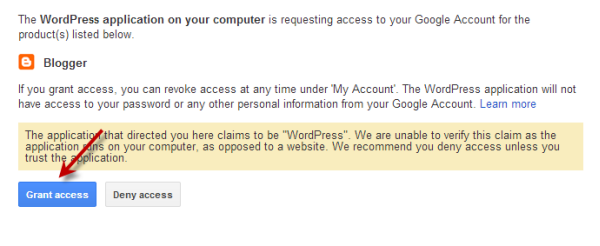 6. Once WordPress has checked the number of posts and comments it's going to import, you'll see a new screen where you need click the "Import" button.
7. Finally, click Save changes.
Your content is now imported and you're done!
And the final step…
Let readers and subscribers know you've moved to your own domain
One last thing you can do is to make a public announcement on your new site about your moving to a new domain. You can do this easily by simply writing a blog post on your new site. (You should also write one on your old site weeks or even months before moving to the new site.)
This will help them remember the name of your new domain once they read about it. Plus, you can encourage them to share their feedback and spread the word about your new site.