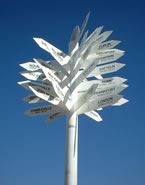 In July, ICANN (the organisation in overall charge of managing the internet's domain name system) announced it was going to allow the creation of additional top level domains (TLDs).
A top level domain is the part of a domain name that comes after the final dot. Existing TLDs include .com, net and .uk.
We covered this story at the time – you can read the original post here. It attracted some interesting comments so it's worth skimming through the whole page.
A number of campaigns exist which are pushing for the creation of new TLDs including .berlin, .nyc and .pdx.
How it's going to work
Since its original announcement, ICANN has issued lots of information explaining how new TLDs will work in practice. You can find all the details on the dedicated section of their website. The key document is the draft applicant guidebook (PDF), which explains how you can go about applying for the creation of a new TLD. Be warned: the document is 97 pages long and contains an awful lot of detail!
Everything in there is at a draft stage, and you can submit comments on the process up to 8 December. Some of the key points are as follows:
Only "any established corporation, organization, or institution in good standing" will be able to apply for the creation of new TLDs. That means you can't apply as an individual.
If you apply for a new TLD, you will be required to run the registry for that TLD. For the application to be successful, ICANN will expect you to prove you are capable of doing this.
It costs a lot to apply. The basic fee is $185,000, and you might have to pay more if there are any disputes or ICANN has to do a lot of work to check out your organisation.
There are lots of other conditions. For instance, anyone wanting to register a geographic TLD like .london will have to prove they have the support of the relevant government or authority.
In short, this isn't something that you'll be able to do on a whim. There will be significant obstacles to getting a new TLD set up, and it's not something to be entered into lightly!
So what's going to happen with these new TLDs?

Nobody seems to quite know what the take-up of new TLDs will be like, and whether they'll make it easier to  find good domain names, or simply cause extra confusion when people are looking for a particular website online.
And it seems a number of large companies are worried about the additional cost of protecting their brands, should we end up with hundreds of new TLDs.
The Wall Street Journal ran a good article about this issue the other day, but you're better off reading this syndicated version on the Pantagraph's website, where you won't have to pay to view it. The piece explains how costs could quickly snowball for companies registering additional domains:
"The companies that end up operating such domains are expected to offer trademark owners the chance to register their trademarks early for about $500 per domain, about 10 times as much as the price to the public.

A typical company might register 20 sites within each new top-level domain, making the total cost to participate in all 200 of them $2 million, says Josh Bourne, managing partner of FairWinds Partners, an Internet-strategy consulting firm."
And this, I think, is where the piece hits the nail on the head. In order for new TLDs to succeed, they need support from some major, recognised brands. Without that, these TLDs just won't get any recognition – people will never get used to typing .travel, .london or .hotel into their browser instead of .com.
Those big companies might decide they don't want to support the new TLDs. This could be because it's too expensive to do so, or they simply don't see the point of them. If that happens, it's hard to see how new TLDs will ever achieve anything like the profile of existing popular TLDs like .com and .co.uk.
The big gamble
We won't know for sure how this is going to go until ICANN has confirmed how the process of setting up a new TLD will work and the first applications have come in. But for any organisation thinking of setting one up, I reckon it's a bit of a gamble.
The costs involved in establishing a new TLD are going to be high. And it's going to be a challenge for any new domain extension to achieve prominence in a marketplace which is unquestionably dominated by .com.
Having said that, despite the costs involved, anyone who does launch a really successful TLD could be well-placed to make a fair bit of money from it. And that, I think, is why we'll see plenty of people putting in applications to give it a go.
Finally, there's the international aspect to all this. Soon it will be possible to create TLDs using alternative alphabets, like Cyrillic. That sounds like a great idea (why should domains only be based on the Latin alphabet?), but what impact will it have on established domains like .com?
What's your opinion? Is this going to make it much easier for people to find suitable domains? And if you had a spare $185,000 which you had to spend on applying for a new TLD, what would you choose and why?
More information