Admit it, you spend the majority of your life online and online drives your life. That's not a bad thing and you are certainly not alone. So imagine a world where every idea, every project, every element of your life could be 'filed' away online with it's own domain name. That's possible already but new additions to the generic top-level domains (gTLD) world will make it far more exciting.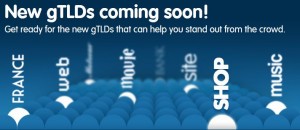 What about being able to display your photographs from your global travels on a website with a domain suffix relevant to where you took your snaps? Soon you will be able to register your .london, .nyc, .berlin and .wales domains on 123-reg and do just that. You may possibly also consider a .photos domain for your central hub gallery.
Maybe you are a social sharer, one of the many on social media who likes to share links on a particular subject with their followers? In which case depending on your favourite subject a .wiki or a .reviews  or .film generic top level domain may appeal.
The new gTLDs will change the way individuals and businesses present and promote themselves on the Internet. In an ever competitive world the chance the new gTLDs may be the perfect partner to help you enhance your brand and stand out from the crowd.
As with everything domain related 123-reg will be leading the UK in this domain revolution meaning you will be able to pre-order and register your dream gTLD as soon as it becomes available.
What is a gTLD?
The new Generic top-level domains (gTLDs) are an expansion of the existing gTLD options such as .com, .org and .net.  They will provide greater variety, opportunity and possibly more definition to the internet.  The Internet Corporation for Assigned Names and Numbers (ICANN) has overseen the new TLD registration process including allowing some companies to register new gTLDs t secure their business on the net.
Pre-register your interest
Whilst the new gTLDs aren't quite ready yet, the expectation is that the necessary administration for each of the new domain name controllers will soon be completed and the first few domains launched in the very near future. As ever 123-reg aims to be at the forefront of those new domain launches so if you think you may be  tempted you can pre-register your interest now and we will let you know as soon as you can pre-order gTLDs.