What's the best ecommerce platform?
When you run a physical store, you get to decide how you want your store to look and feel, what type of products to sell, and how to arrange them to make the best use of the space available and ensure greater visibility for popular or discounted products.
You can do that too when you run an online shop. You just need the best ecommerce platform to get your online business up and running, and generating sales.
But with hundreds of platforms available, how do you know which one to use for your business?
Should you go with the most popular, talked about platform? That may not the best choice. Why?
Because it may not be the right solution for your specific business. For example, the best ecommerce platform for single product stores isn't also the best ecommerce platform for large businesses.
So in this post we'll walk you through the best platforms for different types of businesses, from small to large. Hopefully, by the time you finish reading this blog post, you'll be able to make an educated decision and choose the best online shop platform for your specific business needs and goals.
Best ecommerce platform for single product stores
If you want to sell just one product online, whether that's a coffee grinder or a self-watering plant pot, there are some good options to help you set up a single product store.
One of the most popular ones is WooCommerce.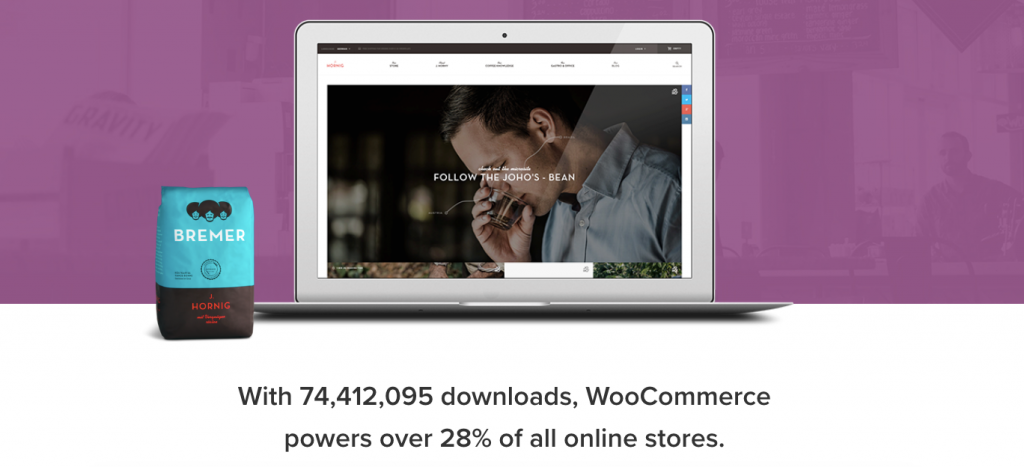 If you're a WordPress user, you've probably heard about it or might have even considered using it.
However, if you're not familiar with it, WooCommerce is a free ecommerce WordPress plugin that's widely used amongst WordPress users. Why? Because it's open source as well as easy to install and use.
It comes with a secure payment gateway, product, cart and checkout pages as well as Google Analytics and Facebook integration.
There are also hundreds of extensions that you can buy and use to customise your shop and enhance its look and functionality from inventory management and payment gateways to shipping, dynamic pricing and reporting.
Bottom line, WooCommerce is a great option if you're familiar or a fan of WordPress (and here are six reasons why you should be a fan) and only want to sell one or very few products on your site.
Best ecommerce platform for digital products
What if you want to sell digital products like music, videos, software, apps, or ebooks?
It may seem complicated to build a shop for digital downloads. Fortunately, platforms like Easy Digital Downloads make it a simpler process.
Easy Digital Downloads is a popular WordPress plugin designed specifically for handling digital products. It allows you to add a shopping cart to your existing WordPress website, list products for sale, accept and manage orders, and collect payments from customers.
Now, just like many free WordPress plugins, you will need to get add-ons and extensions to enhance your online shop's functionality. These allow you to do anything from adding more shipping and payment options to improving the checkout experience for your customers.
The downside is that, while the plugin itself is free to download and install, you will need to purchase licenses to access premium extensions. In other words, the costs can get quite high if you want to create a professional-looking, fully-functional ecommerce store.
Best ecommerce platform for startups and small businesses
If you're a startup or small business and want to grow into an ecommerce empire, the 123 Reg Online Shop is the best ecommerce platform for startups and small business.
Why? Because it makes it quick, easy and affordable to get your shop online and sell any kind of physical or digital product.
It's the ideal solution for anyone who doesn't know how to code or just doesn't want to go through the hassle of building an online shop. In other words, with the 123 Reg Online Shop you won't need to deal with web design, code, extensions and add-ons, or all the pesky technical stuff of building and getting an ecommerce site up and running.
Instead, you choose a great-looking, professionally-designed template for your shop, and personalise it in seconds without needing to touch a line of code.
All templates are responsive which means your customers will have a great experience browsing through your store, buying products and checking out, regardless of the device they're on – PC, tablet or smartphone.
Included is everything you need to get your ecommerce site up and running from free web hosting and email accounts to product listing, 40+ payment gateways, shipping integration as well as search engine optimisation, marketing and analytics tools.
In addition, there's a perfect plan for your business, no matter if you're just starting out with a single product, if your business is growing or if you're an already established business selling a large range of products.
WooCommerce, PrestaShop and OpenCart are also good alternatives that you can use for your small business ecommerce shop.
Best ecommerce platform for large businesses
Things get a bit more complicated when you're a popular business selling hundreds or thousands of products to lots of customers.
At this stage you need a powerful online shop platform that can handle bulk orders, provide a good variety of payment and shipping options, as well as advanced analytics.
BigCommerce is lauded as one of the most prominent ecommerce platforms. It's designed for large and fast-growing businesses with a huge product and customer base.
The platform is very powerful. It comes with lots of built-in features and tools that allow you to sell anything online – physical, digital, and service-based products – no matter the size of your business or how fast it's growing. And if you want to expand your site even further, there are hundreds of apps to choose from in the BigCommerce app store.
The downside though is that because of its complexity and advanced features, most people, even those with technical skills, find it difficult to use.
There is a learning curve. This means you'll need to spend some time getting familiarised with the platform and the interface and learning where to go to manage the "behind the scenes" parts of your shop, like adding products and discounts, and where to go to edit your site's design.
This makes BigCommerce an unsuitable option for beginners with no technical skills.
However, if you are willing to put in the time to learn how to use it and make the most of it, or decide to hire professionals to set up your shop for you, then this is a great ecommerce platform to consider if you're a large business.
So, what's the best online shop platform for your business?
There is no "one size fits all" ecommerce solution that will work for every type of business. So when you choose yours, make sure to consider not only the advice in this post but, more importantly, your business requirements and goals.
Choose wisely, and good luck growing your business.