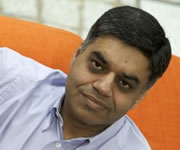 I don't think Ajaz Ahmed would mind me saying that he isn't a household name. But perhaps he should be. After all, you could argue that he did more to bring the internet to the general British public than almost anyone else.
That's because he came up with the idea of Freeserve, the first free internet service provider (ISP) in the UK.
The pay as you go internet
The idea for Freeserve came to Ajaz after struggling to find an ISP who could help him get online. Back in 1998, internet service providers were geared towards technical people. "Nobody could tell me how to get on the internet," explains Ajaz, who eventually managed to get online using a CD from a PC magazine cover.
Once connected, he started to understand the huge potential of the web. That was when what he describes it as his "famous eureka moment" happened. He was a Dixons store manager at the time. "If I was having trouble getting online," he says, "then so were our customers".
Ajaz also realised that the perfect time to offer people an internet connection is when they're buying a computer. As one of the biggest computer retailers at the time, Dixons (plus sister chains Currys and PC World) had the ability to reach a huge number of potential customers, without spending anything extra on advertising.
In retrospect, it seems obvious, but when Ajaz first approached the PC World management, they just weren't interested. It took a pitch to the group's CEO, who eventually agreed to give it a go.
Unique selling point

Freeserve launched on 22 September 1998. The rest is history. "We became the largest ISP in the country in three months," says Ajaz. "It grew and grew from there. We floated nine months later – at our peak we were worth £9bn."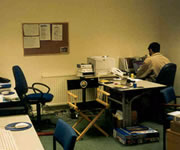 There were really two reasons for Freeserve's success. "One," explains Ajaz, "it was free. Two, there was no commitment." It meant that anyone could get online and try using the internet, without having to sign up to a year's contract or spend expensive monthly charges.
Perhaps most incredibly of all, at launch this ISP only employed three people. As you can see, from the image on the right, the offices don't look like those of a company that would go on to be worth £9bn.
Starting the dot com boom
"We started the dot com boom in the UK," says Ajaz. While that might be a slight exaggeration, it's clear that they got lots of people online for the first time, creating a market for other online companies. Freeserve can certainly be credited with kick starting the explosion in internet access which happened around that time.
In March 2001, Freeserve was sold to French company Wanadoo, and Ajaz left the company. Since then, he's spent his time investing in and helping other companies, as well as acting as a sort of adviser to all sorts of startups and entrepreneurs.
Everyone's got something in them
"Most people," reckons Ajaz, "will come up with at least one world class idea in their lives. But the sad thing is that most people won't do anything about it." Talking to him, it seems to me that nothing frustrates him more than seeing good business ideas go unexploited.
So what advice would he give anyone contemplating starting their own company? "Talk to someone about the idea," he says. He continues: "There are lots of people who will help you," citing Business Link and local bodies like regional development agencies as good places to go first.
Ajaz also points out that it's easy to get good feedback from people who know you. But their opinions don't really count. "It's vitally important to get feedback from potential customers," he advises. "Your idea will live or die by your customers' reaction. I imagine myself in a busy high street, asking people if they'd use this product or service. Trying to get a customer's perspective is very important."
And the economy? "Don't use the recession as an excuse not to start a business," he continues. "In some ways, a recession is a good time; you generally have lower costs, and it's easier to find staff."
The internet in 2009
Ajaz is involved with lots of projects, including one he won't tell me about (except that it has "lots of potential"). But he highlights Browzar as a simple application with potential. It's basically an internet browser that "doesn't remember anything. You can look at whatever you want, and it cleans up afterwards."
As Ajaz explains, try going to Google and double-clicking the search box. Most browsers will "bring down a list of everything you've ever searched for. This might be embarrassing for a lot of people."
Browzar doesn't – it leaves no trace of your browsing history. It also incorporates lots of other features, like a 'boss key' which hides what you're looking at with a single button press (useful when the boss comes round to your desk).
Browzar has lots of obvious applications, whether you've been buying a present for someone online, or, er, just looking at websites you shouldn't be. In fact, the latest versions of mainstream browsers have now incorporated similar functions. Google Chrome has an "incognito mode" and the forthcoming Internet Explorer 8 will have a similar feature.
Favourite sites
Finally, I ask Ajaz what his favourite websites are. Around nine out of ten people seem to give the same response to this question, citing the BBC. Ajaz is no exception, saying that he thinks the corporation's iPlayer is "the future."
He also mentions Google, a business which is "becoming more and more of a monster." The company has some excellent applications that get overlooked, notably Google Desktop. "It can find anything on your computer," says Ajaz, "even documents you've deleted. And it does it in a fraction of a second."
Related links