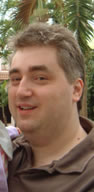 Jason Slater set up his website eight years ago, in an attempt to meet other people in his line of work. Now his technology blog receives 25,000 visitors a month and he's been shortlisted for awards alongside Stephen Fry. We ask him how he's got it so right.
Hi Jason. What's your blog all about?
I started it because I work in IT. I'm normally one of the backroom boys and I've often been the sole person in the IT department, with no immediate network of colleagues to discuss issues with.
I wanted to use the site to reach out and talk to other people in the same industry, to try and be part of a community. For me, it's a hobby – I have to fit it in around my work.
What do you write about?
The things I write about – because I work with IT all day long – are the things I touch and feel, most of the time. I tend to write about stuff I know, based on my own experiences.
A lot of blogs and sites cover things up to the point of purchase. They sell you on features, all the glitz and glamour. I try to cover what happens after that. There's nothing like asking someone who's used a piece of equipment what they think of it.
You get a lot of visitors now. How long did it take to get off the ground?
It's only been in the last four years or so that blogs have had the attention they get now – and my traffic has taken off in the last four years too. I  get around 25,000 visitors a month now and there are lots of loyal readers who take part in the blog.
Has your blog opened up any new opportunities for you?
It's definitely helped me do my job better – and that's the reason I started it! And I've met far more people online than I would ever have met face-to-face. I'm also involved in lots of different sites now, and I write for computing.co.uk and IT Pro – all as a direct result of the blog.
What advice would you give anyone else looking to start a blog?
Maybe most importantly, you don't start blogging to make money. So anyone starting out on a blog needs to be passionate about what they're talking about. And you need to be unique, to have your own voice.
I think it is very important to put your stamp on things. If people read something on your blog, you want them to know what you think. There are loads of other little things you should think about too,  but there's almost too many to list now. I've actually got 118 tips on my own blog!
Ok, finally, you've been shortlisted for two Computer Weekly awards…
I was really surprised to be nominated. I've never pursued anything like this before – yet I'm in the same category for Twitter as Stephen Fry. To think that an everyday person like me could be in that same category. Without the internet and Twitter, nobody would every have heard of me.
You can read Jason's informative technology blog at http://www.jasonslater.co.uk. He's been shortlisted in the categories of IT Professional Male and IT Twitter User of the Year in the Computer Weekly IT blog awards, so if you like his blog, please vote for him.