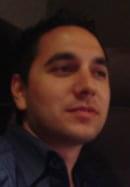 If you've ever used a computer, you'll have almost certainly come into contact with Microsoft software. Love them or hate them, there aren't many companies which have had such a big effect on the way we work.
So when we were looking to interview people in the world of technology, tracking down someone from Microsoft was a priority.
Bill Gates was a little busy, so we snagged William Coleman instead, who works at the company as a Web Platform Architect Evangelist as part of their Hosting Program.
The Australian's job is to help hosting companies – like 123-reg – understand how Microsoft's hosting software works and how they can best use it. Ultimately, the customers of those hosting companies should benefit.
Round the corner
Microsoft prides itself on being an innovative company, so one of the first things I asked William was what exciting things we should expect to see from them in the future.
He reckons that one of the coolest things coming out of the business is surface computing.
This is essentially a computer that uses a tabletop as its display. There's no mouse or keyboard – you do everything by touching the table. These videos of it in action do a good job of demonstrating the concept.
William sums it up: "Surface computing – that's really sexy."
On the web
I also asked what he thought the next trends on the web would be. Is social networking here to stay? After all, 2007 was the year when Facebook really took off.
In future, he says, "social networking will still be very important, but not the be-all-and-end-all".
Some commentators argue we're seeing a shift away from personal computers to the internet, with applications moving online. William agrees, to a point:  "It's all about software plus services, not just software as a service."
A subtle difference perhaps, but what William's saying is that rather than the programs we use migrating wholesale from our personal computers to the internet, he thinks we'll see a mix of the two in future. Some services will be "local" and some "in the cloud."
And away from the web, he thinks robots are coming. Maybe not in 2008, but he sees "robotics getting even more into the consumer market", giving Sony's Aibo and Roomba, the robotic vacuum cleaner, as prime examples. "In the next ten years, that's gonna come right back."
Other websites
Finally, I asked William about his favourite websites. "I use Digg," he says, noting that the social news site seems to attract a certain type of user; typically someone "who likes Apple, thinks Microsoft are doing bad" and "wants Ron Paul as US President."
He also likes to "use gaming blogs a lot, like joystiq.com." And he appreciates the "no holds barred reviews" offered by game industry site Penny Arcade.
Finally, William's spotted an interesting use for YouTube: "I use YouTube to review products." He says you can search around there to find reviews of items you're thinking about buying – "especially phones".
Do you agree with William's predictions? Have you found any unusual uses for YouTube? Leave a comment and let us know. And remember to subscribe to our RSS feed or check back soon for the next in this series of interviews.
Previous interviews: