Seven simple marketing tips to boost your Christmas sales
Are you stuck for Christmas marketing ideas? Not sure how best to communicate your discounts and offers and entice more people to book appointments with you or buy from your online shop? Whether you're selling teapots or plumbing services, there is still enough time to add some sparkle to your holiday marketing strategy and boost your Christmas sales.
Take a little inspiration from our top Christmas marketing tips for small businesses that you can quickly implement in the next couple of weeks.
1. Add Christmas flair to your website
Updating your business website or online shop with a bit of festive flair is something that you can do with little effort. In fact, it's one of the simplest things you can do to get potential customers into the festive mood and entice them to buy from you.
Here's the thing: while promotional discounts and special offers are the core of your Christmas sales, it's the look of your site that creates the emotional desire to buy.
So, how do you update your site's design to add a little holiday spirit and boost sales or appointments?
There are lots of things you can do from revamping your website logo and menu to incorporate elements associated with Christmas, such as adding lights or wrapping paper to your logo.
You can also add banners to your site to draw visitors' attention to your special offers and discounts.
If this seems too complicated or you don't have the time or resources to redesign your website, you can always add a few holiday-themed images that include your products or services.
Read this post for more tips and advice on how to spruce up your site for the holidays.
2. Make booking available on your site
If you want to fill up your calendar for this year and the next, you need to make it easy for visitors to book an appointment with you. You should have an appointment calendar on your site with an option to book and pay online – this holiday season, and permanently after that.
Think about it – you're not going to be online or working at all hours during Christmas, and nor should you. But that doesn't mean you can't take appointments for your plumbing or salon business. With an appointment service available on your site 24/7, potential customers can view your availability and book the time slot that works best for them. And they can do that at 2pm or 2am, any day of the week, without having to give you a call or wait until you're back from your Christmas vacation.
Fortunately, if you've built or are planning to build your website with the 123 Reg Website Builder, you can take advantage of the Google Calendar feature to display an appointment calendar on your site. This lets visitors quickly view your availability and book an appointment with you at a time that's most convenient for them.
3. Show customers how thankful you are for them
Christmas is a great time to thank your customers for being with you throughout the year. So, consider sending a quick "thank you" card along with a discount coupon if they buy a product from you, or book your services by a specific date, like December 23rd. If you're using the Standard or Online Shop Pro package, you can easily create your own discount codes and coupons to share with customers.
The good thing about this strategy is that you're introducing immediacy and faster revenue while still being able to thank your customers for their business and loyalty. It's a win-win!
4. Create special Christmas gift packages
Whether you're selling products or services online, you can bring in new sales by creating Christmas gift packages that visitors can buy for themselves or for their loved ones. These usually include one or several products or services at a discount as part of a bundle.
There are plenty of creative opportunities to make your gift package stand out. For example, if you sell products, you can tailor your gift packages by gender, relationship, or personality e.g. "gifts for tea connoisseur" or "gifts for parents". If you sell services, you can tailor your gift packages by plans that people usually make for the coming years e.g. "package for newlyweds" or "package for new year, new kitchen".
Creating and promoting this kind of offer can bring in new revenue for the entire year ahead. Just make sure you promote it as a gift package that can be redeemed anytime until the end of next year.
5. Run time-sensitive deals
Almost all shops and businesses run Christmas sales. That leads customers to browse through many online shops, add items to their basket, and then jump to the next shop without finalising their purchase. This can result in lots of abandoned baskets.
So if you want to encourage visitors to check out and finalise their purchase, you need to create time-sensitive deals, discounts, and offers. For example, you can discount a different set of products every day or hold flash sales that only last for a few hours at a time. This creates a sense of urgency and motivates visitors to act promptly for fear they might miss out on a fantastic deal.
6. Target your email list
Email continues to be an effective way to communicate holiday updates, discounts and offers to customers and subscribers. So, make sure you create and send out a few emails to let people know about your Christmas special offers.
Here's a simple example of a Christmas offer sent via email: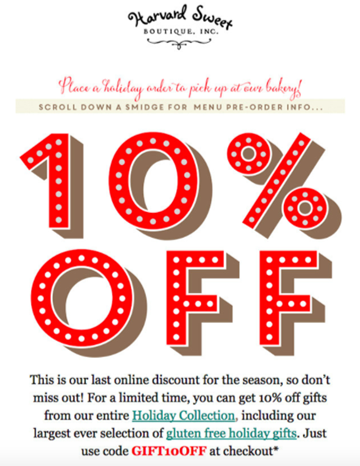 You can even consider adding an incentive like offering an extra discount for the first five to ten people who book your services or buy from you.
Now, not all emails you send out during the holiday season need to be about your offers. You can also use email to share holiday-themed updates, information, and advice. Here's an example from a plumbing and electrical business where they share some important tips on how to ensure safety during the holiday season.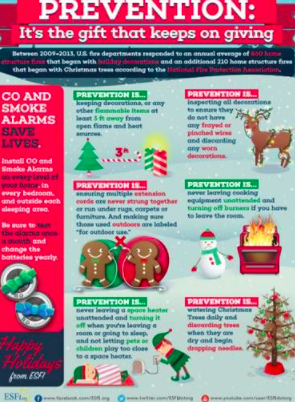 When sending out emails, make sure you already have a professional email address that uses your domain name after the @ symbol, such as you@example.co.uk. This increases the chances that your subscribers will trust to open your emails and click on the links in your email. Read this article to learn more about the benefits of a professional email address.
7. Join forces with another small business
Teaming up with another local business is always a great strategy to reach a new audience and boost sales and revenue during the holiday season.
So, consider your customers' needs and which business you could team up with that's complementary to yours. For example, if you sell tea, you could team up with a business that makes handmade teapots. If you're an electrician, you could team up with a local lighting shop that sells lighting fixtures.
Wrapping up
So, there you have it! Seven Christmas marketing tips that you can use this holiday season to boost sales and revenue for your online shop and business website. We hope you find them useful.