What is local search engine optimisation?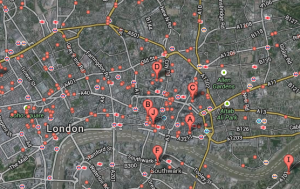 Now, more than ever, local SEO needs to be a key focus of any local company's marketing plan.  Search engines are constantly updating their algorithms to ensure that when users search online they are returned the most accurate and relevant results.
For example, if a user searches for "London dentist", it's only normal that all the results are dentist offices located in the London area, correct? Dentist offices located in Birmingham aren't going to be convenient to the user or relevant to his search.
So, what can those dentists in London or any other local businesses do to get their sites at the top of the local search results? They should focus on optimising their sites for local search.
What is Local SEO?
Local SEO or Local Search Engine Optimisation refers to optimisation techniques that would make it easy for potential customers to find you online when they're searching specifically for your business or a particular product or service nearby them.
For example, say you're looking for a plumber who can come up to your house at 3am and fix a burst pipe and stop it from flooding the basement. You are likely to search for "emergency plumber London" or "24 hour plumber London"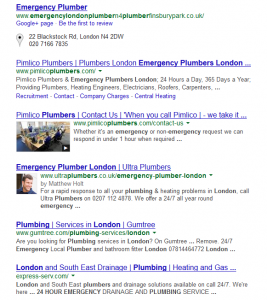 As you can see from the above search results, these sites are all optimised for local search so they can be easier to find by potential customers.
How to optimise your site for local search
Now let's take a closer look at the few simple and quick ways to optimise your site for local search.
Smart keyword research and onsite optimisation
Choosing the right keywords is the most important part of local SEO. You need to do some research and identify those search terms that users are likely to use to get to your site. Use tools like Google AdWords Keyword Planner or any other tool you wish to ensure you're targeting the correct keywords.
Once you've selected the best one, use them to optimise the content on your site. For the best results, keywords should be used naturally in the page content and meta title, description and header tags. As you probably already know, you should not stuff your content with keywords because it won't help; on the contrary, it might get you penalised by search engines which means zero visibility on any search engine.
Other things you need to do:
Make sure all your title tags are accurate and create a new site map often.
Include a physical address and phone number with an <address> tag on your site's contact page and home page so it shows up on Google Maps.
Create local content. For example, if you're selling kids shoes, write a great story about the start of the soccer season and the need for proper footwear, or about a team you've sponsored. Just don't forget to optimise the post with keywords and also include a call-to-action.
Set your Geographic Location in Google Webmaster Tools. Remember that results are different depending on a user's location which means you need to tell Google where your business is located.
What other things are you doing to optimise your site for local search?