Six SEO beginner tips to boost your website's visibility in the search engine results
If you're just getting started with search engine optimisation (SEO), you might be tempted to go through Google's ranking factors one by one and create a list of things you need to do to optimise your site.
Normally, that would be a good approach. The problem is that search engines are governed by complex algorithms that take into account not tens, or hundreds, but more then 10,000 factors when ranking sites. That's not a to-do list you want or have time to go through.
Fortunately, there's a better, more effective approach. And this approach also allows you to focus on other aspects of growing your audience and business.
Start small. Choose a few key things to focus on, learn how to implement them on your site, make the changes, and then measure the results.
This has two benefits: 1. you get familiarised with SEO and 2. you get to see what worked and what didn't, and what other things you can try to boost your site's visibility in the search engine results.
So in this post we'll walk you through six things you should do as a SEO beginner to convince search engines like Google that your website deserves one of the top spots.
1. Find out how people search for your brand or business
Your prospects search for your brand, business, products or services in lots of different ways.
For example, if you're an emergency plumber in London, users could search for "emergency plumber in London", "emergency plumber near me" or "24/7 emergency plumbing repair" to find you online.
While the search terms are phrased differently, the users' intent is the same: to find an emergency plumber.
So the first step to boosting your site's visibility in the search engine results is to find out and understand how your audience is searching for the product, service, or information you provide. You can then use those exact search terms, or variations of them, to create the great content that all those people are searching for.
But how do you find out how your audience searches for your website? This is where keyword research tools come in.
Those emergency plumber keyword examples above aren't made up. Some are directly from Google's auto-suggest and related searches boxes.
So go to Google and enter the main keywords that you would like to rank for. These will be things like your products, services, or other topics that your website addresses.
You'll notice that as you type in a keyword, Google will suggest related search terms: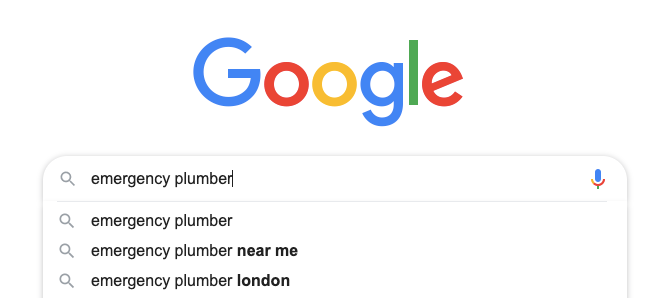 And once you hit enter, if you scroll down to the bottom of the page, you'll see another list of related search terms.

Make a list of the search terms that are relevant to your website as they're crucial in helping you to create content that people are searching for.
Of course, there are lots of other great tools that you can use to find out how people search for your brand or business online, including our 123 Reg Search Engine Optimiser.
Check out this beginner's guide to keyword research where we share some of the most popular tools and how to use them, along with tips on the type of keywords you should target for SEO purposes.
2. Use your research to create relevant content
Now that you know what your audience is searching for, it's time to create great content that answers their questions and gives them the information they're looking for.
One important thing to keep in mind here is that you want every page on your site to rank for a specific keyword or keyword phrase. Don't optimise two pages for the same keyword because then they'll be competing against each other. You don't want that, especially since you're likely competing against lots of other sites already.
So, here's what you should do next:
Figure out which pages you want to rank for which keywords.
Create content that's useful for your audience. Make sure it answers their questions and gives them the great advice and information they're looking for.
Optimise that page to make it relevant to people's searches. This means including your main keyword as well as variations of it throughout the content in a way that makes it read natural, and only when and where it makes sense.
In this post you can find lots more tips and advice on where and how to use keywords to properly optimise your content for search engines. To get an idea, you should include your keywords in your page title, meta description, headings and subheadings, images and, of course, the actual content.
3. Publish high-quality blog content
There are few SEO tactics that are more effective at putting those powerful keywords to work and increasing your site's visibility online like blogging.
A blog gives you all the space you need to answer your audience's most pressing questions, share useful tips and advice, and build your reputation as an authority in your industry.
And you know what else happens when you constantly publish quality, useful content on your blog? Google and other search engines index it. And the more pages they index, the more chances you have to rank high for various keywords and keyword phrases.
In other words, the higher your chances of being found online by people who are searching for answers or solutions to their problems on Google.
Read our beginner's guide to blogging for business to learn how to get started with your blog, including how to find out what keywords and topics to focus on to bring in more visitors.
4. Earn backlinks and mentions of your brand
Read any SEO blog and we bet "backlinks and brand mentions" make their entrance on any checklist. And rightly so.
If you're not familiar with backlinks, these are links from other sites or blogs pointing to your site. They're an important ranking factor that Google looks at when deciding which results to show first.
Why are they so important? Because Google looks at a backlink like a recommendation that that page offers great content and information. So it moves the page higher in the search results to ensure its users can quickly find it.
It's similar with brand mentions. If lots of people talk about a brand online, Google qualifies all those mentions as implied links, even if they're not accompanied by links.
Check out these two posts to learn more about how to attract backlinks and brand mentions:
1) How to get started building links for SEO
2) How to get more brand mentions
5. Speed up your website on all devices
Site speed not only affects your SEO efforts and visibility in the search engine results but also users' experience on your website.
Site speed is also a Google ranking factor, which means that if you want to rank higher in the search results, you need to make sure your site loads quickly.
Here's the official word on site speed from Google: "Speeding up websites is important – not just to site owners, but to all Internet users. Faster sites create happy users and we've seen in our internal studies that when a site responds slowly, visitors spend less time there."
You can check your current loading time using Google's free PageSpeed Insights tool:
Marks are out of 100 and anything over 90 is ideal, while a score under 80 indicates you have speed issues that need to be addressed.
Helpfully, the PageSpeed Insights tool also tells you what you need to fix in order to speed up your site.
Find out more about why speeding up your website is important for both SEO and your visitors, and learn what you can do to improve it.
6. Register with Google Search Console
The sixth piece of SEO advice is to make sure to register your site with Google Search Console.
This suite of tools helps you identify issues with your site as well as opportunities for improvement that can ultimately boost website traffic. It can even let you know if your site has been infected with malware (which is something you want to deal with right away).
And the best part? It's free so you have no reason not to take advantage, especially since there are many more useful things you can use it for.
Take a look at our beginner's guide to Google Search Console to learn more about how it works and how to set it up.
In conclusion
Building a site that both your visitors and search engines love is not easy. Not to mention that it can take about three months to start getting SEO results.
But instead of trying every tactic out there, go with a more effective approach that's ideal for anyone who's just getting started with SEO. That is to smart small with these six SEO tips. Next, make the necessary changes to your site and see what works and gets you closer to the top of the search engine results pages. Good luck!