From a simple home start-up, to award winning independent publisher inside a decade is impressive. Publishing over 400 books per year, over 3,000 editions in 37 different languages, shipped globally from converted farm buildings in the depths of the Northamptonshire countryside; Igloo Books is something of a success story of which CEO and founder John Styring is very proud – and rightly so.
"I was in books already. I'd worked for some of the larger publishing companies and learnt my trade there and then thought 'Let's do it ourselves'"
Sound familiar? Being an entrepreneur and / or running a business doesn't have to mean being a serial start-up creator that started with the nursery tuck shop. Experience and life knowledge are key skills and a knowledge of the industry and the intricacies of how it all worked, was an important foundation for Styring and Igloo Books.
"You learn from these other businesses, the mistakes they make etc, and then go and do it yourself."
However, the whole running a business was new to him, as it is to many before they make that step:
"I was a sales person, so I'd got to a Sales Director level and found I missed the customer"
So do Sales people make good CEOs?
"I think yes, to some degree, but they then need to start to understand the overall business and all the other departments within the business. But I think you do understand the customer and you understand what their requirements are and how to bring that straight back into your business no matter how small or big that is."
So a company built on the enthusiasm, customer insight and desire of a salesman, Igloo Books is a classic example of a family & friend financed company:
"There were five of us started the company. We each took a 20% share and each put in £16,667 and I've bought them out over time." Says Styring who now oversees a turnover in excess of £30 million.
Even with that kickstart funding however, Styring was wise enough to know that the dream wouldn't be easy and there needed to be a big dose of reality in how he structured the business and his life:
"My wife, as she is now was also in publishing. Originally, we left her in the old business to make sure we we had some money coming in – if it all went wrong – then she's been in the business now for about 8/9 years."
It's clear Styring's drive has played a big hand in the Igloo building and Igloo achievement. The salesman's nose for a prospect evident in his philosophy:
"We are now publishing to 58 countries at last count, but you are just looking for new channels all the time to be honest. If you are looking to grow a business you have to look at every single channel, assessing it and chasing it. Chase every opportunity."
Yet, he is very clear to point out it is far much more than a single person's effort. Building a strong, knowledgeable and passionate team has been very important.
"There's only so much that one man and then two men, three men, four men can do. If you are aspiring to be bigger than a one-man band, then it is going to be absolutely important on the quality of the people that you bring in. Even now, recruitment for us is so, so important."

"Our brand is very important in that. We have to be recruiting the finest talent and draw them to the depths of Northamptonshire, so we need some USPs for people to join us and we look for people who really care about what we do and how we do it."
So what about the one big thing that has help build Igloo to where it is today?
"Do you know what? Hard work, that's probably the biggest thing… I think a lot of people are scared of it…"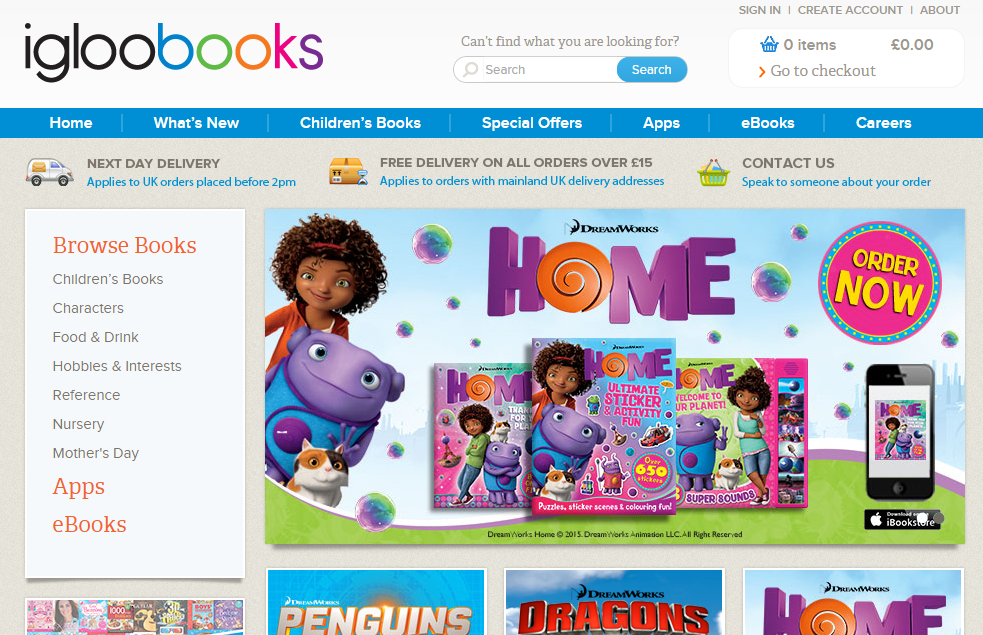 What about the world of online? Igloobooks.com, built on 123-reg reliability, is a rarity among publisher sites in that it works well for the consumer too, with a simple but usable ecommerce facility that serves to extend the brand to individual customers as well as the full scale retail book distributors. It's that brand connection that Igloo Books probably benefit most from via  their online presence:
"We aren't really an example to demonstrate the power of online business, but it is so very vital. Again, it's about recognising opportunity. Our online sales are growing enormously, even though our physical sales make up the majority of our business still at the moment, we recognise online is also key to our relationships too. " Explains Styring.
The future of Igloo Books looks very promising as they've enter the e-book, app and other digital markets with notable successes while keeping their traditional book side extremely buoyant too. So what one tip would Styring offer those looking to emulate his success, those reading this article with a desire to build their own business and make it a success online:
"I find it amazing that people try to run businesses without a business plan. Do your research. Make a plan and then can adapt that plan but at least you have an idea of how it should work"
Just like building an igloo in the frosted Artic, building a business is built on a strong plan, based not just on an idea, but evidence to back it up too.