How to get your small business included in the new Facebook Professional Services results
Do you have a local business page that you're promoting on Facebook? Want to reach more local customers? Then you might want to check out Facebook's new Professional Services feature, a new recommendation service that lets users find the top-rated and reviewed local businesses in their area.
The new feature was first spotted by Sreedev Sharma, the social media manager at Acodez IT Solutions, who wrote a short post about the feature. This was later confirmed by a Facebook spokesperson who told Business Insider: "We're in the early stages of testing a way for people to easily find more Pages for the services they're interested in."
The project is ambitious, to say the least. A searchable directory of professional service providers, like contractors, plumbers, auto repair shops, child care providers, pet groomers, salons, event planners, decorators, and much more. The search results are all local, pre-set to the user's current location, but you can also get results from seemingly anywhere.
Here's how it looks: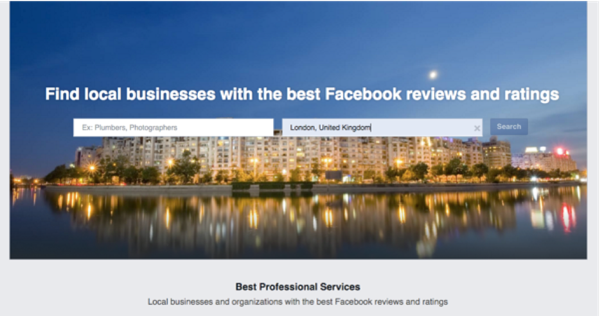 While it may not be a big thing now, we expect that over time the new Professional Services feature will become a top choice for customers searching for top local service providers in their area. Why? Because unlike Yelp's anonymous ratings, Facebook can help build trust into its recommendations because the ratings and reviews come from friends. As a small business, you can leverage these reviews and ratings to attract new customers.
Read on to learn more about how Facebook's Professional Services directory works and what you can do to get your small business included in the search results.
How does it work?
Users are first presented with a page that has their current location preselected. Searches can be made within that area by typing into a dialog box that serves up business categories like plumbers, dentists, photographers, beauty salons, pharmacies, pizza places and so on.
So for example, if you run a search for "plumbers" in London and then hit search, Facebook will return a list of plumbers in London based on popular Facebook reviews and ratings: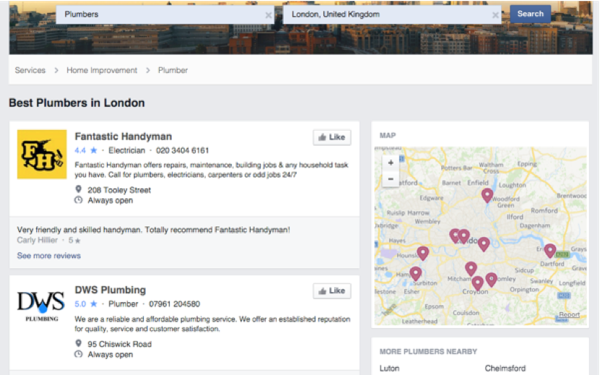 After performing a search, business information is provided thanks to the data that Facebook already has from the businesses' pages. This includes description, phone number, hours of operation, location, and ratings and reviews.
There are reportedly more than 80 different categories that users can choose from when searching for a business, including automotive, home improvement, financial services, medical and health, pet services, spa and beauty, and much more: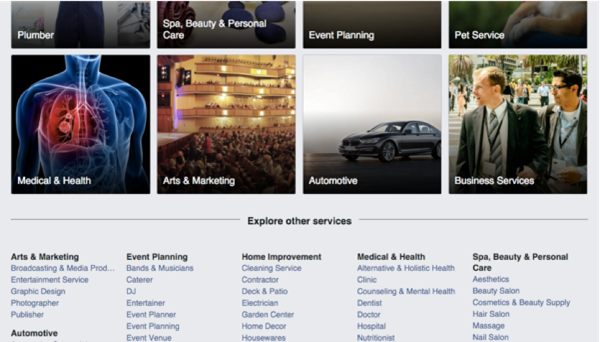 But here's the thing: while Facebook takes ratings into account when returning search results, it seems that local businesses aren't strictly ranked by how many stars they've earned. In other words, businesses with five-star ratings and more reviews aren't necessarily at the top of the list. That could mean that Facebook is also using other data it has about the logged-in users to rank the search results. (You'll notice that the results are different when you're logged in compared to when you're logged out of Facebook.)
Given the amount of information they have about each user's individual preferences, results are likely customised for each user depending on whether they've previously visited a page, rated a business, liked a page, or have friends who liked or reviews a page.
So we can only speculate that Facebook takes into account the following factors when determining which local business to show in its search results:
Location
Matching keywords
The average star rating as well as the number of ratings that a local business has received
The number of reviews and the recency of the latest review
The number of check-ins for the local business
Previous interactions between the page and the user
Connections between the user and his friends who liked, rates or reviewed the local business on Facebook.
What can small businesses do to get included in Facebook's Professional Services search results?
Facebook's Professional Services works as a directory that makes it easy for users to find local businesses. Following are a few things you can do to increase your chances of getting included in the search results for Facebook's Professional Services.
If you don't already have a Facebook page set up for your small business, check out our essential guide to getting started with Facebook ads where we also walk you through the steps to setting up your Facebook business page.
Make sure your information is accurate. The most important thing is to make sure that the information you have included in the about section of your Facebook page is correct. When a user performs a generic search, Facebook will give subgenres that can be used to narrow down the search. The information they use will come from the information that business owners share on their Facebook page, so it's worth going through it and ensuring everything is accurate and up to date. This includes address, description and phone number.
Here's an example from Studio 679, a jewellery studio.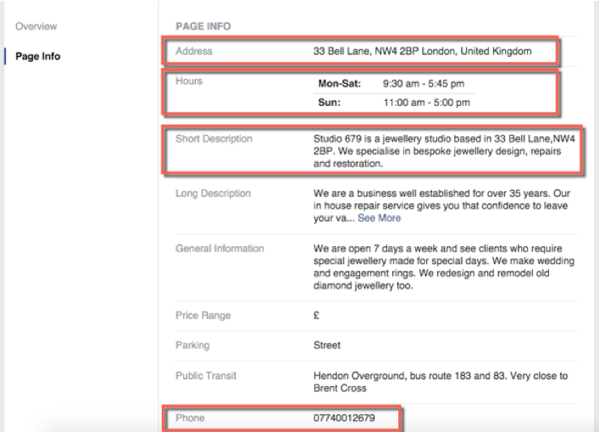 Also make sure to choose the correct category and subcategories for your business. To do this, run a search for the keywords or categories that your customers might use to find your business, and then choose from Facebook's suggestions.

To do this, click the About tab on your Facebook page and then Page Info. This is where you'll see your current category and subcategories. Click "Edit" if you need to make any changes.
Encourage your customers to rate and review your business.  Since check-ins, ratings and reviews likely play a role in your local business's visibility in Facebook Professional Services, it's very important to encourage your customers to leave some feedback that describes their experience with you. If you don't have check-ins and star ratings enabled on your Facebook page, simply go to your About page -> Page info, edit your address and then check the box beneath the map.
Keep your page up to date and interesting. Share relevant content and updates that are of interest to your local community. Listen and answer to people's comments, questions and feedback. The more engaging your Facebook page, the higher your chances of getting included in Facebook Professional Services.
Wrapping up
Facebook has been expanding the features available for business owners, from Buy buttons to new communication tools that make it easier for customers to chat with businesses and see how quickly their respond. This shows that Facebook is and will continue to be a major player in social media marketing.
Facebook Professional Services has the potential to become a fantastic tool for small business to attract new customers. By following our tips you can increase your chances of being even more visible on the social network when people search for your business.
Do you find Facebook's new feature useful? Have any other tips to increase visibility on Facebook's Professional Services?