How to decide which type of hosting you need for your website in 2022
When you're setting up your website, you're faced with a multitude of decisions about domain names, extensions, content, design and functionality. In addition to all that, you need to decide where your online home will be. In other words, what type of hosting is best for your site.
Although there are many types of great hosting, they aren't one-size-fits-all. That's what makes it so difficult to decide which one to choose for your website to ensure optimum performance, security and reliability.
Fortunately, there is a perfect hosting solution for everyone, whether you're building a site to show off your portfolio, write a great blog, or to sell products online.
In this post, we'll break down the main types of web hosting that are available to you so you can have an easier time deciding which one's right for your website.
Shared hosting
Great for: Beginners with little to no technical knowledge; your first website; small businesses; tight budgets; sites with low-to-medium site traffic.
Shared hosting is exactly what it sounds like – you share the server with other site owners. Think of it as renting a room in a flat and sharing it, as well as the costs, with your roommates.
If you're a blogger or a small business owner on a tight budget, and you need get your site online, shared hosting is a good choice. Here are a few reasons why:
It's budget friendly. It's usually the most affordable option to get your website online.
It's easy to use. Shared hosting plans are usually created with beginners in mind. This means that you'll be able to handle day-to-day tasks like setting up email addresses, adding users and installing apps from a simple to use control panel.
You don't (always) need to worry about the technical stuff. If you're not experienced with managing a website or the technical aspects of hosting a site, with shared hosting you might not need to worry about any of that. Look for a plan where the server maintenance is completely taken care of by your hosting provider (such as 123 Reg).
Now, there are also downsides to shared hosting. Just like your roommates' behaviour can frustrate or affect you, sharing a server with other users also means their site's behaviour may affect the performance of your site.
For example, if one of the sites on the server goes viral and sees a sudden spike in visitors, it could cause your site to become slow and take longer to load.
In addition, there can be certain limitations on the types of things you can install or modify on a shared hosting account.
All things considered, if this is your first website or if you're looking for an affordable solution to get started with a new website, shared hosting can be a great choice.
123 Reg's shared hosting uses cPanel, which makes it easy to change your hosting settings even if you lack technical skills. Plus, the fact our hosting plans are powered by Linux means they perform better than some other shared hosting packages. And finally, with 123 Reg web hosting you have access to over 125 apps, which allow you add the features you need to your site.
Check out our 123 Reg web hosting plans, which start from as little as £2.99 per month for the first year.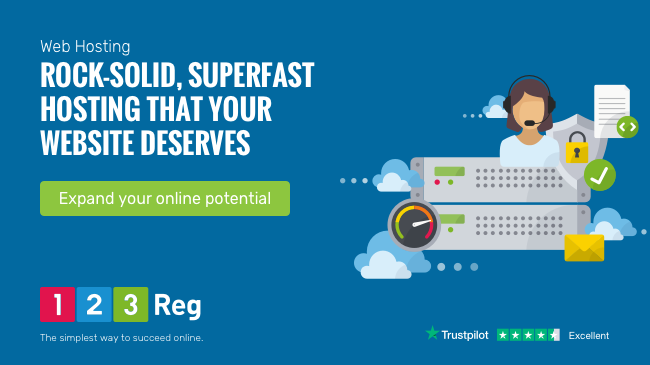 Managed server with dedicated resources
Great for: Multiple small websites; high-profile blogs; large business sites; busy ecommerce sites.
Unlike shared hosting, with managed hosting you'll have an entire server all to yourself. This gives you sole access to every resource available. In other words, not only will your website be able to handle many more visitors, but they'll also enjoy a great experience on your site thanks to lightning-fast loading speeds.
Managed hosting is a popular option because you don't need technical knowledge to use it. Your web host will take care of server maintenance for you so you can focus on other important tasks.
The downside is that managed hosting is more expensive than shared hosting. Since you're not sharing the space and the resources, you also won't be sharing the costs.
If you have a busy site that needs to be up and running properly, whatever happens, then our Premium Hosting packages are just what you need.
VPS hosting
Great for: Designers and developers; multi-site hosting; ecommerce; SaaS applications; high-traffic sites.
VPS stands for virtual private server. VPS hosting provides a middle ground between shared and managed web hosting. While you share the server with other users, it's technically partitioned into multiple, separate servers.
Each VPS operates independently without interfering with the VPS hosting of other websites on the same system. This means that there's no risk of other users overloading your server or hurting your site's performance.
The fact that the resources on your server are exclusively yours is what makes it more powerful than shared hosting. This means faster page loading, which is key to providing visitors with a great experience on your site.
In addition, you have the freedom to install and configure what you want and how you want on your VPS.
The great news is that since it's still (technically) a shared server, this type of hosting is more affordable than managed hosting.
The not-so-good news is that you'll need at least a basic level of technical knowledge to use it and make the most of it.
Bottom line, if you're concerned about the drawbacks of shared hosting, or if your site has outgrown it but no so much that you'd need an entire server to yourself, you should try one of our VPS hosting plans.
WordPress hosting
Great for: Growing businesses; ecommerce; bloggers; WordPress hosting; multi-site hosting
If you're a WordPress user, or plan to be one, but don't want any of the hassle of having to decide between all types of hosting, then this is the perfect option for you.
In fact, when you get WordPress hosting from 123 Reg, the only packages you need to choose from are Starter, Standard and Pro, with the main difference between the three choices being the amount of storage you get.
WordPress hosting takes just a few clicks to set up, which means you don't need any technical knowledge to get your site up and running.
The downsides? Since it's dedicated to WordPress sites, you can't run other software alongside WordPress unless it's compatible.
Also, since it's a specialised service, it can cost more than shared hosting (depending on the package) but it's still an affordable option to get your WordPress site online. For example, at 123 Reg WordPress hosting starts at only £1.99 per month for the first year.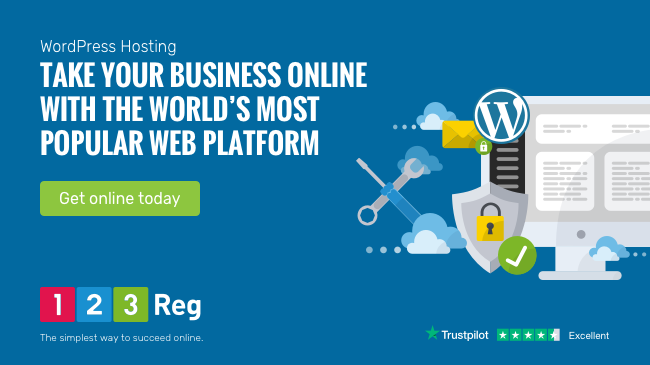 Have you decided?
Web hosting can be a tricky world to navigate. Hopefully, this short guide has helped you to make an educated decision so you can choose the type of hosting that best meets your needs.
Still need help choosing the right web hosting package? Give us a ring on 0345 450 2310 and we'll be happy to help.