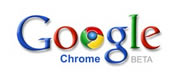 It'd be interesting to be a fly on the wall at Microsoft's headquarters today.
Why? Well, Google has just fired the most blatant shot yet in its battle to take business from Microsoft, with news that the search giant is working on its very own operating system, to be called Google Chrome Operating System.
The announcement comes about ten months after Google introduced its own web browser – a move which itself was widely perceived as being an attempt by Google to get people to switch away from Microsoft's Internet Explorer.
As the company says on its own blog:
"So today, we're announcing a new project that's a natural extension of Google Chrome — the Google Chrome Operating System. It's our attempt to re-think what operating systems should be."
This is a big deal: it's currently the third story on the BBC news homepage and nobody online seems to be talking about much else this morning.
What's an operating system?
Let's start with the basics. The operating system (OS) is the core software that runs on your computer. It manages all the various resources available (like memory, the hard disk, etc) so that other programs can access them.
Although there are lots of different operating systems available, most people use Microsoft Windows. It has by far the biggest market share, so you're probably using it right now.
Why is Google launching one?
Although it's best known as a search engine, Google has long signalled its ambitions to move into other areas.
Industry pundits talk a lot about the battle between Microsoft, which dominates the software on people's computers but has consistently failed to become a force in online search, and Google, which totally dominates search but doesn't have much of a foothold in the software market.
Google Chrome Operating System is the company's most blatant attempt yet to change that and take Microsoft on in one of the areas it totally dominates.
What's different about this OS?

Google already offers lots of different services – what they all have in common is that they shift tasks online.
For instance, when you use Microsoft Word to edit a document, the program runs on your own computer and the files you create and edit are stored locally.
But if you use Google Docs to edit a document, you don't actually run the program on your own computer. Instead, you access it online, through your web browser and when you save the document, it gets saved onto Google's servers.
You might have heard the term 'cloud computing', where everything is stored online, or 'in the cloud'. Well, Google Docs is a really good example of cloud computing in action.
The new operating system will extend this principle further. As Google says in its blog post:
"We're designing the OS [operating system] to be fast and lightweight, to start up and get you onto the web in a few seconds. The user interface is minimal to stay out of your way, and most of the user experience takes place on the web."
In short: with Google Chrome Operating System, any programs you run will run online, through the web browser. In fact, in some ways this operating system won't be an operating system at all, because it will move a lot of the stuff that currently happens on your computer onto the internet (or into 'the cloud').
It's also worth pointing out that the new operating system will be based on Linux, and it'll be open source, so anyone who wants to can access the code and change it however they like. That alone makes it very different to Microsoft Windows.
When can I get it?
Google Chrome Operating System should be released in a year or so's time, but as it's open source you can expect to see the code for it become available much sooner.
What sort of impact will it have? Well, we'll have to wait and see. But I bet Microsoft's work on the new version of Windows (due out later this year) has just taken on a new level of urgency. Interesting times lie ahead.
Will you use it?
What do you think of this latest announcement from Google? Just an attempt to create some hype, or could this signal the beginning of the end of Microsoft's dominance in the operating system market? Leave a comment and let us know.