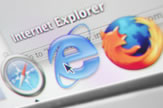 I logged into my RSS reader as usual today to check up on the latest industry news and information. And it's turned out to be one of those days where every site is reporting the same story.
Google is launching its own web browser, to be called Google Chrome.
You can read about it on the BBC, the Register, TechCrunch and Lifehacker. Or you can go straight to the horse's mouth, and get the official version from the Google blog.
The company let the cat out of the bag earlier than intended when it mailed a comic book to key websites and bloggers. It looks like Google Blogscoped was first with the news.
If you want to check out Google Chrome for yourself, it's being released in beta (for Windows only) sometime today. I guess it could appear online any time after lunchtime here in the UK. Update: Google Chrome can now be downloaded from www.google.com/chrome.
Main features
Everyone's got their own take on this, but from a quick flick through the comic, plus a skim of the other websites out there, these seem to be the new browser's main features:
Tabs. Just like in the latest versions of Firefox and Internet Explorer, Chrome will offer tabbed browsing. However, Google has moved the tabs from below the address bar to the very top of the window. You'll also be able to move tabs between browser windows.
Stability. From what I can gather, Google has designed the browser so that the web pages in each tab run independently of each other. In plain language, if a website crashes, it should only affect that tab, not the entire browser. If you've ever been frustrated by one dodgy site bringing down everything, this should go a long way to fixing it.
Testing. Google will be using its search infrastructure to automatically test how web pages look in its browser. The company reckons this will let it identify bugs in the browser more quickly than ever.
No pop-ups. The comic book seems to suggest that pop-ups will be restricted to within the tab that website is being displayed in. It looks like you'll then be able to choose whether or not to 'pop them out'.
Extra security. Google claims that its 'sandbox' approach means that the website displayed in each tab is effectively stopped from accessing other tabs or areas of your computer. This should make security issues easier to manage. And because Google can identify suspect sites when it indexes websites, it should be able to warn people using Chrome of problems faster.
Design complications

When I mentioned Google's intentions to our design team this morning, the immediate response was that their jobs are about to get a little bit more complicated.
Designing websites to work properly across the main web browsers is already a headache – there are significant differences between Internet Explorer 6 and 7, then you've got Firefox, Safari and more.
Although Chrome will use the same system to render web pages as Apple's Safari, it's bound to have its own quirks. Web designers will have to cater for these if Chrome takes a significant share of the market.
A challenge to Microsoft
With Google's weight behind this, it's clear that Chrome could be a real challenge to the dominance of Microsoft's Internet Explorer (about 65% of visitors to 123-reg use Internet Explorer). Some of the features sound interesting and I'm sure they'll be having some interesting conversations about this at Microsoft.
And it's not just about challenging Internet Explorer. As Mike Arrington notes over on TechCrunch, Google is positioning Chrome as the home for your applications and, in the longer term, a potential competitor to Windows.
After all, we use our web browsers for more and more things these days – from sending emails to writing documents and even editing photos. If the trend continues, will we need Windows at all in a few years?
Chrome could also be a headache for Firefox. This well-regarded browser has been making steady progress in the market (about 27% of 123-reg visitors use it). But the Mozilla Foundation, which produces and supports Firefox, is largely funded by Google. If Google is set on producing its own browser, where does Firefox fit into the equation?
What do you think of Google's announcement? Will you be grabbing a copy as soon as it's available for download, or is this nothing more than the usual hype we see every time Google decides to do something new? Leave a comment and let us know what you think.