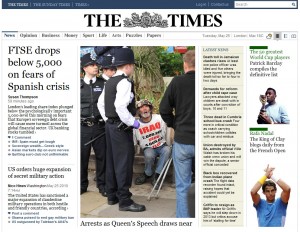 This week new websites for The Times and Sunday Times launched to the public. A cleaner look almost resembling the hard-copy newspapers will appeal to many, but the question is how appealing will they be? Four weeks from now parent-company News International's paywall will go up on the sites and only those prepared to pay for the online content will be able to access them.
The much mooted move is now finally upon us but with predictions of up to 90% of current traffic being lost due to the paid-for decision, is it potential business suicide or really the future of our online news intake?
The pricing model is a simple £1 per day or £2 for a full week's access but with News International installing one of the most strict paywalls ever seen, articles, news stories and the majority of information on the sites won't be accessible to google and other trawling search engines, so they won't be picking up casual surfers and will be relying on word-of-mouth to bring in new subscribers.
Yet, as the the world of print suffers so the move towards paid content looks almost inevitable. The content-heavy websites of the major UK newspapers have proven popular both in the UK and overseas but all the time have been considerably subsidised by the print operations of their parent paper. That model can't continue and News International are the first to take the plunge, hoping that even just a small percentage of their existing online traffic (around 21 milllion visitors per month) sign up to the new regime.
News International are selling the intimacy and greater community inclusion of a subscriber network to potential customers and there will be some novelty – at least in the early months – to witness online writing that does not have a 'share this' or 're-tweet this' button at every turn. Whether the 'experiment' will work we will have to wait and see.
Would you pay for content? Do you think the internet is now bigger than the 'brands' we used to once rely on for our news?